It has been over a year since I last posted our chore assignments. For the most part, they have remained the same, with a few small changes.
After a while, everyone is ready for new chores. Changing the chore assignments helps alleviate boredom and more importantly, it helps children progress in their knowledge of how to run a household. One of the main reasons we have chores is to help our children grow into capable adults who know how to take care of themselves.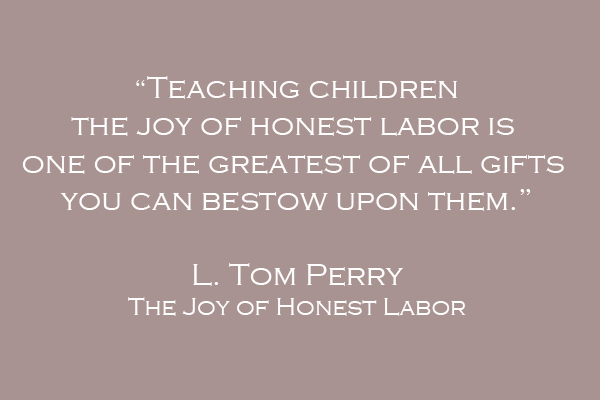 We decided to start new chores today along with our new school year. I asked the children what chores they didn't want anymore and what chores they would prefer. Some of the answers for the chores that they wanted surprised me! They did a great job today in their new chores, too.
We've given more chores to our 6-year-old, who asked for three things rather enthusiastically, and then proceeded to do them rather well! I was very surprised and happy about that today.
Here are our children's current ages:
Winter: 12
Cyrus: 11
Ezrom: 9
Liberty: 7 (almost 8)
Wren: 6
Elsa: 4
Ivory: 2
Ivory has been rather helpful in picking up the toy cars and people, and the blocks, and those are usually her mess. Unlike her 6 older siblings when they were her age (and some still!) she will go pick up the cars right away when asked, and will do a thorough job. She seems to understand that everyone cleans up, and she loves to help; she tries to fold laundry, but is still working on getting a washcloth folded (she has done it a few times).
Winter is assigned to make breakfast. She is learning to make more things this way. I'll help in her this chore; sometimes she can simply dish up breakfast, but the main goal is to teach her to make a variety of things.
One thing we've changed is that instead of just vacuuming their rooms on Saturday, the children will now vacuum on Tuesday, Thursday, and Saturdays. This is just part of cleaning their rooms. Since all rooms are shared, they can trade off who gets to vacuum.
Our trash is collected twice a week. The job of taking out the trash includes taking the big cans to the curb on those days as well as bringing them back up; every day it includes emptying all but one of the trash cans in the house (the kitchen trash, three bathroom trash cans, and my desk trash; I empty the sewing room trash when it is needed).
Also, though it's not on here, Cyrus cuts the grass each week as part of his chores. Winter helps in lots of ways that aren't listed on here (she helps with Ivory a lot and all of her siblings love her a lot because she plays with them); they all help in lots of little ways each day as well (taking plates of food to the table or offering to help in other ways, etc.).
Here are the new chore assignments:
Ezrom: Put away Clean dishes
Liberty: Pick up living room
Cyrus: Wipe table and chairs
Ezrom: Sweep the floor under the table
Liberty: Pick up girls' hall
Wren: Sweep and mop the kitchen
Winter: Sweep wood floor by piano
Cyrus: Clean boys' bathroom
Ezrom: Pour drinks and set table
Wren: Clean girls' bathroom
Elsa: Pick up living room
Ezrom: Wipe table and chairs
Liberty: Sweep and mop under table
Winter: Pick up and vacuum living room
Cyrus: Put away clean dishes
Ezrom: Wipe and set table
Wren: Clean up by front door
5 minutes cleaning in the library
Winter: Sweep and mop kitchen floor
Cyrus: sweep and mop by piano
Liberty: Sweep under table
Wren: Wipe table and chairs