I've often said that if we had the chance to increase our grocery budget, we would, because there are definitely things that I would like to buy more often. That time has come, so I will share our new grocery budget, as well as some other changes that we are making.
Determining the amount has not been easy. Because we don't have a steady, fixed income, it is not as easy to determine what we will have each month for groceries. I study our budget three months at a time; I have it in a spreadsheet (I use Open Office, which you can download for free if you don't have a program for spreadsheets and word processing). I make sure we have money to cover the next month's bills before I go grocery shopping for the current month.
We're able to increase the budget for a few reasons. We've been continuously finding ways to cut our expenses, which you can read about in
my frugal accomplishments postings each week
. The largest blessing, however, occurred earlier this year, when we were able to modify our home loan to a lower interest rate and a lower payment.
Our previous budget was $100 a month for food and $65 a month for non-food items. I am now counting those two things together and have increased the budget to $275 a month (there are 9 of us). I tried going higher than that for the first couple months of the year, but that didn't look like an amount that we could continue, so I didn't go shopping one month to lower my amount for the year. What we've spent so far ($2220.61 for the year) includes the price of the chickens that we raised for meat at a friend's house (including their feed).
We have also been blessed to have a somewhat larger income this year (and last year) than in 2011 and 2012. Those were our hardest years; we made less in each of those years than we did in 2007,
where we went 8 months without any income
. We went without buying most everything those years, making due with what we had, and selling what we could to help pay our bills.
Had we not lowered our expenses, however, we would be struggling to make ends meet right now.
As of January, we have cut our bills in half from what they were in 2006, when we bought our house.
Our increase in income is not tremendous; the ways that we are able to save money are extremely important in helping us reach our goals.
Part of the increase in the grocery bill will be eaten up in inflation. As you know, prices for both food and non-food items have increased tremendously recently. I will be sticking to
my price points for things
, but there are some changes due to inflation, including the cost of eggs. I will be making an exception to our $2 a pound limit for meat for one item: pepperoni (for pizza). I am buying more dairy. The children have also increased their appetites substantially, so part of the budget is going towards simply more food. If we were not able to increase our budget for groceries, I would be making more changes to our meals to feed everyone, having our least-expensive meals even more often.
Last year we did a couple of things that we felt were important: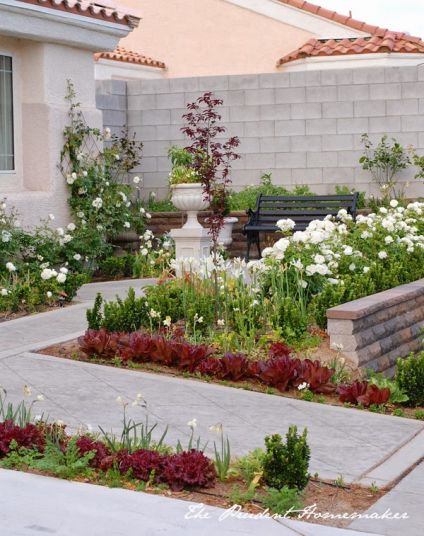 We put in the garden in the front yard. This was something that I had long hoped for, but I also felt was important in increasing the food production of our lot. Right now I am harvesting herbs, flowers, and cucumbers from that space; in years to come we will also have lemons, peaches, and apricots, as well as lettuce in the cooler months. We did a lot of things to save money on this project, which you can read about
here
.
We bought a new mattress. Our previous mattress had been given to us by my mother-in-law when we were married; it had belonged to my husband's older sister. The mattress was 35 years old. It was time for a new one.
We bought a new-to-us van last year, selling our previous vehicle. We needed something larger to fit the entire family. After selling our old vehicle, we had a new one for only $500 out of pocket.
This year:
We saved up this year to see my brother get married out of state, and turned that trip into a 2-day vacation–our first family vacation.
The other thing I have been doing is finally buying some new clothes. Most of the clothes I've had were bought when Cyrus was a baby (he's 11 now) and they are wearing out. I made a trip to the thrift store earlier this year, and I also have bought a few new things as well. My husband also bought some new shirts.
Our savings goals now:
Build back up our emergency fund
. So far this year, we have managed to save a month's worth of expenses. Our goal is to make that 3 months, then 6 months, and eventually a year's worth. Our emergency fund was spent in 2007
when we had no income
. It is a relief to be able to begin building this again. Because of the variable nature of our income, we could need this savings at any time.
Purchase some new bookcases. Our books are double and triple stacked, and we could use some more bookcases. We ordered some for one side of the library (they arrived Wednesday); we will need to save up for matching ones for the other side of the room. They won't be ordered until we have the money.
Save up for a second car. We have been a one-car family for a very long time. My husband foresees the time when it will be nice to have a second vehicle (when we have several teenagers all needing to be at different places.) This is going to be a different situation than our van. My husband wants to restore a 1953 Chevy truck. We were able to purchase the truck last year (for an incredible deal), but it is just a shell–no engine, no instruments, no bed. He is teaching the children with this (the boys helped bend some sheet metal for this earlier this year). My husband researches everything to get the best deals–and then researches it again, and then again. His goal is to build the truck for as little as possible. We expect this to take several years, as we have a little bit to spend at a time on Craig's list, buying a used piece here and a piece there.
Recover our living room furniture. The couches are falling apart and need to be recovered and repaired.
With all of this, we are being very cautious
. Interest rates are set to rise, and that will mean a slow down in the housing market. Sales in Las Vegas have already started to slow way down (even during summer, which is not a good sign). This makes building up the emergency fund a huge priority, because a drop in sales for
us and our agents
can mean a decrease in income.
I will be spending a good portion of each month's grocery budget towards filling the gaps in our pantry; my main goals are to increase our powdered milk, oil, and toilet paper supplies. If our income decreases significantly, we will be able to eat from the pantry again. If it decreases just somewhat, we will lower our budget.