A 72-hour kit is a bag filled with the things that you need to survive for 72 hours in the event of an emergency.
Often, help is at least three days away (U.S. Residents, FEMA says to expect at least 7 days before help arrives).
Sometimes, however, help is further away than that. When the second earthquake struck in Nepal earlier this year (17 days later), I read that rescuers had still not made it to all of the outer villages to help people in need. Most people were sleeping still outside in case of aftershocks when the second earthquake occurred. Keep this in mind when planning your kit: in an emergency, you may only have the items in this kit for a long time.
Whether you deal with earthquakes, flooding, hurricanes, tornadoes, evacuations due to wildfires, or another emergency, it's helpful to have a 72-hour kit ready where you can grab it and go. If you're asked to evacuate your home, you often have less than 5 minutes to gather items. Having everything ready to go will make this easier. Some people keep their kits in a closet by their front door. Others keep them in the trunk of their car.
We have been slowly working on putting together the items our family needs over the last 9 months. We've been researching the best prices to make our money go as far as possible. Here are the items I think are important and the best prices we've found.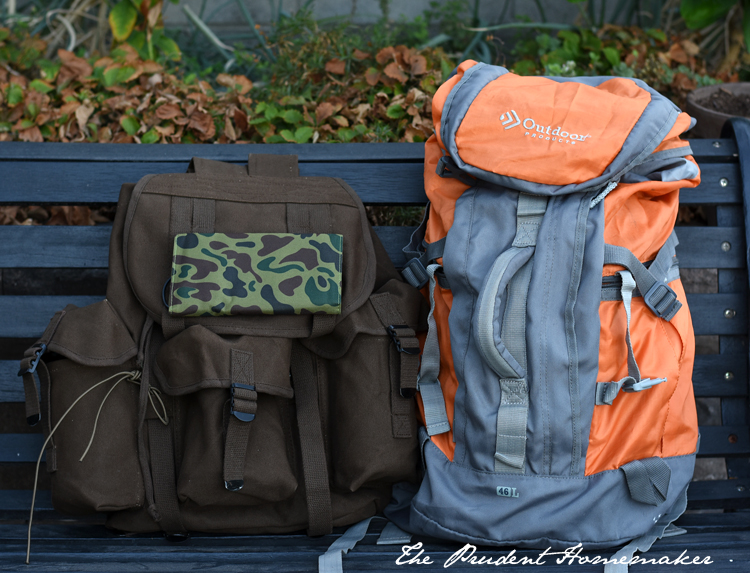 Backpack
To start with, you're going to need a backpack of some kind. It doesn't have to be a fancy bag; you just need something to carry your supplies. This is a great time of year to find clearance sales on backpacks. You can also check your local thrift stores. Ebay is another great option. Each member of the family should have a bag. We found the bag on the right at Walmart in the camping section and the price was around $35; the bag on the left was from Ebay for around $30 (but you can find bags for around $15 on Ebay, depending on what style you like).
Sleeping Bag
Should you find yourself misplaced and possibly needing to sleep out in the open, in your car, or even on a friend's floor, a sleeping bag is essential. I recommend purchasing the warmest one you can find, as keeping warm is essential to survival. We have found that Big 5 has these 5º F Suisse Sport Alpine Adult Mummy Sleeping Bags
on sale every few weeks, so we have slowly been purchasing them over the last year for our family (they usually just have a few in stock at a time). For just four dollars more, you can purchase them from Amazon
. You can use Swagbucks to earn points towards an Amazon gift card to purchase these. The first $25 gift card ordered in a month can be ordered for 2200 points, which makes your points go further. You can add each gift card to your Amazon account until you have enough saved up to order a sleeping bag.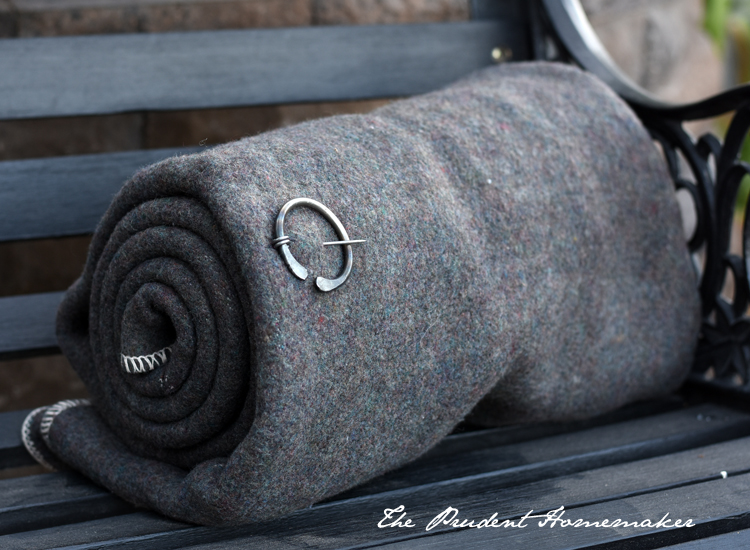 Wool Blanket
A wool blanket can add much needed warmth. When choosing a wool blanket, look for one that has a high wool content.
A wool blanket can be worn as a coat or skirt, as well as used when sleeping. This video was rather helpful in explaining how to wear a wool blanket. I suggest having a belt in your kit to help you do this, if you don't normally wear a belt every day. A blanket pin is also useful to have to wear a blanket (Ebay is a good place to look; my husband made the one pictured above with steel and piano wire).
We found used Israeli military wool blankets (82% wool) online from this source, which are $14 each shipped. These are thicker than the U.S. Military blankets. I looked on their site and they now have a 100% wool option for $5 more per blanket, however, they are older and have had repairs made to them.
Harbor Freight also has 80% wool blankets for under $10 each. These are a little more stiff than the military ones we bought.
You can wash wool blankets on a cold gentle cycle in your washing machine and hang them to dry. This will help to get rid of the stiffness and make them smell better.
A wool blanket (or two) is also great to keep in your car for emergencies.
Waterproof Tarp and 4 stakes
This can be used to make a shelter. There are some great videos on You Tube on how to make a shelter from a tarp. If your tarp has loops at the end or grommets, it is even easier to make a shelter. Stakes can be small aluminum or large plastic stakes.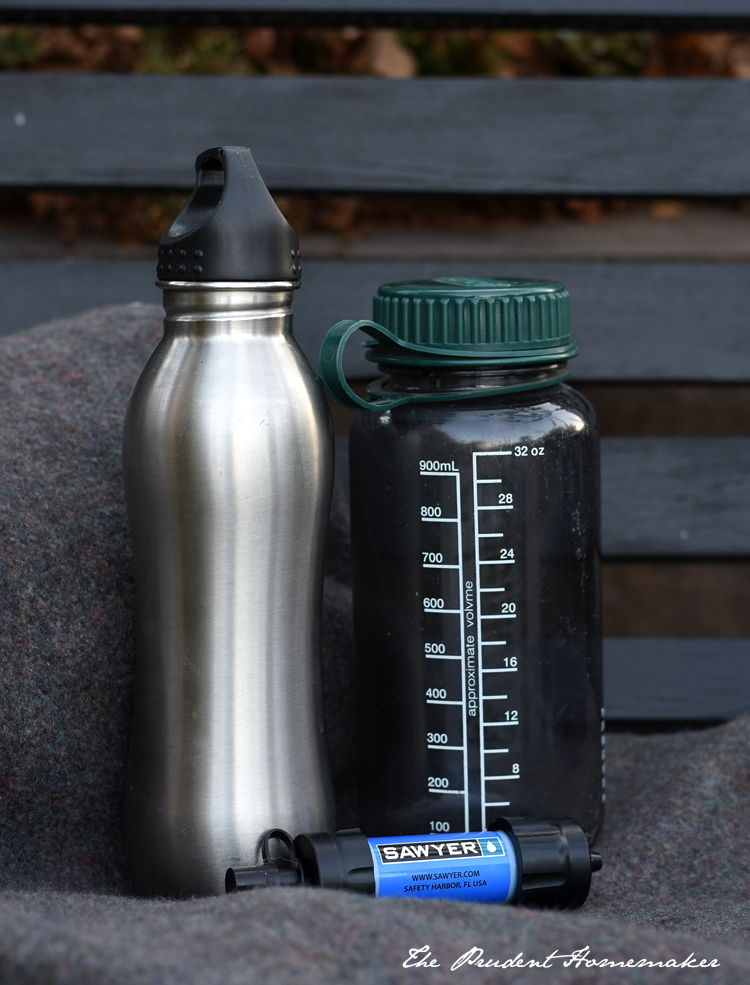 Water, Water Filter and Bottles
It is recommended to have one gallon of water per person a day, solely for drinking (and 2 gallons per person per day in the desert). Carrying three to six gallons of water is no easy task!
In an emergency situation, you may need to find additional sources of water. Having a water filter, in addition to carrying water, can keep you from getting sick.
We've been researching water filters, and we decided to purchase a few Sawyer Mini Filters
, as they can filter 100,000 gallons of water, which is more than others (all filters have a limit of how much water they can filter), and are washable. Here is a video on how to clean them.
For water bottles, we visited the thrift store. We found both Nalgene and aluminium bottles for $1 to $1.50 each. These normally sell for $16 to $20 each brand-new. Consider two per person. Have them filled and ready to go in your bag. Note that if you have a metal bottle, you can use it to boil water.
Bottled water is also important to have in addition to water bottles. You can keep water with your kits to grab, as well as water in your car trunk.
A Change of Clothes
At the very minimum, a change of underwear and socks in your kit is important. Back to school sales on these items right now makes this a great time to purchase a few extra pairs to put in your kit for each family member.
We also found great prices on wool blend socks (think winter warmth) at CalRanch; they had the best prices I could find on high wool content socks. They are soft, too; my husband and son wore them to Scout camp and liked them a lot. (They sell both high and low wool content socks).
Thrift stores and garage sales are a great way to add an extra pair of jeans and a shirt to your pack for very little.
I recommend having two pairs of underwear, three pairs of socks, and a shirt and pants in your kit. If you are packing a kit for an infant or small child, a couple of bibs would be helpful (the bigger the better) to protect clothing.
Cotton bandanas
are important in your kit, to use as a face mask to protect you from dust, to bandage a wound, as a sling, to filter water, as a napkin, and as a handkerchief. Purchase 2 or 3 per person. To get a lower price, you can buy them by the dozen
. If you want to make them instead using cotton fabric you already have, they are 22 inches square.
If you live in a cold climate, thermals would be a very good thing to include in your kit.
A warm hat is good, even if you live in a warmer climate (winters here can still be cold, especially at night). If a hat is an expensive purchase for you (and you want to have something now, rather than waiting for a clearance in spring), consider making a wool hat from a wool sweater (look at thrift stores and garage sales) and lining it with fleece (or even making a double layer fleece hat). There are a lot of online tutorials to make these. Joann's has fabric sales on fleece often.
A rain poncho
is also important, and can be worn over your pack to keep both yourself and your items dry.
Glasses
If you wear glasses, have a spare pair in a case in your kit. Zenni Optical is a great way to order a spare pair of glasses for very little (complete pairs, including lenses, start at $6.95, and shipping is $4.95, even if you buy multiple pairs). If you go through Ebates first, you'll earn a percentage back.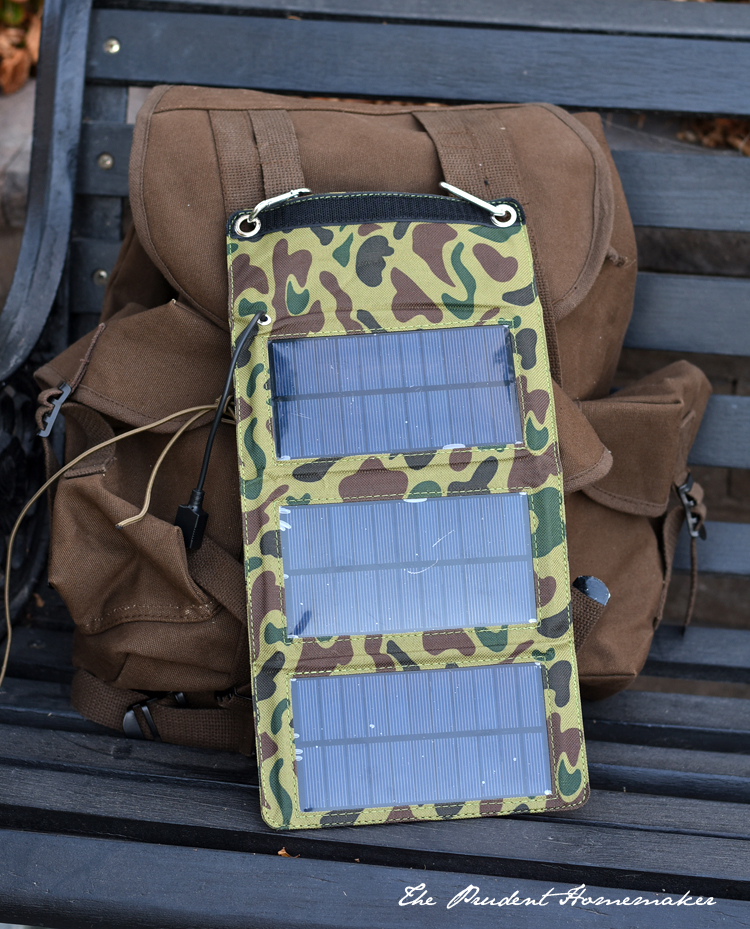 Light
Regular batteries are heavy, expensive, and short-lived. For longer lasting light, consider a wind-up
, squeeze, or shake up flashlight, that you recharge by hand. These do not last forever, but they do last for a long time. The shake-up ones are heavy, and are harder for small children to charge than the wind-up kind (there are, however, smaller shake-up flashlights that are lighter). When comparing, look at the number of lumens. The higher the lumens, the brighter the light.
A longer lasting option is to purchase a bright (high lumen) flashlight that takes a 18650 lithium ion battery (this is a long lasting battery that can be recharged). You can then get a Portable Folding 5-Watt Solar Charger
and hang it off the back of your backpack while walking during the day. You'll need a power bank
that plugs in to the charger to charge your lithium ion batteries (have a second battery). The power bank can also charge your cell phone. (The solar charge pictured above is 7 watts; a 5 watt one has one less panel.)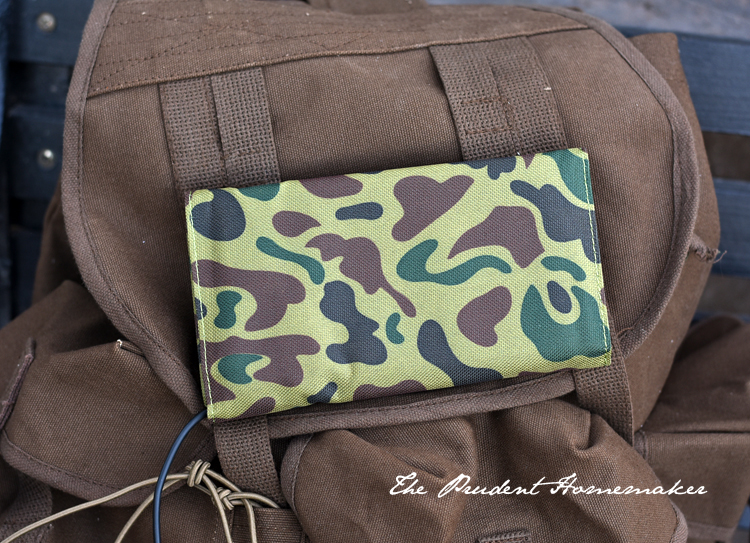 A Luci Inflatable Solar Lantern
or a LuminAid solar lantern is another option. This small, inflatable solar lantern can be clipped to your backpack and charged during the day. (Update: Aug 2017. We have been using the Luminaid Lanterns in our bedroom at night. Our intense heat here (113º F/45ºC) can burn out solar batteries in a day if they are placed in direct sun; we have charged these inside the windowsill and used them at night; they have been bright enough to read by if put on a pillow and have a high number of lumens.)
Keeping Cool
Sometimes, it's not the cold, but the heat that gets you.
A brimmed hat is important to prevent heat exhaustion and sunburn. A cloth hat can be rolled to fit into your bag. Again, garage sales and thrift stores are a great way to do this for less. Summer hats will go on clearance now for Northern hemisphere readers. I've also found that our local nursery has good hats for fair prices that are designed to shade the back of your neck while working in the garden. Also, as silly as it may sound, a cloth sun bonnet also offers great protection for your face and the back of your neck (and you can find free patterns online).
An Insect Head Net
can go over a brimmed hat to keep flies and mosquitos away from your face. There are also ones that come attached to a brimmed cloth hat.
In addition to a hat, for our own kits, I purchased each of us a Sammy Cool `N Dry Towel
. Several years ago, my mom gave us a few of these, and we have used them when working in the garden. You get them wet with any temperature water, snap them in the air, and they keep you cool. Once they start to get warmer (after a few hours) you can wave them around again, and they will become cool again. They were very helpful when putting in our white garden in June and July two years ago. These fold flat (but are stiff when dry; only unfold them when wet!), are lightweight and don't take up a lot of room in your pack. There are other brands out there that are similar, such as Frogg Toggs
. I don't have any experience with this brand, but depending on your color choice these may be cheaper. These are also good to help reduce a fever.
Hand Protection
Gloves are important to protect your hands from freezing weather, as well as to protect them when doing such tasks as clearing trees or rubble after a storm or gathering firewood.
We purchased warm gloves on winter clearance earlier this year.
For work gloves, you can watch stores right now for gardening supplies on clearance. Nurseries are also great sources for work gloves, and they have them available all year long. Our nursery carries canvas gloves for .99 a pair in a men's large size. Leather palmed gloves
are more heavy duty. Consider having both in your pack.
Food
Ready to eat food that is not too heavy is important to have in your pack.
You buy lightweight backpacker food, such as Mountain House
, where you just add water. However, these are fairly expensive. A 3600 calorie ration bar
is a less expensive option. (These are also good to put in a child's school back pack, in case you were separated in an emergency, or in your desk at work).
For less expensive options than that, you can include:
Fruits you've dried yourself, such as bananas and apples (or dried fruit bought in bulk, such as raisins, apricots, and cranberries)
Granola bars (store-bought ones go on sales with coupons for back to school sales; you can also make them yourself)
Oatmeal in a plastic bag (or oatmeal packets)
Powdered eggs (bought in bulk and repackaged in Ziploc bags)
Krusteaz pancake mix (just add water) or you own homemade version made with powdered milk and powdered eggs
Nuts purchased in bulk
Hard candy purchased in bulk
Hot cocoa packets, bullion cubes or powder, powdered Gatorade, instant milk powder
Dried carrots/onions/celery/chard/garlic powder/chicken bullion powder/parsley and salt and pepper for soup, or a store-bought package of dried vegetable soup mix, and/or ramen noodles
Rice
Homemade rice mix portioned out individually in a bag, or Knorr rice dishes or noodle mixes (serves 2; these are .78 each at Winco right now)
Macaroni and cheese in Ziploc bags. Buy the cheese powder in bulk and pasta on sale for .49 a pound and separate it for each pack
Instant potato flakes. You can buy these in bulk or in sealed packets for your pack.
Instant non-fat pudding mix with powdered non-fat milk (milk powder measured and poured into a bag to go with the pudding, $0.49 to $0.58 each for the store-brand at Winco; the non-fat will set with skim milk, so you can use powdered milk)
Shelf-stable sausages (these are usually sold at Christmas time)
Tuna fish in a packet
Jerky
Baby formula if you have a baby who drinks formula
A mess kit is helpful if you want to way to have a warm meal or to heat water to sterilize it. For more long-term emergencies where you may find yourself displaced from your home, this is an item you will be grateful to have. Aluminum ones made by Coleman
are less expensive and lighter than stainless steel ones, but you may prefer Stansport's Stainless Steel Mess Kit
. Prices on these seem to be pretty similar everywhere I've looked, be it Amazon, Walmart, and at several different sporting goods stores. You'll want to include some utensils as well; thrift stores and garage sales are good places to pick up extras for around .25 each.
Should your emergency go longer and you need to get your own food, the following items would be helpful:
Frog/Fish Spear
to attach to a stick for hunting. Look for one that doesn't screw into a pole, so that you can use any stick you cut.
A book or guide on foraging wild plants for your area, such as Foraging the Rocky Mountains: Finding, Identifying, And Preparing Edible Wild Foods In The Rockies (Foraging Series)
.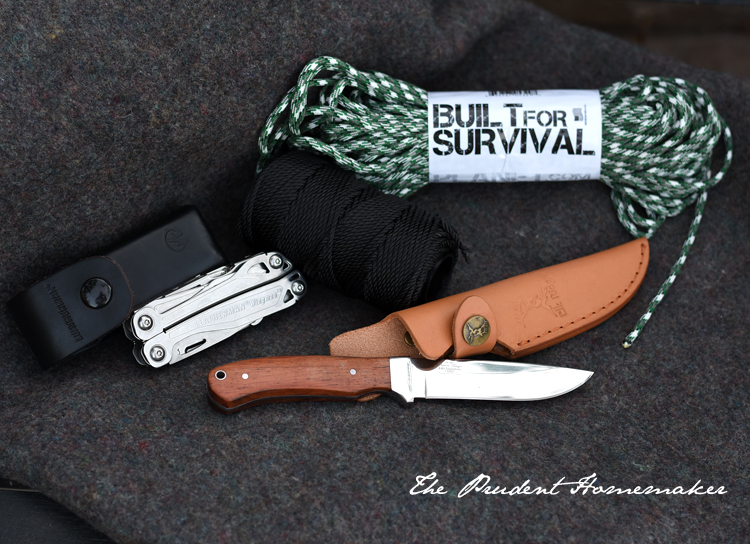 A Knife, a Leatherman Multi-Tool, Paracord, Bankline and a Way to Cut Wood
A good knife is one of the most important things you can carry. I suggest watching this video on choosing a knife before making a decision. (It also shows how a knife is used with a ferrocerium rod
to start a fire, and shows the difference between knives when fire starting, among many other things). Morakniv Bushcraft Carbon Black Tactical Knife
is a lower end good knife to have in your pack. A knife will be one of your most expensive, if not your most expensive, item in your pack (and you may want to carry two). My husband recently watched a survivalist's video where he explained the following: "Two is one and one is none." Tools get broken, and in an emergency situation, this is one thing where you are definitely going to want to have a backup plan. We've found knives on Ebay.
A Leatherman Multi-Tool
with a sheath. Choose one with the tools you need (for example, you'll likely need scissors more than a corkscrew). One that fits in a sheath on your belt is nice. My husband found the lowest price at Walmart, and it came with a sheath.
100 feet of 7-strand 550 paracord or #36 tarred bankline. We've been able to find the best prices on paracord and bankline on Ebay. Paracord can be made into a bracelet that you wear, making it an "everyday carry" item that you would always have with you in an emergency. Bankline is smaller than paracord, but can hold almost as much (450 pounds, instead of 550)–note, don't buy the Walmart brand bankline; it unravels. These are useful in making a shelter, among other things.
Duct tape is also good to have on hand, and can be purchased in 1-inch widths as well. Wrap some around an old debit card to reduce weight and bulk in your pack.
A 36-Inch Pocket Chainsaw
is lighter than a hatchet and can be used to cut wood for a fire or to make a shelter, but if you can carry it, a hatchet with a sheath is also useful.
Hygiene items
Brushes, combs, hair elastics, bobby pins, and toothbrushes are great items to purchase at a 99 cent or Dollar store. I have bought all of these there; I found really great deal with packages of 100 hair elastics, and 4 packs of toothbrushes there.
Toothpaste and dental floss can be bought on sale and with a coupon.
Fingernail clippers and a nail file.
Vaseline and/or lip balm. (I realize in some countries Vaseline is not used as a lip balm, but in the U.S. it is, and it is excellent in preventing and healing chapped lips).
Add soap and a washcloth, and package items in Ziploc bags.
If you have children in diapers, having diapers and wipes, as well as rash ointment is important. It's hard to carry enough disposable diapers in a longer emergency situation; consider some cloth diapers to add to your kit as well.
Toilet paper. You can smash the roll flat or remove the roll and then smash it flat. Put this in a Ziploc bag to prevent it from getting wet.
Consider a travel bidet
and cloth (cut old cotton t-shirts or a double layer of serged flannel), in case your toilet paper gets wet, you run out, or your emergency goes longer. In longer term emergencies, leaves are great in the summer if you live where there are leaves. If you live in the desert, however, sagebrush and cactus don't make good toilet paper. Consider winter situations as well, where leaves are not available. (A less expensive option is to purchase a perineal bottle
.)
Baby Wipes. These are good for so many uses, If your package gets dry, a little water will rewet the whole thing. These can be very heavy, so consider carrying a smaller travel-sized package.
Feminine Hygiene Supplies
The last thing you want to deal with in a short or long-term emergency is a shortage of feminine hygiene supplies.
You can combine coupons and sales to purchase disposable items to put in your kit. Target often has coupons and sales on their store brand of supplies, which can lower your cost even more.
Another idea is to make a set of cloth supplies. There are lots of free patterns available online. This one looks particularly interesting This is also a great long term option for saving money. If you don't sew, there are a lot of options to purchase cloth supplies. These are what I have purchased and my eldest uses on a regular basis as well as what we have for our kits.
A great option is a menstrual cup
. There are many brands out there to chose from; Lunette
has high reviews and I found it to be easy to use. This is a fantastic long-term option for saving money, as well as ensuring you have something to use in a long-term situation; you'll always be supplied, and you'll never need to buy feminine hygiene supplies again. These are sometimes sold as a two-pack; keep one at home or in your purse, and the other in your 72-hour kit.
First Aid Kit
You can buy a ready made kit, or put one together on your own. It can go in a small bag. (Through Saturday, Target has a buy 3 selected first aid items and get a small first aid bag for free. A large pencil case, on clearance now, would also work.) Your kit should include at least the following:
Pain reliever/fever reducer (buy the store brand of acetaminophen and/or ibuprofen to save money)
Anti-diarrhea medicine (again, store brand)
Allergy medicine (buy the generic Benadryl)
Adhesive Bandages
(I find this is a great low price for a huge lot)
Antibiotic ointment. Store brand works just fine.
Chiggerex
. This is the best bug bite relief medicine we've used. It isn't easy to find in places where chiggers aren't common (though it treats all kinds of bug bites, and is very effective for ant bites, spider bites and mosquito bites). Where you can find this on your store shelves, expect to pay $2 to $3 a container. I had my mom purchase 5 of these for me while she was in Missouri earlier this year.
Anti-Itch cream
. This works well for rashes, eczema, and some bug bites (though I prefer the above Chiggerex for ant bites).
Moleskin
to protect yourself from blisters. It's cheaper to buy uncut rather than precut moleskin.
Teething tablets (for babies)
Colic tablets or gas relief drops (for babies)
Tweezers
Powdered Gatorade. Buy this in bulk at Sam's Club and divide it into smaller bags, or buy electrolyte salts.
Super Glue. Target has this in the dollar section sometimes. Superglue will hold skin together and it's a less expensive choice than Dermabond (which does the same thing), New Skin liquid bandage is another great choice.
Antacids
Acidophilus in capsule form
Multi-vitamins
Cold remedies
Cough drops
Willow/Garlic Oil
This works really well for us to get rid of ear infections.
Iodine Solution
Any prescription medications
I've included a link at the bottom of this post to an exhaustive first aid kit list.
Fire Starting Items
You should carry at least 3 ways to start a fire.
Ferrocerium Rod
Use this and the spine (never the blade) of a good high carbon steel knife to start a fire. Though you should have more than one way to start a fire, if you only had one way, this should be it. It will throw sparks even when it is wet. The longer the rod, the better. If your rod doesn't have a handle, you can wrap duct tape around the end for an easier grip.
Waterproof Matches
in a container. You can also waterproof them yourself rather than buying the more expensive waterproof ones. You can buy a container, or use a prescription medicine bottle.
Lighters
. Buy these by the dozen online and divide them up among the packs for the members of your family.
Magnifying glasses. The higher the magnification, the better. Fresnel Lenses
are small enough to stick in your wallet. We've found these as low as $0.99 with free shipping for a pack of 5 on Ebay.
Charcloth is 100% cotton that has been "pre-burned" and just a tiny bit can be used to help when starting a fire. You can make it from scraps of old clothing, as long as it is 100% cotton (cotton balls also work well). There are a lot of videos on You Tube on making and using charcloth; this is a good one to get you started.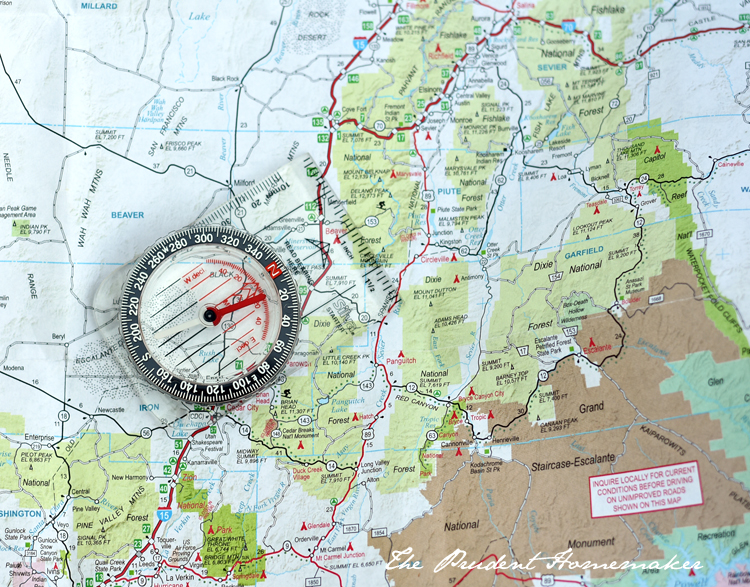 Getting Around
A paper map of your state/region, surrounding states and/or country and a compass are important if you end up having to walk to safety, or even if you are driving out and need to find an alternate route when roads are blocked, crowded, or damaged. Cell phone towers can go down in earthquakes, and phone batteries die. A paper map can be essential in finding roads and water sources.
If you are a AAA member, you can get maps for free as part of your membership; you just need to ask at your AAA office.
Visitors Centers in your area may also offer free maps.
If you cannot find a free map, I strongly suggest you purchase one. Again, you can use Swagbucks to earn Amazon gift cards to order maps. If you can find a laminated map, that would be ideal, but it not, pack your map in a ziplock bag to keep it dry.
As well as a road map, a topographical map is also extremely helpful in an emergency situation
When choosing a compass, you want a reliable one. Liquid-filled compasses are generally more accurate. If your compass is clear and lays flat, you can set it down on your map. Learn how to use a compass so that you can find water and safety. I've included a link at the bottom of this post on how to use a compass. Consider printing this to include in your kit.
Documents
Copies of important documents are important. If you leave your home due to hurricane, tornado, flood, or fire evacuations, it might not be there when you return. You'll need insurance information, loan information, car insurance, etc. You'll also want copies of birth certificates, social security cards, life and health insurance, etc. Consider both paper copies in a large-sized Ziplock bag, as well as a thumb drive with copies of these, along with copies of important photographs.
Another backup option is Google Drive; you can backup your computer (including photos, files, etc.) to Google Drive, so if your computer is damaged you can get to these. Make sure you have public file sharing turned off on your mobile devices to keep these files from being hacked when you're in a place with public wifi.
Laminated small photographs of each member of the family, as well as a family photo, put together on a ring, with identification on the back, is helpful for identifying family members if children are separated from the family. They can also be a source of comfort.
Sewing Kit
This can be as small as a metal tin box (Michael's sells these for $1 each, or you can purchase them on Etsy) that includes buttons, small, good scissors, needles, a piece of thin cardboard wrapped with several colors of threads (including heavy duty jeans thread), and safety pins in several sizes. If you are looking to make something from cloth, I've pinned several I liked on my projects board on Pinterest.
Something to Do
In emergency situations, having something to do is important!
For our own kits, we are purchasing small sets of scriptures. Look for pocket-sized or military editions to find small ones.
We also bought card games. For a family, each family member could carry a different card game, such as Rook
, Uno
, etc. Dice and instructions for Farkle are also small, lightweight items. Yard sales are great way to purchase games for less (I bought Rook and Milles Bournes earlier this year for .50 each at a community sale). Keep these in a Ziploc bag to keep them dry.
A small pad of paper and a pencil (including a sharpener) is also helpful. These items are good to purchase now on back to school sales. A good sharpener can also be used to sharpen sticks for a fire or a frog/fish spear if need be.
Lightweight Folding Pocket Frisbees
can be used to play frisbee and can double as a fan to keep you cool or use to fan a fire. I bought some of these to add to our packs for both fun and as fans.
A hacky sack to keep a youth occupied. Put this in your child's bag.
The Night Sky: A Glow-in-the-Dark Guide to Prominent Stars & Constellations North of the Equator
to keep your family entertained at night. (Obviously, southern hemisphere readers would need a different guide.)
A small toy to comfort and occupy a small child. A tiny doll or stuffed animal would be helpful, and/or finger puppets
. For a baby, pack a teething toy
. A garage sale or a children's resale shop would be a good place to find these inexpensively. My very favorite baby toy
came to me as a used hand-me-down. It is this one
and when I got it, it did not vibrate, but it was one that my three youngest children preferred as babies for the longest period of time.
Cash
Carry small bills and coins. When the electricity goes out, cash is important if you're in a place to buy anything. The store owner may not be able to make change, so carry small bills and coins.
Remember, weight is important! You want to be able to carry your pack a long way if need be, so make sure it is something that you can carry.
A couple of additional links I suggest reading and watching :
36 Lessons Learned Testing a 72-Hour Kit
Bug Out Bags (read the comments for additional great ideas)
Field and Stream's Altoids Survival Kit This is something you can always carry with you, in a purse, in a drawer at work, or in your car. There are several different tiny kits featured.
A Nurse's Fully Stocked Medical Kit An exhaustive list
Using a Compass: The Basics Print this to include in your kit if you aren't familiar with using a compass.
Use Desert Survival Skills to Get Drinking Water During Floods A great article on getting water in the desert, or in case of floods where water is contaminated. You may want to keep oven cooking bags in your pack for this purpose.
Wilderness Outfitters has some really great videos on making shelters and other wilderness survival skills. If you want something to carry with you, his book, Bushcraft 101: A Field Guide to the Art of Wilderness Survival
, would be excellent to have in your pack for a long-term survival situation.
This Can Happen To Anyone No matter what country you live in, you too could find yourself a refugee one day. If all you have is your backpack, what would you want to have in it? This poignant 1 1/2 minute video is thought-provoking.
I mentioned Ziploc bags and small plastic containers for several items. There are a lot of coupons for these right now and you may find an additional back to school sale. I purchase mine in bulk at Sam's Club; these go on sale there on occasion, too.
If you're wanting to make a kit for each member of your family but wondering where to find the money, consider selling some items you're not using on Facebook garage sale pages, on Ebay, or at a garage sale. Skip a couple of meals out, or an entertainment activity, and put that money towards items that will be invaluable in keeping you alive in an emergency situation.
What other suggestions do you have for 72-hour kits? Have you ever had to use your 72-hour kit, or have you tested it? If so, I would love it if you would share what you learned from your experiences!
Note: This post contains Amazon referral links. This means that if you go through one of these links to purchase items from Amazon, I will make a small percentage.