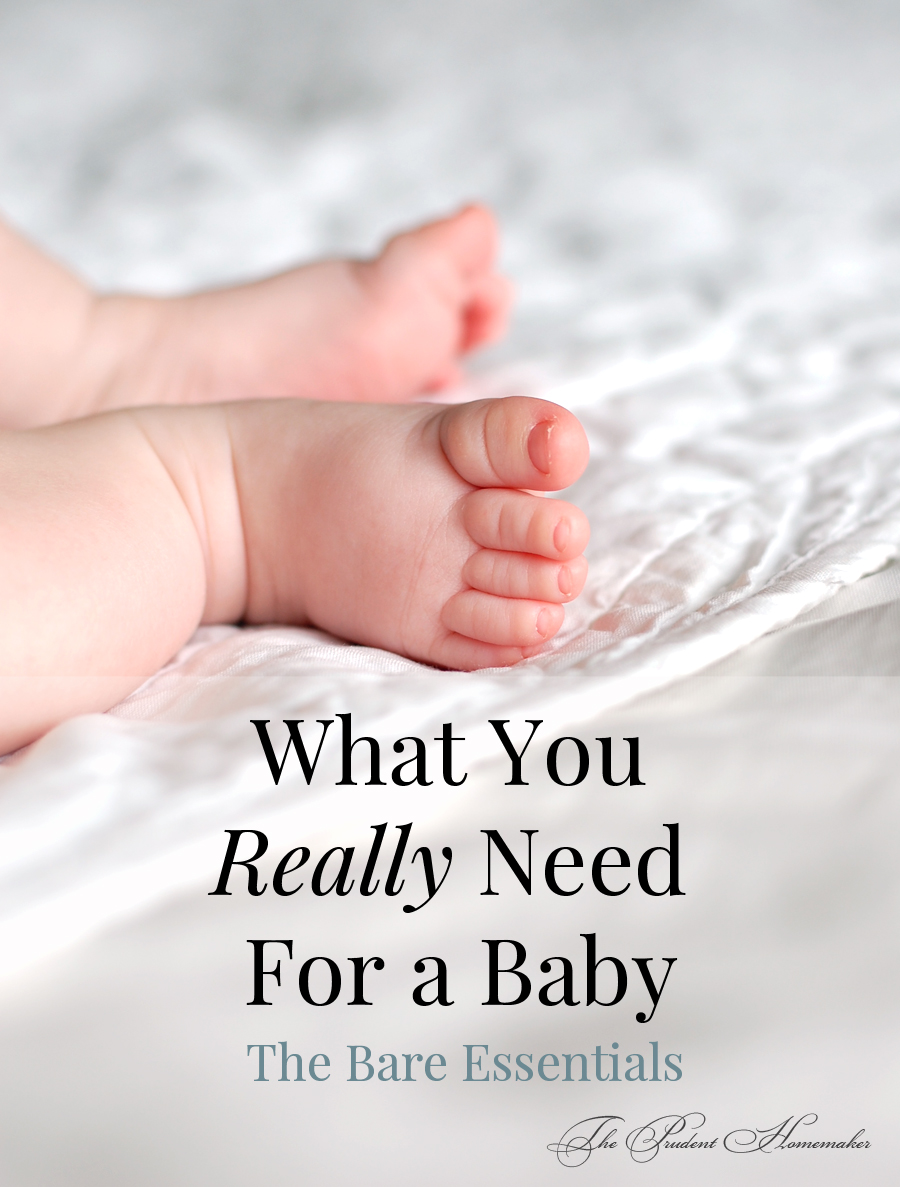 Note: This post contains affiliate links.
When I was pregnant with my first baby, money was super tight. I wondered what I really needed for the baby, and everyone would tell me the same thing, "You need everything." 
"But what about __________?" I would ask.
"Oh, yes, you have to have that," they would say.
It didn't seem possible to me that I had to have all of these many things for a baby, but no one could guide me to what a baby really needed, and what I could skip spending money on.
Eight babies later, I've found that a lot of those things people said I had to have (and that I thought I probably didn't) are things I didn't have to have, and even a lot of the things I thought I would need are things I have either done without or gotten rid of (because we rarely or never used them!)
I have received a lot of emails over the years from readers asking what items they have to have and what they can do without, because they have a small budget for their baby.
If you have a small budget and want to make sure you have the essentials, here's my list of what you really need–and remember, you can get almost all of these items used via yard sales, hand-me-downs, children's resale shops, thrift stores, Craig's List, and local Facebook garage sale pages.
1. A car seat
It needs to be rear-facing and up-to-date (not expired).  
In the U.S., you must have this in order to take your baby home from the hospital. Even if your children are all born at home, like mine have been, you still need a car seat. You'll also need an infant insert to hold a newborn's head.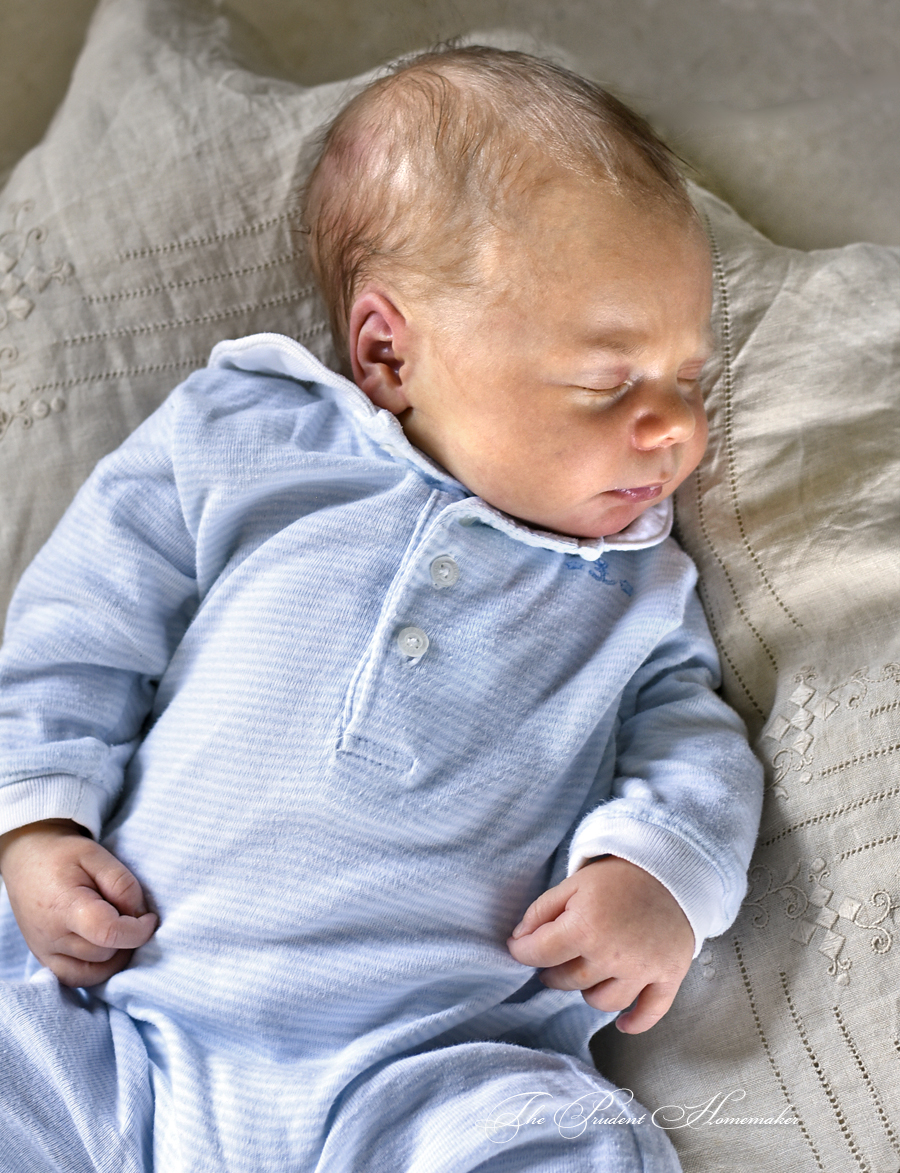 2. A place for the baby to sleep
More than likely, you'll need a crib of some kind. It can be a small crib, it can be a used crib (try Craig's List, garage sales, Facebook garage sales, and children's resale shops). You'll also need a crib mattress and bedding. For bedding, you need 2 bottom sheets, 2 mattress pads, and 2 blankets. I personally also like waterproof crib pads that go in between the waterproof mattress pad and the sheets; they save you from having to take off the mattress pad every time your child spits up or has a leaky diaper while sleeping.
What you don't need:
A bassinet, a cradle, or a matching bedding set with a quilt. The baby will quickly outgrow the first two, and the big fluffy quilts that come in the sets are too large and too thick. A crib bumper is no longer recommended in the U.S. (as it is considered a suffocation hazard) and is also difficult to tie on and off every time you change the sheets.
Gender-specific crib sheets. If you opt for neutral colors, you can feel good about using the same sheets for each baby (of course you can use pink sheets for a boy, but many people would prefer not to. If you start with a neutral color, you won't have to feel obligated to buy different sheets if you have a baby of the opposite sex later).
Note that many places recommend not using blankets but using sleeping sacks instead. Despite this recommendation, I have never known anyone who didn't use blankets with their baby at some point, whether in the crib, while sleeping elsewhere, while being held, while swaddled, to cover the car seat when the sun in shining in the baby's eyes, or to lay down on the floor for the baby to play on. Chances are good that you won't need to buy any baby blankets; they are a gift that everyone loves to give. I've received over 80 baby blankets with my 8 children!
Receiving blankets are too tiny to be of much use. Many parents prefer a larger muslin blanket like this.
3. A place for the crib
This can be in your room or in another room. 
What you don't need:
A decorated nursery. Yes, it's pretty. Your baby will still be just fine without it. Your baby will notice your love and affection more than anything on the walls, a mobile, a rug, or coordinating decorations.
4. A place to feed the baby
A chair with arms is the most comfortable option. A place to put your feet up is a bonus but not required. I've nursed most of my children at the computer sitting in the computer chair, because it has arms. This website was started while I fed my 5th baby!
What you don't need:
A glider rocker with matching gliding ottoman.
I really wanted one of these with my first baby. We had 7 chairs at our house when my first was born–4 metal folding chairs that we used as kitchen chairs, 2 computer chairs without arms, and one broken recliner with wood arms. I used the rather uncomfortable recliner with my first two babies, until we bought a computer chair with arms when I had my third. Some type of chair with arms is helpful for nursing or bottle feeding.
5. A way to feed the baby
If you nurse your baby, you'll need at least 2 to 3 nursing bras. I cannot recommend getting fitted for a nursing bra enough! Department stores have women trained to fit you for a bra, and even if you've been fitted for a regular bra, your size will change when you are nursing. A comfortable nursing bra is important, and a properly fitting bra will be much more comfortable than one that rides up or pinches you.
Nursing pads are essential to keep you from leaking milk through your shirt. I like these disposable ones and these washable ones.
A nursing cover is wonderful for discreetly nursing (and fastening your nursing bra and shirt after you're done nursing). I've used blankets before, but the cover doesn't slip when I'm buttoning my shirt or the baby decides to flail his arms. 
If you're formula feeding, you'll need formula (of course), bottles, nipples with different numbers of holes depending on the baby's age, and a bottle brush.
If you're planning on pumping your own milk, you'll also need those items (minus the formula). You'll need a breast pump. This may be covered by your health insurance.
If you don't know what brand of formula you want to use, you can sign up before your baby is born on different companies' websites, and they'll send you free samples and coupons.
Burp cloths. Babies spit up. Some babies barely spit up, and some babies spit up a lot. Prefold cloth diapers work as great burp cloths, or you can purchase or make some.
What you don't need: 
Special nursing clothing. A regular t-shirt and/or button-front shirts work fine. If you like to wear a dress, a button front bodice or a criss-crossing bodice (such as in a wrap or faux wrap dress) will work for nursing.
A nursing pillow. If you really want a pillow, try using a pillow you already have.
A bottle sterilizer. You can wash bottles in the dishwasher, and if you don't have one, you can dip them in boiling water in a pot on the stove–or simply wash them well.
Nursery water. As long as you have clean, safe drinking water where you live, you don't need to mix your formula with bottled water.
6. Diapers and Wipes
Cloth or disposable, you'll need something. Baby wipes (cloth or disposable) are also needed. You'll want a place to dispose of the diapers (if disposable) or a bucket to put cloth diapers and wipes in until you're ready to wash them. You'll also want something to put them in until you're ready to use them (a basket, a drawer, etc.) 
Both cloth and disposable diapers can be done on a low budget. I have done both and prefer disposable. I buy the Target brand diapers when they have sale and gift card offers. I use the Costco wipes (a box is $20 but it also goes on sale for $16 a few times a year). I find that one box of wipes lasts me 9 months. I usually spend around $250 a year for disposable diapers and wipes.
You'll likely also want to use a diaper rash ointment and some baby powder.
What you don't need:
A diaper pail. This is one of those items that we registered for, received as a gift, used for the first two children, and then we decided we didn't need it. We had a diaper pail that took regular trash bags. Starting with my third, the babies have all been changed in my room. We found it easy enough to put the diapers in the bathroom trash can (under the sink in a cabinet) and to empty that trash can every day. Emptying it every day is the best way to not have a stinky nursery. If you are changing a baby in a nursery, you may find a trash can with a lid (that you can line with plastic grocery sacks) to be the easiest option.
7. A place to change the baby
Somewhere to change diapers is important. If you have a two-story house, you'll want somewhere to change diapers on each level. 
This can be as simple as a waterproof pad. I use a waterproof crib pad with two cloth prefold diapers on top. If the baby spits up on the top or the diaper leaks while changing a diaper, I can replace that cloth diaper with another for the next time. You can also opt for changing the baby on a bath towel folded in half. Both of these options will can be done on a bed or on the floor; I change my babies at the foot of my bed.
A portable diaper changing pad is useful when you leave the house–and you can use in to change the baby on at home, too!
What you don't need:
A changing table. They're an expense that wasn't in our budget with our first, and we made it work without one. It worked fine, and so, 8 babies later, I've never used one. Are they nice? Sure! But if one isn't in your budget, you can put down a waterproof crib pad on your bed or on the floor and change a diaper there (and if you have a two-story home, you might not always change the baby in his room!) Don't stress over having one if it isn't in your budget. I did–but we made it work without, and once I realized we were fine without one, we never bought one, even when we had the money to do so.
8. A place to wash the baby
I had a baby bathtub that I used with each of my eight babies, and I gave it away after our eighth. I won't be getting another one for my ninth.
I only used the baby bathtub on occasion, when my babies were younger than four months. After that age, you can sit up (while you hold the child) a baby in the kitchen sink for a bath. 
Most of the time, however, we bathed the baby by having dad hold the baby in the shower while I washed the baby (standing right outside the shower). This was the simplest way for us and why we rarely used the baby bathtub.
Used baby bathtubs are usually free for the asking; people can't seem to give them away. If you want one, ask around, and the chances are pretty good that you can find one for a song or even for free.
You'll want some baby soap. I highly recommend smelling the different brands if you can before you commit to a brand; you may find that you like the scent of some and hate the scent of others. This is a gift that you may receive in a baby shower, too, giving you the chance to try out a couple of different brands in small bottles.
A couple of small, soft baby washcloths are nice, but you can also use a regular washcloth.
What you don't need:
Baby towels; they are rather small and thin. They never kept my babies warm when taking them from the bath (even when it's 78ºF in my house half the year) and my babies outgrew them in the first few months. A regular towel will do just fine, be large enough, and be thick enough to keep your baby warm between the bath and getting dressed (and not be too wet to dry your baby like the thin, tiny baby towels).
8. Clothes for the baby (and a place to put them)
There is a reason so many people say that their baby outgrew clothing before it was already worn. If you have more baby clothes than you need, this can easily be a problem.
If you have a baby shower and people know what sex the baby is, you will most likely receive a lot of clothing, and it will quite possibly all be in the 0-3 month size. Don't be afraid to exchange clothing for a larger size.
A new baby spends most of his time sleeping. When your baby is less than 3 months old, you can easily have the baby wear pajamas all day long.
How many clothes you need in each size depends on a couple of things: how often your baby spits up, how often your baby has a leaky diaper, how many times you want to change the baby's clothing, and how often you do laundry. How many layers you need will depend on the season, the climate you live in, how warm you keep your house, whether or not you keep your baby swaddled in a blanket, and if you take the baby outdoors often or keep the baby inside.
Baby clothes are often freely handed down; you can quickly end up with more than you will use. They are also a great buy at garage sales.
Any dresser will do for your baby; if your baby is in your room, one designated drawer will keep all of your baby clothes handy. Baby hangers are very helpful for hanging clothes in a baby's room (or in your own closet, if the baby is in your room) and you'll use the fo years until your children need adult-sized hangers.
What you don't need:
Baby shoes. Babies won't need shoes until they are walking, and even then, they will do best barefoot most of the time. My babies have almost all walked early (at 9 months) and I don't purchase shoes until they have been walking for a few months. 
12 of everything. 6-8 of most items of clothing per size is more than sufficient if you do laundry every couple of days. A couple of hats (or even just one) when your baby is brand-new to the world are useful, but you'll quickly no longer need them (and your baby will quickly outgrow them).
Special baby detergent. Babies clothing can be washed with your regular clothing. You will want stain removers.
9. A few hygiene items
Baby nail clippers are one of the best things ever.
A small comb with fine teeth works well for combing fine baby hair–but it doesn't have to be a special baby comb. 
A nasal aspirator (referred to as a "booger sucker" at my house) is extremely helpful in unclogging a stuffy baby's nose. The larger the aspirator, the better; tiny ones are not worth your money.
What you don't need:
Baby brushes. These usually come packaged with a baby comb and sometimes with nail clippers. If your baby has fine hair, a comb is more useful than a brush. 
Special wipes for the baby's nose.
10. Baby medicine
When your baby is fussy, crying, and won't sleep, it can be overwhelming. It's helpful to have a few items in the medicine cabinet before your baby is born.
Gas drops. The store brand of these works just fine, as this tiny bottle can be expensive. I always find I need these in the middle of the night the first couple of weeks after my babies are born, when they won't stop crying and arching their backs from stomach pain.
Baby acetaminophen. Babies can only have acetaminophen during the first six months to reduce fevers. You can add infant ibuprofen to your medicine cabinet after that.
Garlic Ear Drops. These are amazing. Everyone I've told about these (and loaned my bottle to) has ended up keeping the bottle and buying me a new one, because they loved the product so much! If your baby (or child, or YOU) has an earache, these drops get rid of it very quickly (only 4 times have I ever needed to administer a second round of drops), and save you a trip to the doctor for an earache (and ten days of antibiotics)!
Oral Relief Tablets. I found these easier to administer and more effective than teething ointment.
11.  A stroller
I thought I needed a large stroller that my car seat could clip into, with a big basket underneath and a place for me to put a drink.
By the time my third baby was born, I had used that stroller less than 10 times with my first 2.
When I went shopping, I would put the baby's carseat into the shopping cart. Once the baby was bigger, I would put the baby right in the child seat in the cart. Most places I shopped (grocery stores and big box stores) had carts, so this worked fine.
When we went places, I usually found it easiest to just carry the baby. I rarely needed the stroller.
Eventually, I bought a smaller umbrella stroller at a garage sale for $7 (after my 5th was born). We were going a few more places and I found the lightweight stroller to be so much easier to use. I sold the big stroller at a garage sale.
Whether or not you need a stroller (and what kind) really depends on your lifestyle. Realize, too, that you may decide to stay home more once you have a baby.
12. A few baby toys
Babies are curious about new things. Once they've learned all about something, they often tire of it and want to learn about something new. Once they can crawl and walk, they no longer want baby toys–they want to play with everything else in the house (including everything in your kitchen cabinets).
Before our eighth was born, I narrowed down the baby toys to the toys my young babies liked the most, and I donated everything else. What we kept for our eighth baby included the following: Sophie the Giraffe, Oball shaker, and Links. 
What you don't need:
A bouncer, a swing, playmats, and large baby toys that take up huge amounts of space. 
None of these made my babies happy. The baby would constantly slide sideways in the bouncer and preferred just to be held, and once the baby was 4 months old, all of my babies preferred time on a blanket on the floor instead. The swing had similar issues, and once I had a couple of children, the swing became something that the toddler just want to push really high and really fast! Every mom told me these were necessary items, but we found that they weren't something we had to have at all.
13. A diaper bag–or something to carry your baby supplies in when you leave the house
You don't have to have an actual diaper bag with pockets for bottles inside. If you bottle feed, they are certainly helpful, but any bag will work to transport diapers, wipes, a baby blanket, a nursing cover, bottles and formula, burp cloths, a diaper changing pad,  and a change of baby clothing. You can use a large purse, a backpack, or a tote bag.
I found it heavy to carry around a large number of supplies in a diaper bag while also carrying a baby (or a sleeping baby in the carseat!). To make my life easier (and to relief the back pain) I started keeping a large container of wipes, several diapers, and an infant bodysuit in the car. In my bag I have 2 to 3 diapers and a small container of wipes (and when I am nursing, I have a nursing cover, 2 burp cloths, and a change of clothing for the baby). With a one-year-old currently in diapers, I can fit a couple of diapers and a small package of wipes in my vintage 1950's handbag, and I don't have to carry a large bag.
What you don't need:
A designer diaper bag.
14. A high chair and baby feeding supplies
You won't need this until your baby is able to sit up and eat food. The American Academy of Pediatrics recommends starting babies on solids at 6 months or slightly later.
Baby bibs are important for feeding to keep your baby from staining his clothes. The larger the bib, the more of the baby's clothing that is protected. I use homemade bibs in dark colors (so that I don't need to use stain remover) that are large enough to cover their entire outfit. In the beginning, at 6 months, I'll use a slightly smaller bib that covers their entire torso.
Two baby spoons is more than enough for a baby; you can quickly wash them by hand and have them ready to use.
You can mash up what you're having; steamed fruits and vegetables are easy items to give to your baby. A blender can be used to puree your food and you can freeze food in ice cube trays to use later to feed your baby if you're making a bunch at once.
What you don't need:
Baby cereal, individual baby food containers, teething cookies, Cheerios, veggie straws, and toddler food. These can quickly add up and make your grocery budget double, with half the budget going towards baby food!
Not convinced you can do without baby food? French Kids Eat Everything is a book I highly recommend getting from the library and reading at least once! I watched the truthfulness of this when a French friend of mine came to visit and gave his 8-month-old steamed broccoli from his own plate at dinner at our house. The baby loved it!
Every mother is different, and every mother has her own personal favorites that she has to have. You'll find favorite brands of baby products, favorite kinds of baby blankets, and favorite products. You may find you can't live without some of the items that I mentioned as not being needs, and that's okay! In the end, you are the parent, and you get to choose what you want for your babies.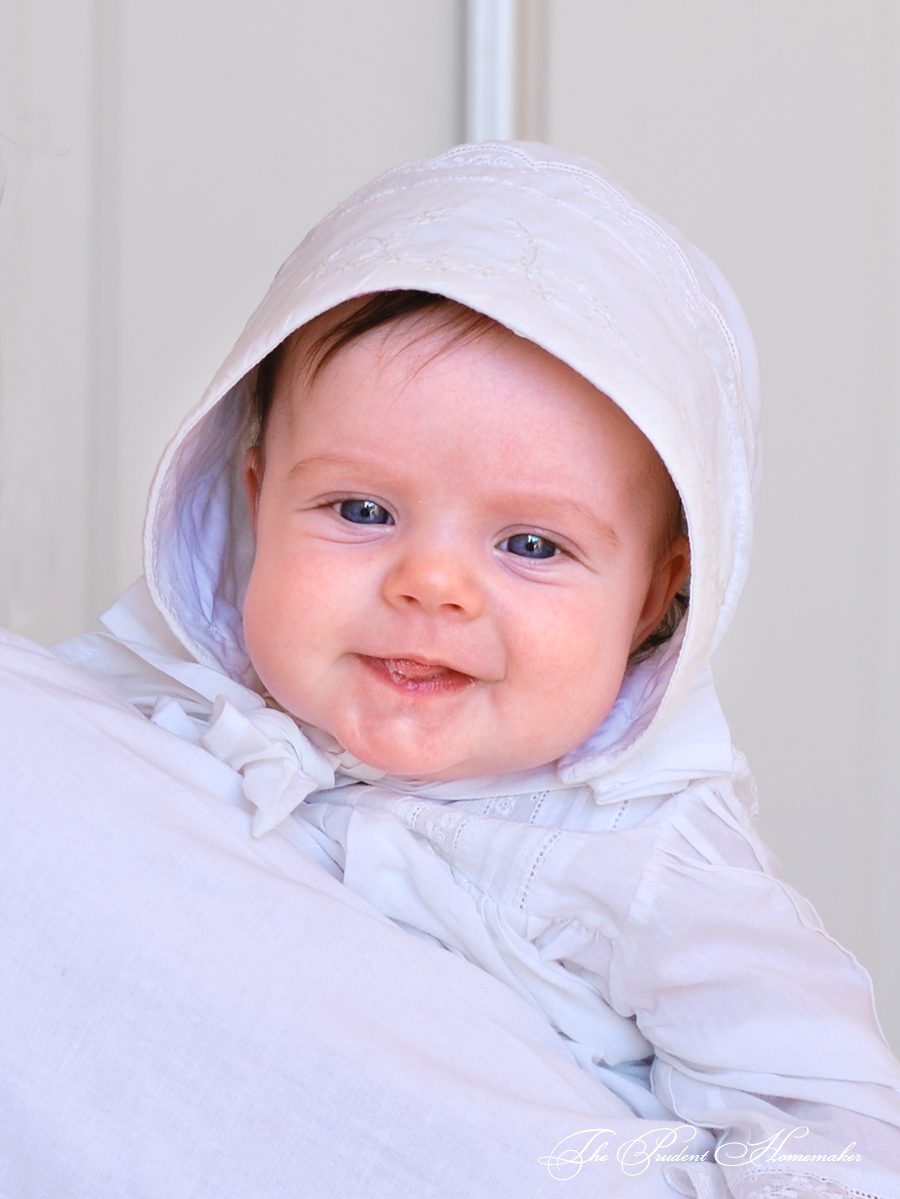 You may also enjoy reading: Our Baby Naming Day Tradition