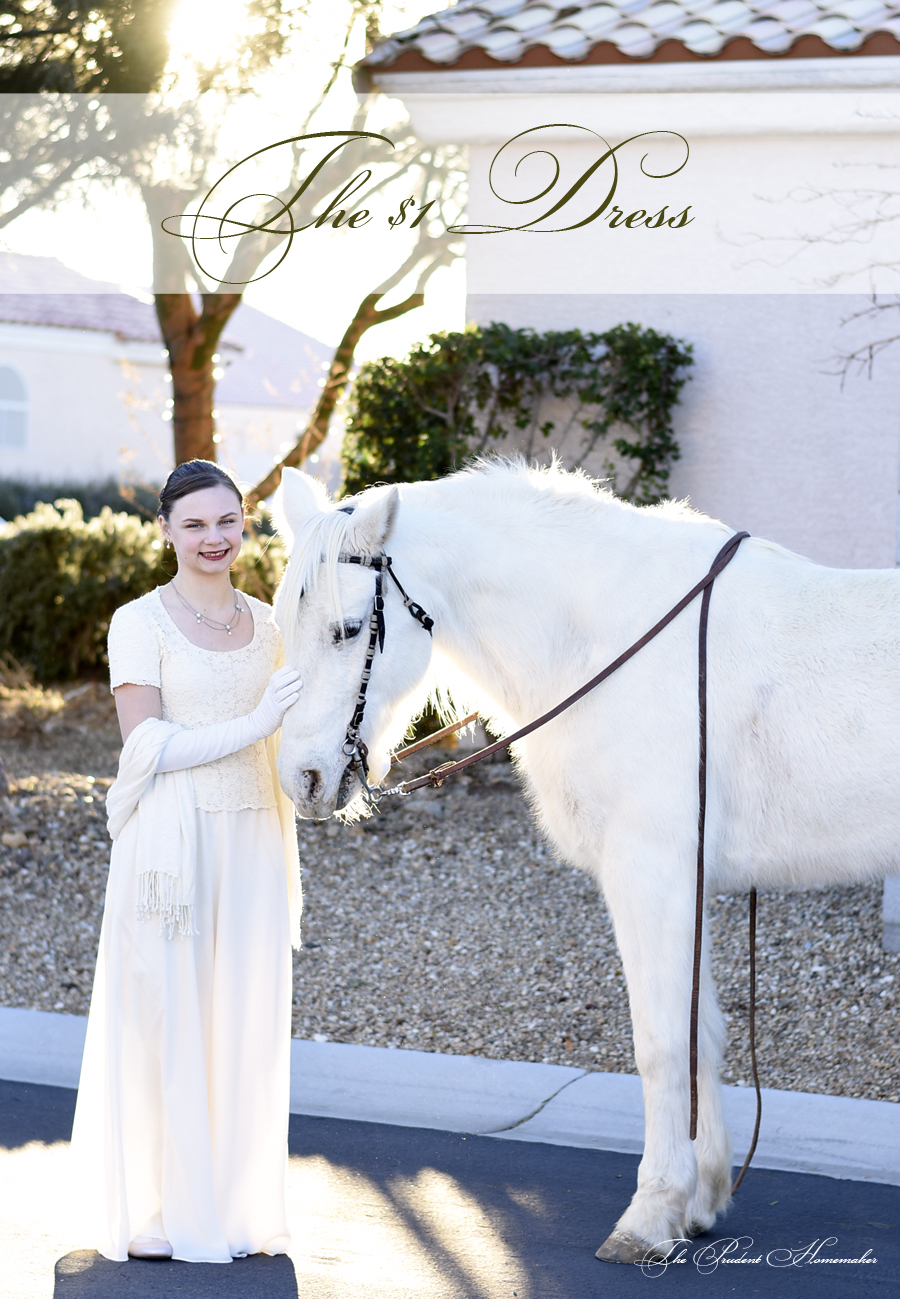 Winter just attended her first formal dance, a Winter Ball put on by the local LDS Seminary, which she attends. They have 375 students who attend a religion class early every morning an hour before school starts.
Because of our dating standards, only those who are 16 and older could bring dates to the dance. Everyone was welcome to bring friends to the dance. Winter invited a cousin to come with her, which worked out well as Winter's closest friends are 16 and had dates.
Our plan was to scout thrift stores for a dress, but then a dress came along. Winter told my mom about the dance and my mom mentioned a dress she had bought at a garage sale for $1 several years ago. She had never worn it and she said Winter could have it if she was interested.
Winter really liked the dress, but it was several sizes too large. She removed the sleeves, took it up in the shoulders, and took in the sides.
The sleeves were unlined. I spent $1.50 for some fabric to line them. She cut the sleeves smaller and sewed them back on.
Adjusting the shoulder seams meant the back was a bit too high. She cut the neckline down in back, and then removed the zipper and put in back in a bit lower for the new neckline.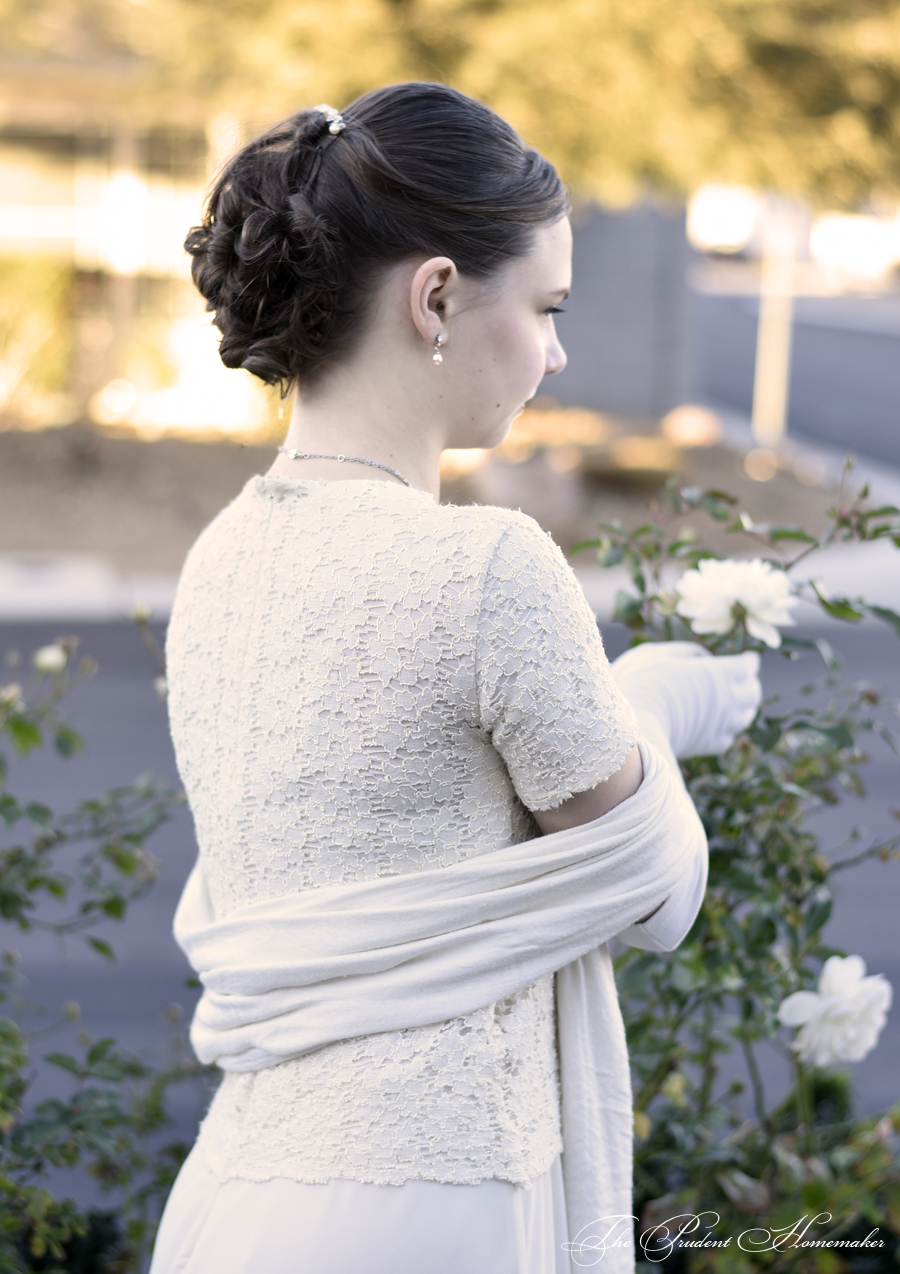 Her accessories were simple. She took a warm scarf that I bought at a garage sale last year for $1, wore a pair of earrings that were a birthday gift from her grandmother a year ago and a necklace that I had given her for that same birthday (I paid $1 for the necklace at a garage sale).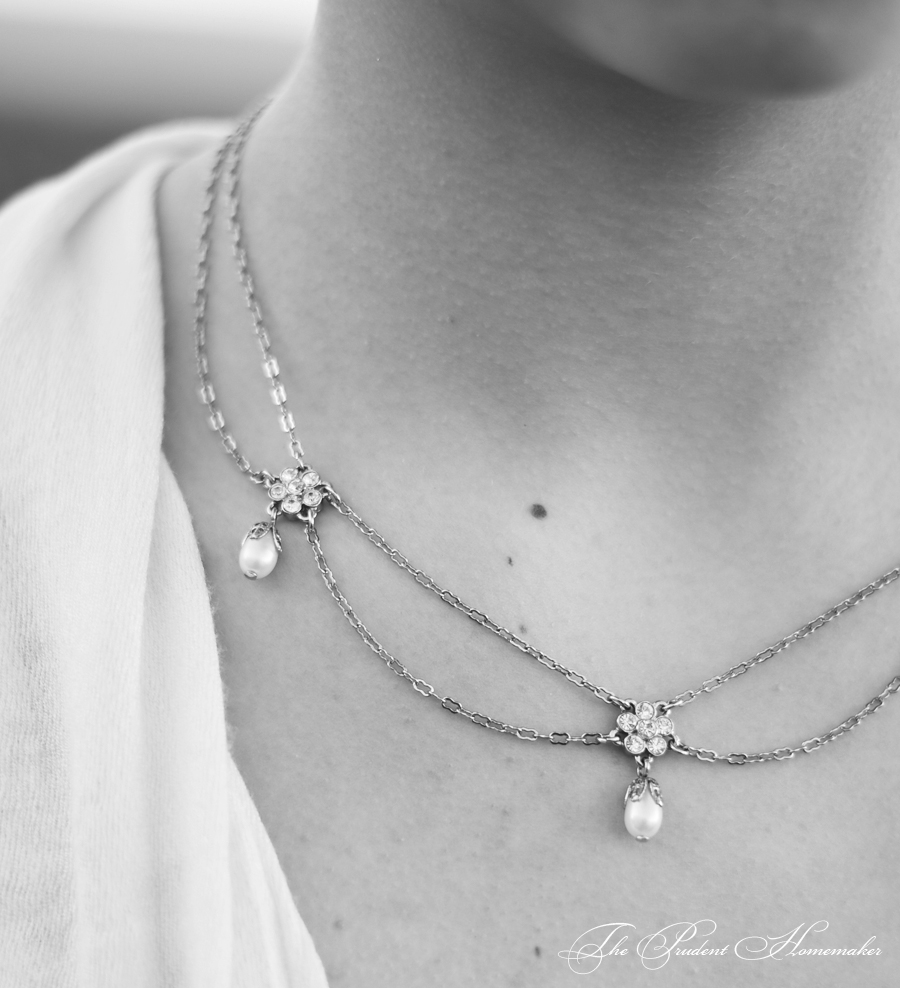 She had a pair of vintage gloves that were given to her when she was a child. One of the buttons was broken and the buttons were white plastic that looked to have once been pearl covered. She removed them and replaced them with some pearlized shank buttons from my button jar.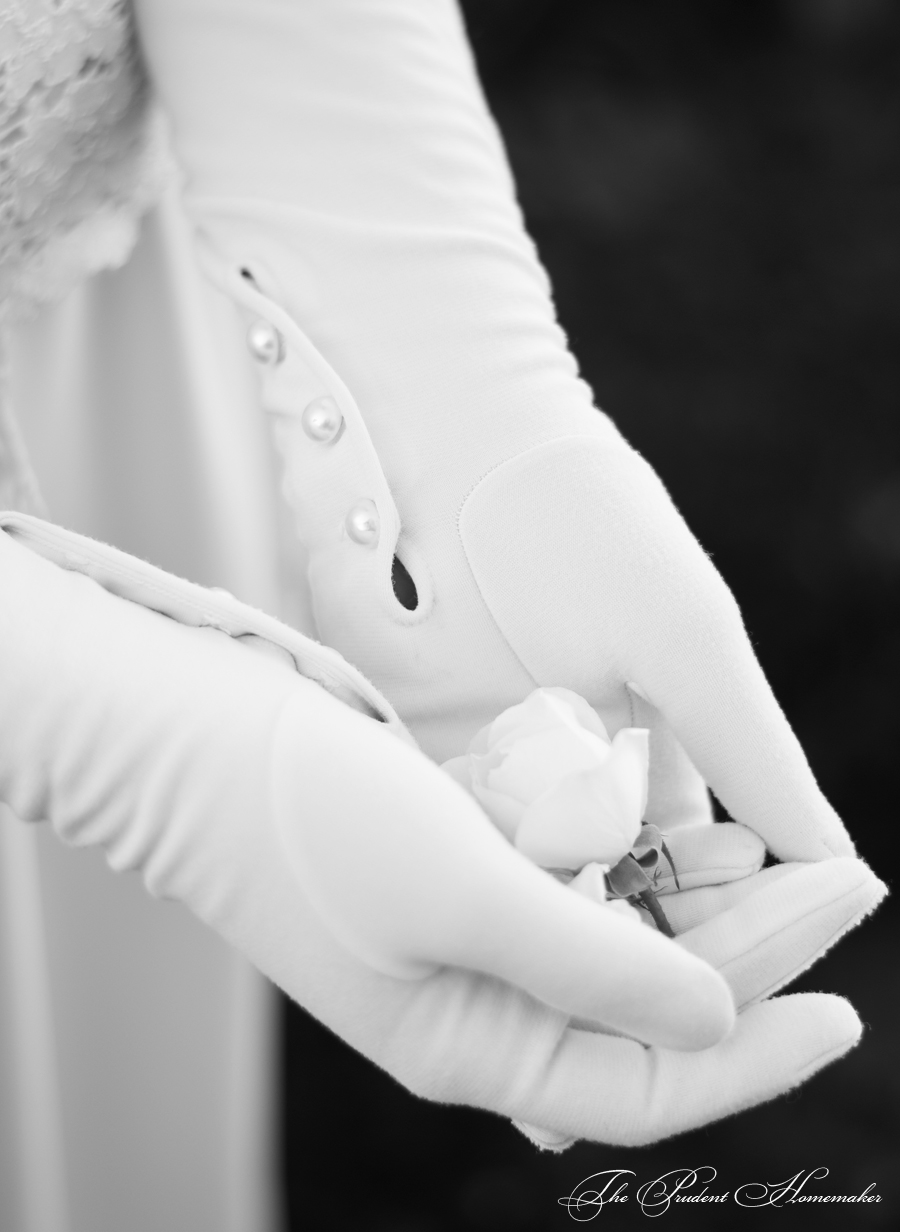 She decorated a hair comb with a piece of a broken cubic zirconia bracelet that she received at a Church activity a couple of years ago and part of a broken plastic pearl necklace. I gave her a set of plain hair combs for Christmas, and she used one of them as the base. She glued the jewels on with some E-6000 glue.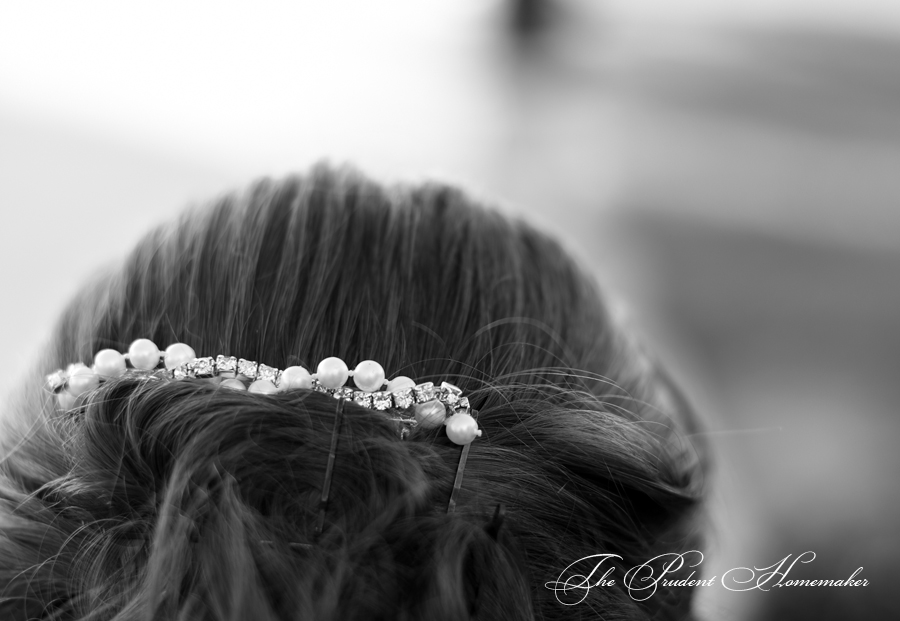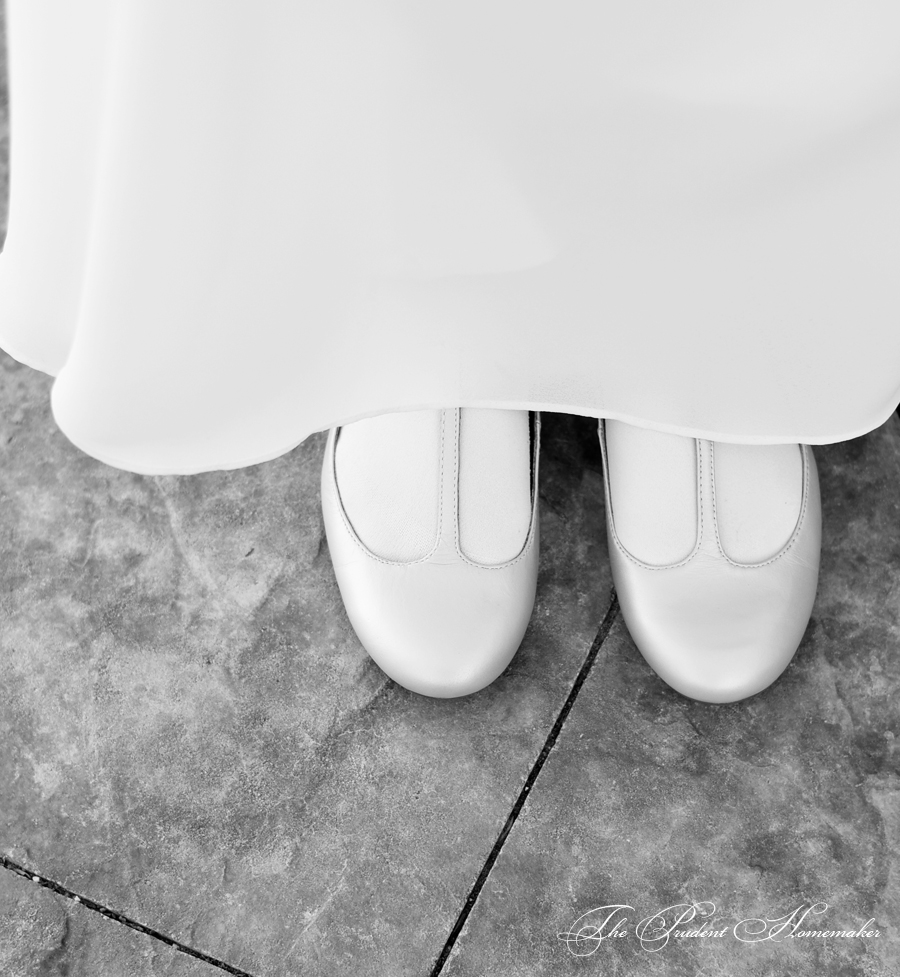 Her shoes were a recent gift. Her friend's mom had bought a pair of pearlized pale pink shoes for her daughter online. The shoes and the box were both marked "Child size 7"–but the shoes were too large for her daughter. I wondered if they were possibly an adult-sized 7, and I tried them on, but they were still too big. I asked Winter, who wears a women's size 10, if she wanted to try them on. They fit her perfectly!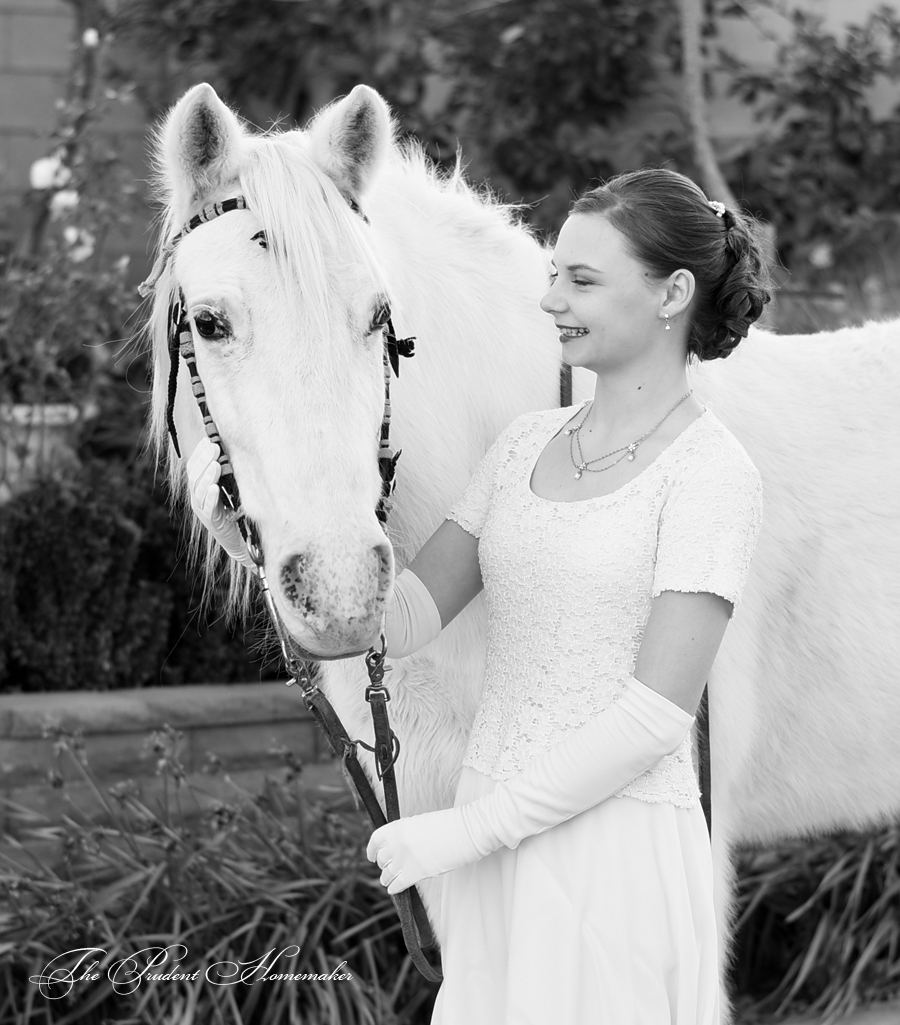 She did her own hair and makeup. She and a few friends got together ahead of time and Winter did hair for a couple of the girls and another girl's makeup.
Several friends had dinner ahead of the dance at a friend's house near the dance, and then they all went together to the dance.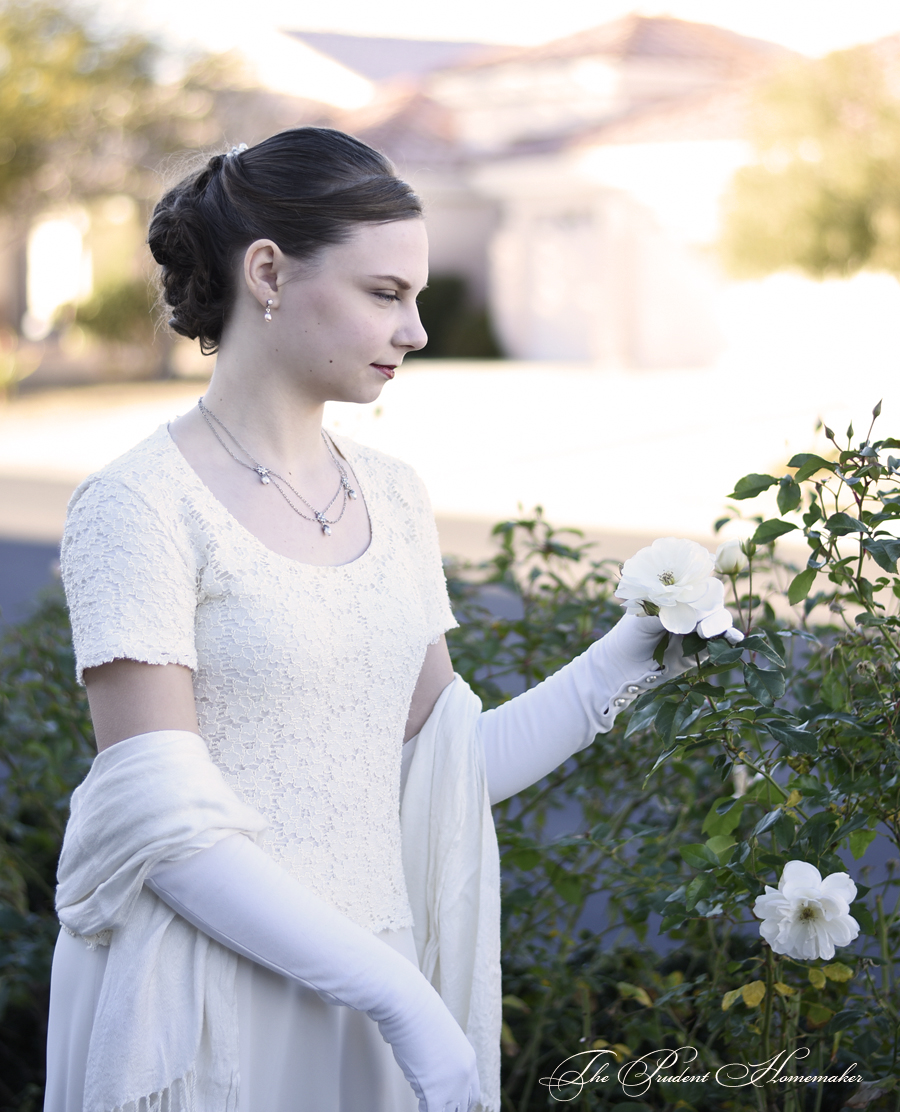 She'll have other occasions to wear this dress again, so it will get plenty of use in the future, too!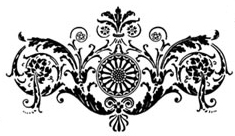 Linking to: Moonlight and Mason Jars