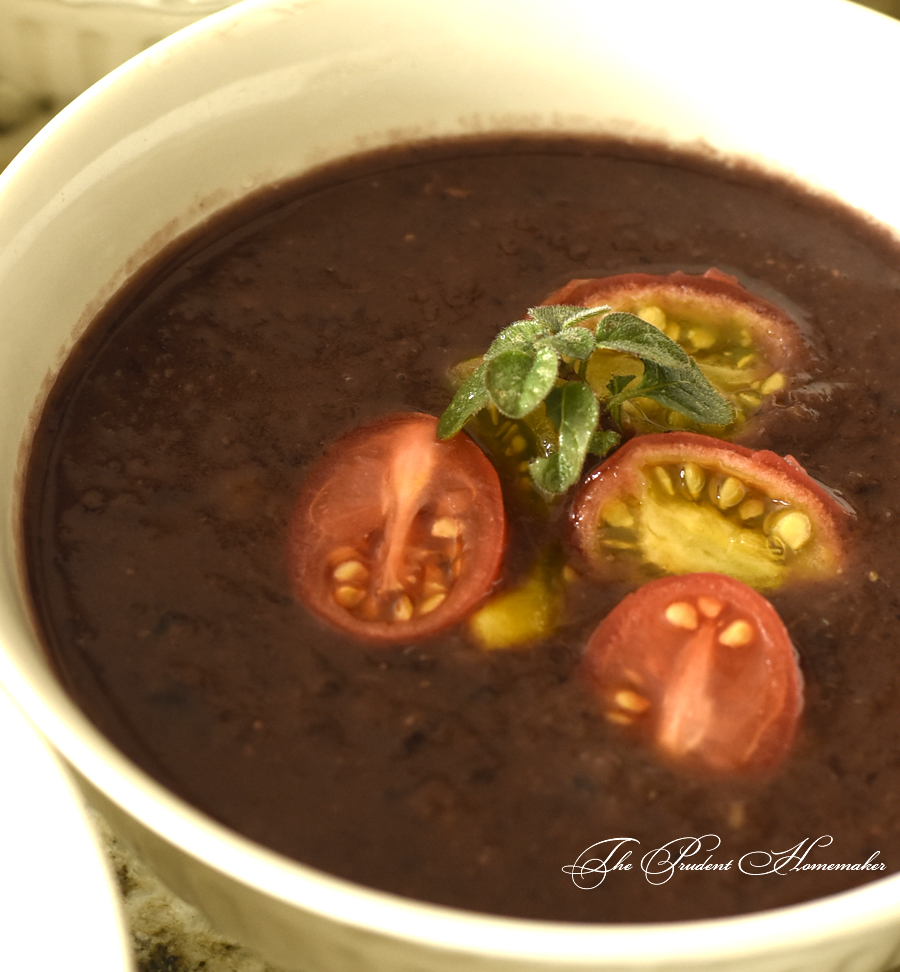 Black bean soup topped with tomatoes harvested green (and ripened off the vine) from the garden in early December.
I made a large pot of black beans in the crockpot. We had taco soup with them one day and black bean soup three days.
I harvested beet greens, lemons, and Swiss chard from the garden.
I pruned grape vines to make for a productive grape harvest this year.
I pruned rose bushes to keep my roses healthy and to help them produce well this year.
I dug euonymus plants from ones I started by tip layering and moved them to where I am starting a new hedge in the garden.
I also started some new plants from cuttings from other bushes for the same hedge.
Following my plans for a more productive garden this year, I planted seeds this past week for spinach, 2 kinds of lettuce, 2 kinds of snow peas, turnips, Swiss chard, 3 colors of larkspur, and Danish flag poppies.
Because of rain, I was able to not water the grass for the second week in a row. This time of year, we are allotted 1 day a week to water grass. It is rare to have enough rainfall to be able to not water. and I am grateful to have been able to turn off the sprinklers and drip irrigation.
My mom found a very large candle lantern for free out by the trash and gave it to me. It has a small crack in the base, but looks great still. I'm not sure if I'll use it for a decoration, a large terrarium, or if I should use it as a huge cloche in the garden.
I watched the Call the Midwife Christmas special on Pbs.org. I don't have time to watch a lot of shows, but it is nice to be able to watch a few things online from time to time!
My eldest needed some new piano music for her lessons. About 13 years ago, shortly after we got our piano, I had purchased a couple of piano books full of music for the time when we might need them. I was able to pull out this book and my daughter began using it for her practice (and I didn't have to buy anything new).
My husband and I had two date nights at home.
My husband cut my hair.
I mended a sheet.
Our silverware drawer broke in the back. In December, my husband contacted the company who made our cabinets and they sent him replacement pieces to fix to the drawer at no cost to us. They came this week and my husband fixed the drawer.
I found simple contentment in putting things away (including all of the Christmas decorations) and making the house tidier and less cluttered.
What did you do to save money and find joy this week?