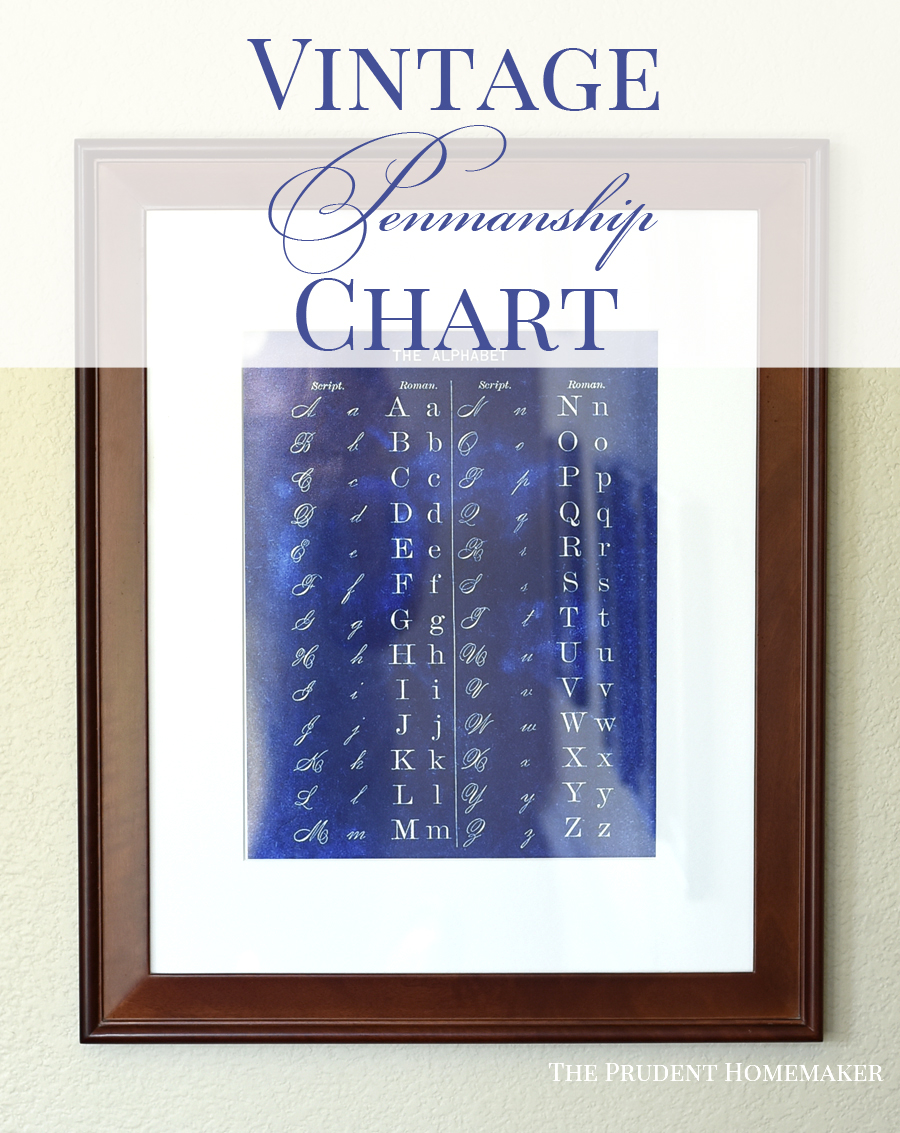 Note: This post contains affiliate links. You can read my disclosure policy here.
I love penmanship.
It's important to me that my children learn to write beautifully.
When I was first learning penmanship, I remember being frustrated that we could not choose alternative ways to write letters, even though I knew at the time that there was more than one way to correctly write several letters (for example, the way I learned to write an uppercase cursive "I" in school was completely different than I had seen other adults write it).) My teacher was pretty strict about us following the rules that year, but after that, I was free (for the most part; I had another difficulty with a teacher in 9th grade when I tried those non-crossed lower-cased "t"s from the photo below) to write a different style of cursive.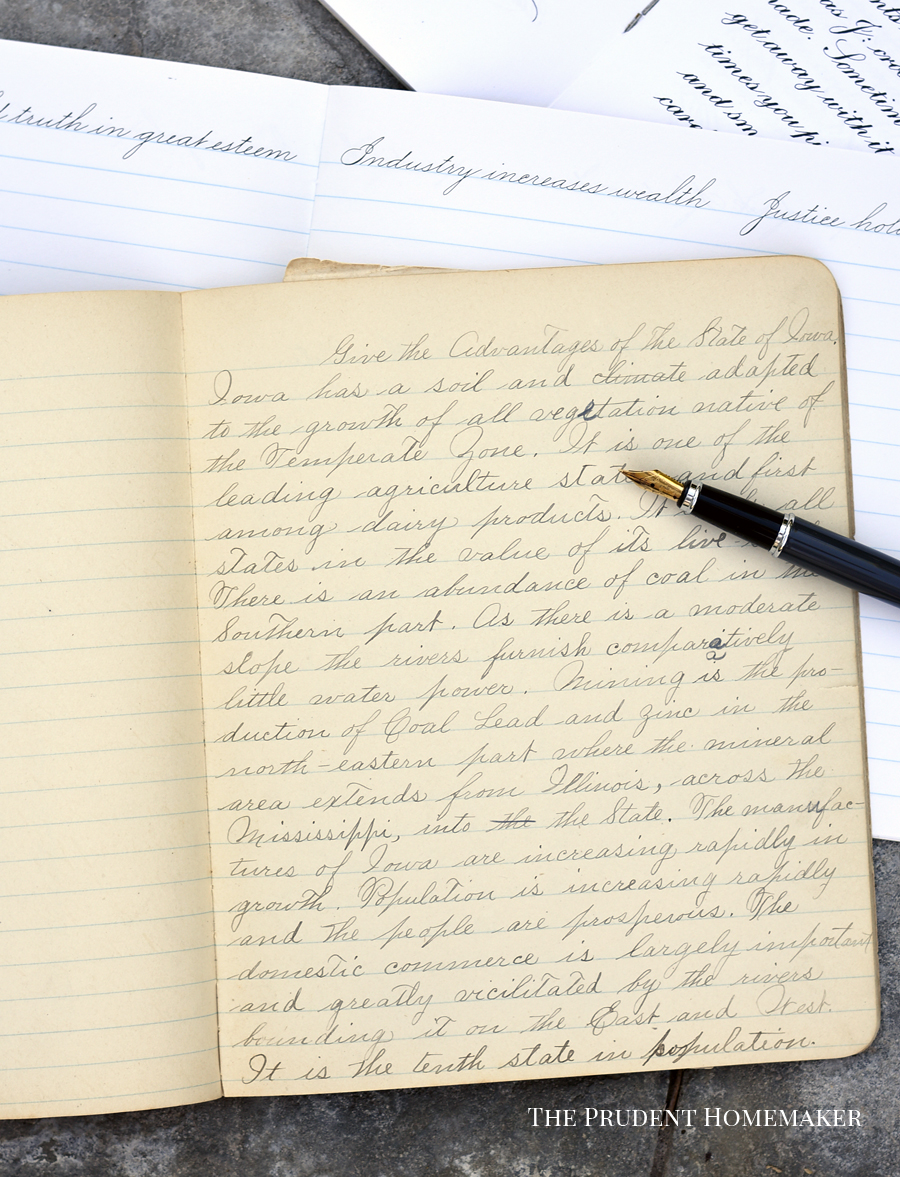 When I was starting 7th grade, I came across this beautiful student workbook at a flea market with my grandparents. Here was a young girl with exquisite penmanship. I started copying her letters and incorporating them into my own penmanship.
Eventually, I ordered some books on different styles (Copperplate being the easiest to find) and learned more. My favorite styles are Copperplate, Roundhand, and Spencerian.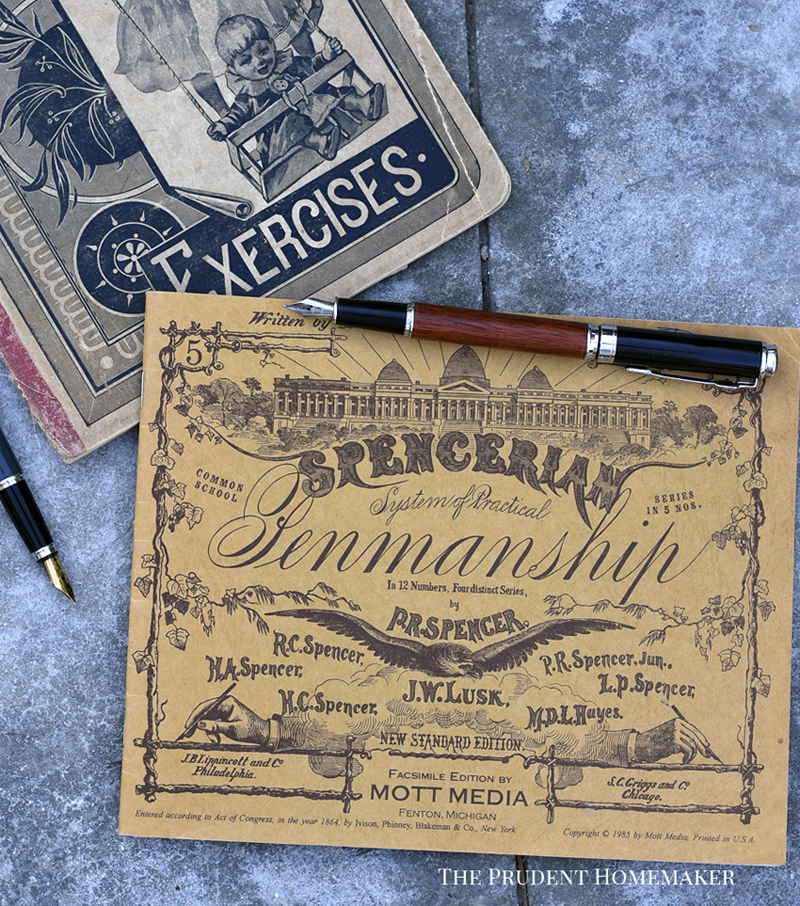 I was delighted to find, several years ago, that the Spencerian books are still being published. My children are using these for our penmanship studies.
I always wanted a wall chart to hang that would show what we are learning. Several years ago, Karen at The Graphics Fairy shared a penmanship page that I loved and wanted to hang.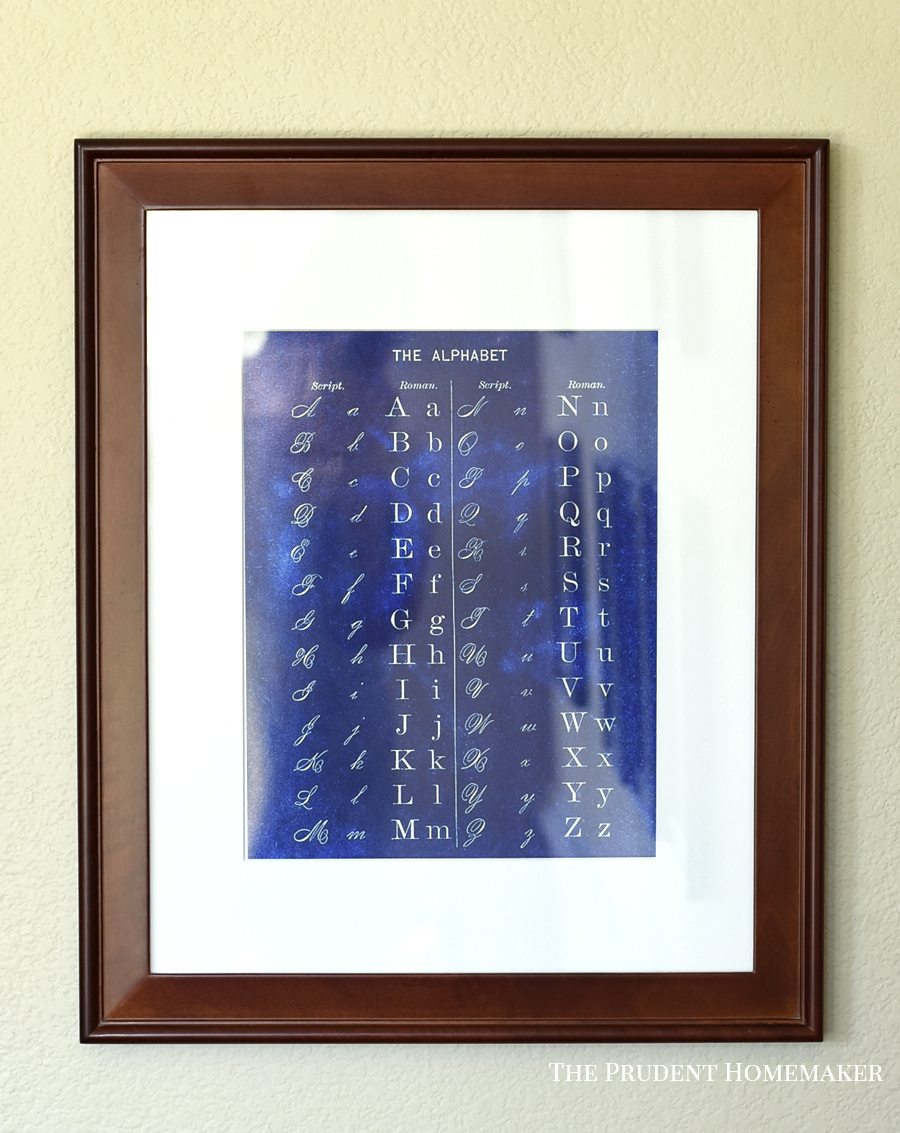 I made some changes to it to make it wider and longer to fit in a standard sized frame (I copied the edges and pasted them next to the eisting edges). I also cleaned up some bits of it, and then I made some more changes to it. My original plan was to make it chalkboard style, but by a happy accident, it became blue first, so I ended up with a blueprint style. If you want to do the same, I used "invert" in Photoshop to change it. If you want a black and white chalkboard looking choice, choose "invert" in layers and then do a black and white layer. The current versions of Photoshop and Elements may do this differently; I have a super old version of Photoshop that I am using. A free site like PicMonkey probably has a similar option. I moved the contrast to 100%.
Then I ordered a print from Sam's Club ($4.28 with tax) and framed it in a frame I already had (one that used to hang above the table).
(Even though I set the image to 11 x 14 in Photoshop, the program still wanted me to crop the image. I had to make sure it didn't cut off the bottom of the letters.)
This will now hang by our dining table where we have school.
When my children have finished all 5 Spencerian books, I reward them with an inexpensive fountain pen and ink cartridges. In the U.S., most people don't use fountain pens, so these are quite unusual. Fountain pens can be rather expensive in the U.S., since they're not used as school pens, like they are in other places (such as France). These are some of the very inexpensive options I've found on Amazon. I have all of these and like them: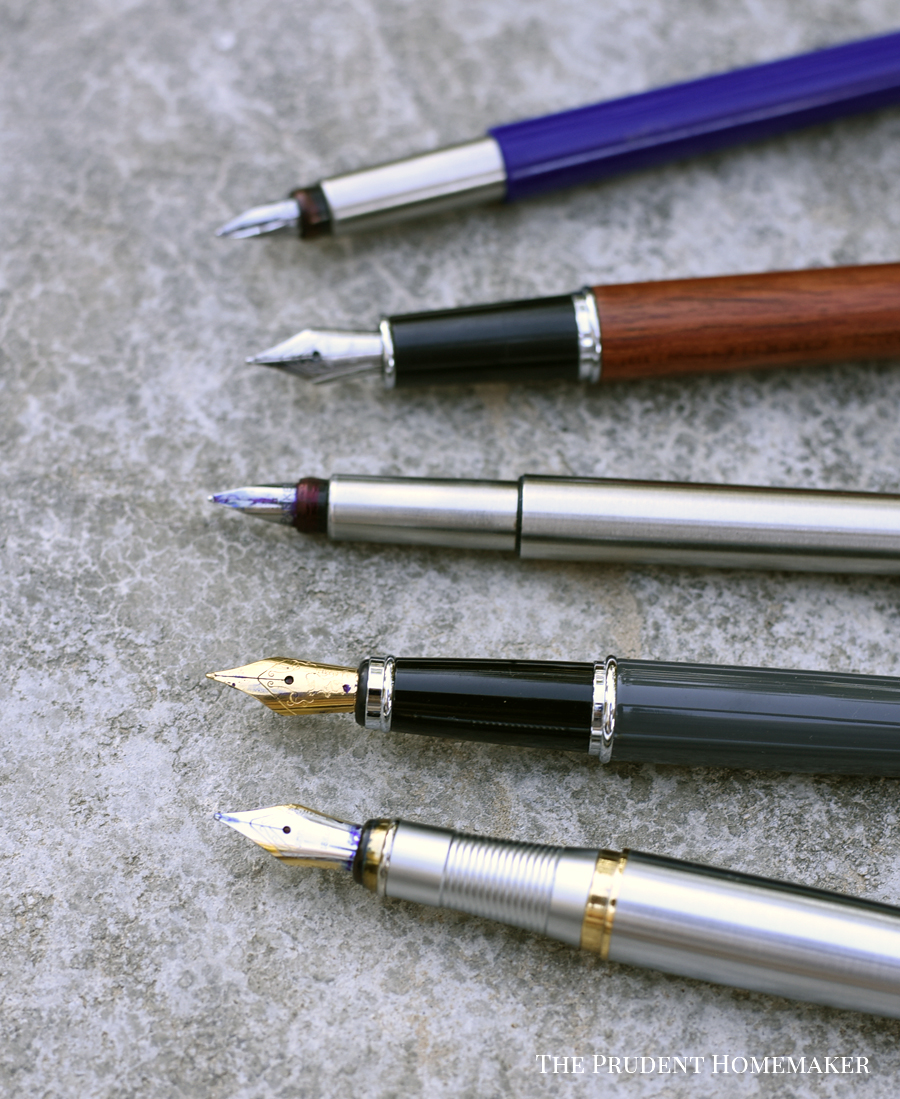 From top to bottom:
Parker Vector colored pen (comes in red, blue, black and gold; I used to buy these at the university bookstore when I was a student)
Rosewood fountain pen (price is often changing; we got this one for $3.65)
Parker Vector Stainless steel pen
Stainless steel and gold pen (the least-expensive of the group)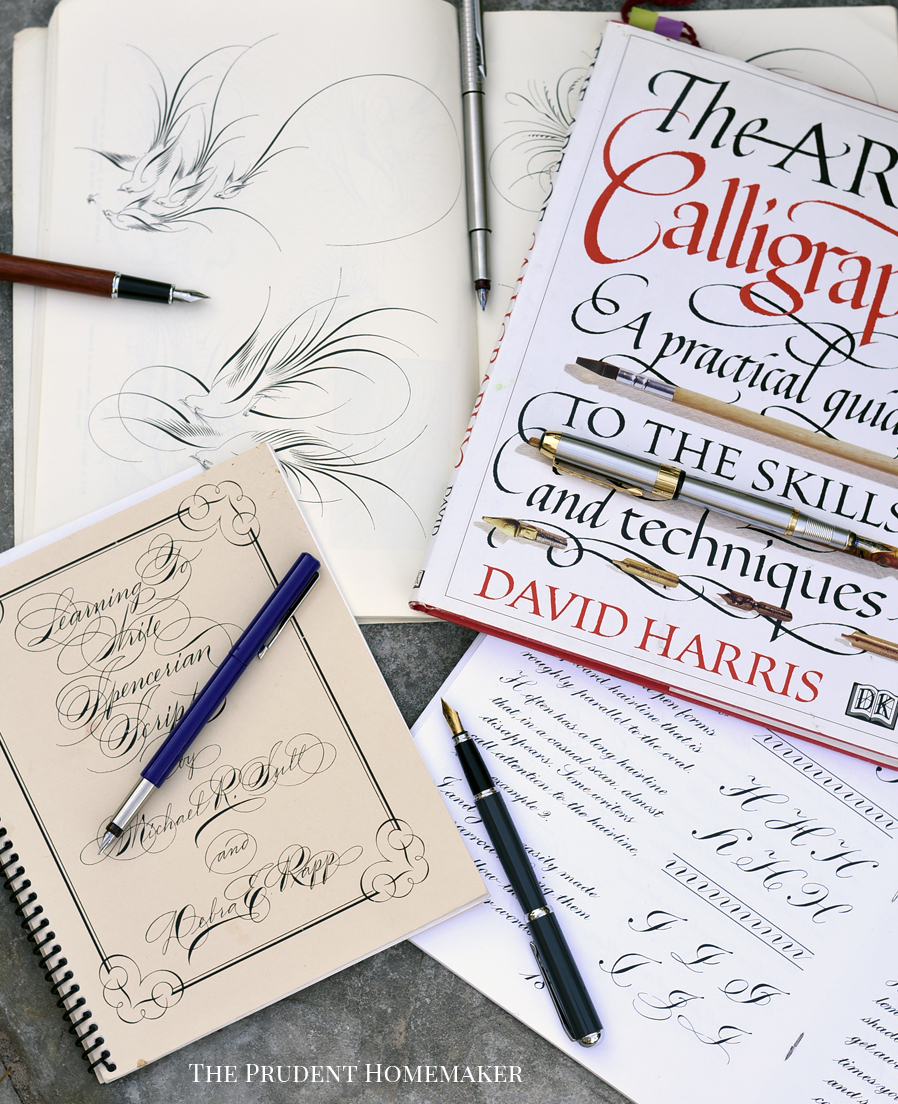 It takes them several years to finish the books. My two oldest children both finished them in 7th grade. After they've finished them, I've handed them a few other books that I've owned for years to let them learn more on their own (including alternative capitals), but it is no longer a required subject for them to work on each day. These books are (clockwise from upper left):
The Technique of Copperplate Calligraphy
Learning to Write Spencerian Script
Winter tells me often that she receives compliments on her penmanship from other people her age. They are also amazed by her pen. I always smile when she tells me, because I used to receive the same comments as well.
We start the workbooks when they are ready (usually in second grade). I know in other countries cursive is all that is taught from the very beginning. I have the children first learn to print before they move on to cursive, so that they learn both.
Do you enjoy beautiful penmanship?
Sharing at:
The Bouquet of Talent Party, Silver Pennies Sundays, Inspiration Monday