This post contains affiliate links.


When I was at the Dollar Tree last week, I noticed a few things that I thought I should share. They had seed packets for both vegetables and flowers for four for a dollar. They also had seed starting materials (containers–both plastic and biodegradable ones that you plant right in the garden–as well as seed starting mix in a 2 quart bag, which is the same price per quart as our local nursery, but at the local nursery they only have a 8 quart bag, so if you need just a little, this would save you $3).
They had 60 sheet dotted-lined paper pads (the kind you use for teaching preschool and kindergarteners to write). That's the same number of pages as I see on the ones anywhere else that are usually $3.59 at Target and Walmart.
They also had Valentine's scarves with hearts on them that Elsa just loved. I think they could be worn year-round. Elsa bought herself one.
Amazon has a few polka dot scarves in different colors
for $2.59 with free shipping (shipping is about a month out) so you could order yourself two scarves using a $5 Amazon gift card that you've earned through Swagbucks, and be out 18 cents. (Or just order one and wait until you have another gift card to order the next one). They also have a few others for $2.19
with free shipping (also about a month).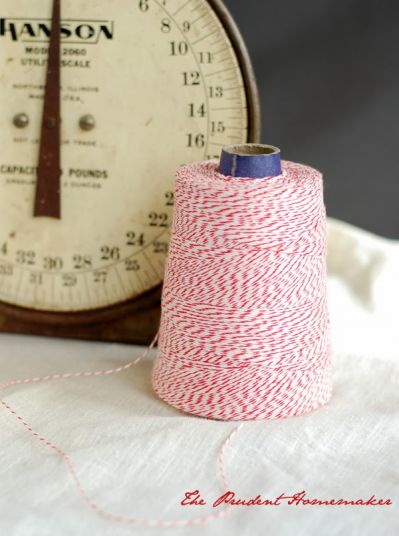 If you're wanting some
red and white baker's twine
for Valentine's Day (or any other gift giving, storing your linens, etc.), Amazon has been lowering the price lately down in the $8 range. I've seen it as high as $12 for a huge spool. (You may want to add it to your wish list and then watch the price; it seems to be changing every few days and it changed again this morning closer to $10).
However, if you want an even better deal, you can buy 2 spools (same size and brand) for $15 from One Kings Lane in their Give a Homemade Treat sale (ends on Saturday the 25th). That sale is pretty amazing; they have Kilner hexagonal jars, and a few Weck jars, and a great set of three white porcelain mixing bowls (I bought these from them before and I love them; I use them almost every day). Also, if you're new to One Kings Lane and you go through my link, you should receive a $15 off credit to use on any order of $30 or more (under My Account, click credits). If you place more than one order in the month of January, any orders after your first order will ship for free.
If you're thinking about Valentine's Day, you may want to check out my Valentine's Day Pinterest board. You'll see a few more uses for that red and white twine and also some ideas you can make with heart-shaped doilies (the Dollar Tree had red, white, and pink in different sizes).
Have a wonderful day! I'm off to work in the garden this afternoon.