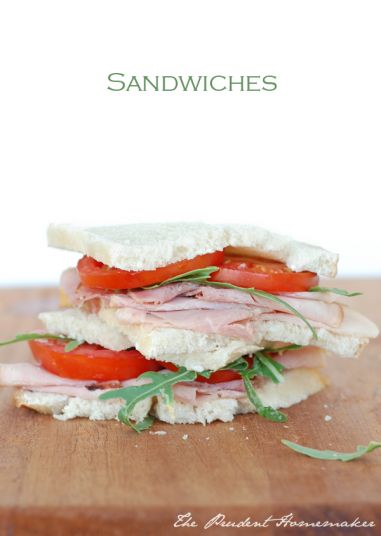 One of the most frequently asked questions in my inbox is, "What do you use for sandwich bread?"
The answer is simple: I use French bread.
I sometimes will make baguettes and have sandwiches like I did in France: ham, cheese, and mustard on bread. More often, though, I'll slice the bread, and just use it that way.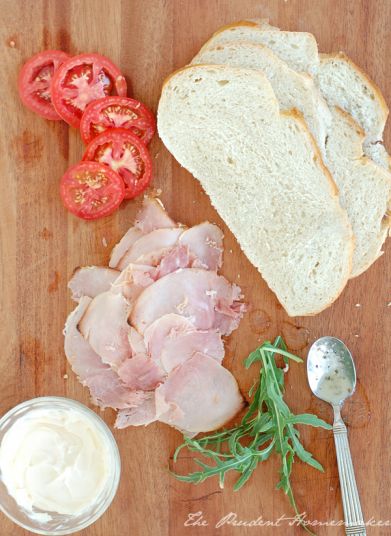 For meats, I'll cook a bone-in ham, or a whole turkey. I use an electric knife to cut the ham from the bone in several large chunks. I then use my meat slicer to cut in into deli-thin meat. I was using a $5 meat slicer that I picked up used from a garage sale, until the motor burned out. We decided to replace it with a nicer slicer this time (with a stronger motor). I saved up my Amazon credit (thank you dear readers for purchasing through my links!) and I bought this one
. I use it to slice bread as well. I can slice bread thinner on the slicer than by hand.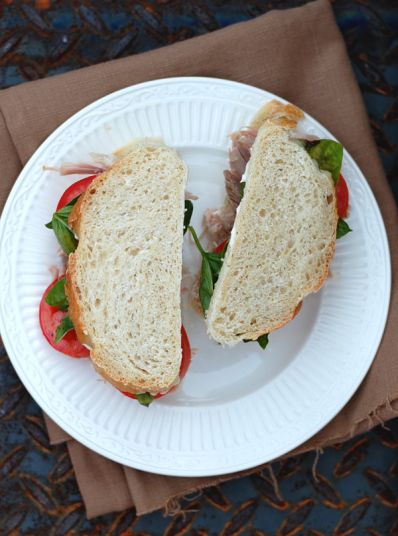 Turkey sandwiches on French bread with mayonnaise, tomatoes, basil, and Italian dressing
I will sometimes shred the cooked turkey and mix it with barbecue sauce, and add tomatoes from the garden (in summer).
I purchase ham and turkey on sale for under $1 a pound at Thanksgiving, Christmas, and Easter (usually $0.75 a pound and under). I freeze them to use throughout the year.
When I have lettuce or arugula from the garden in spring and fall, I'll use that on my sandwiches. In summer (when it's too hot for lettuce to grow here), we'll often have tomatoes and basil on our sandwiches, (or just tomato basil sandwiches!) We love Italian dressing on our sandwiches.
We'll also have Thanksgiving style sandwiches, with mayonnaise, turkey, cranberry sauce, and stuffing.
I've planted a lot of basil up the walkway in front of our house so that I'll be able to make pesto, which is delicious on a turkey or chicken sandwich with cheese. I plan on making these this fall when we have lots of basil.
Tuna melts are another favorite at our house, made with tuna fish, pepper, mayonnaise, homemade sweet pickle relish, and topped with cheese. We make those on our griddle. We also make grilled cheese sandwiches.
To go with our sandwiches, we'll have homemade pickles, or giardiniera. We also always have some type of fruit with our sandwiches, depending on what is in season. Last week I cooked a ham and we had apples, peaches, and grapes from our garden with our sandwiches. I've also served carrots and dip made with homemade yogurt alongside our sandwiches.
What is your favorite kind of sandwich? What inexpensive sides do you serve with your sandwiches?