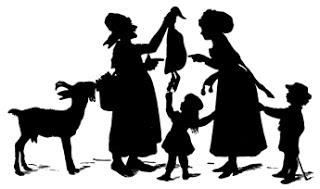 My Price Book
Prices on food have changed a lot in the last few years. As our income has continued to decrease, I chose to stick closely to certain prices.
With a $100 a month budget (for 9 people) to spend on food, including stocking up, I have become pretty strict about how much I will spend on certain items. For many things, this means buying that item in season once a year only, and freezing or canning it. I do not always have $100; sometimes I have nothing for the month, and sometimes I have $200. I have averaged spending $100 a month for the last 2 years. This does not include toiletries and diapers, for which I average $65 a month.
Here are the current prices above which I will not pay (that means if it's higher, it's not going in my cart). If there is a range of prices (say, .79 to .99) I usually will only pay .79 (or lower, if I can find it, and I look) but I realize that sometimes, the best price is .99. I will buy less at .99. I won't go higher than that:
(To those who use the metric system, I sincerely apologize. The United States measures in pounds and ounces.16 oz. equals 1 pound. 1 pound equals 0.453592 kg.)
Produce:
In general, I like produce to be $1 a pound or less, but here are my specifics:
Russet Potatoes: .10 to .20 a pound. I always buy these in a 10 pound or 20 pound bag, and I usually find them for .99 for a 10 pound bag in November, when I buy 400 pounds and keep them in the garage through the end of January/beginning of February. I will occasionally find more at this price during the year and buy some then, but not so many, as it is too warm to keep them for long.
Apples: .99 a pound is the highest I will go, but I aim for .50 to .79. I usually buy these in one week in fall and make applesauce. I have often found a good price for them in spring for one week, too, when I have also made applesauce.
Carrots: .45 a pound, usually in a 5-pound bag for this price
Bartlett Pears: .25 to .75 a pound. Some years they only go as low as .99 a pound. I will not pay more than .99 a pound. These are ripe sometime between July-September, and usually at the end of August. I have been seeing 2 different weeks of a good crop come in each summer; usually one July and one the last week of August/first week of September. I buy 80-160 pounds and can them
Peaches: .79 a pound. I get peaches in May and in July from our two trees, so we mostly eat those, but I will buy in July/August (whichever week they are ripe) for canning.
Bell Peppers: These rarely make it in my cart because they have gone up so much. In the last year, however, I have found 2 sales at Winco, and I bought these again.They were .10 each then; I will not go above .58 each, but I aim for .40 each or less. Other stores here usually only go as low as $1 each of even $2 each; I won't buy them at that price. They are very difficult to grow here; I try every year but it was so hot that I didn't harvest from putting plants in the ground in February until December last year, and then only a handful of TINY bell peppers (the heat makes them very small and prevents them from flowering). I will not be growing them this year.
Tomatoes: I do my best to grow these, but with the heat, they don't make flowers or set fruit for most of the year. I put plants in the ground after Valentine's Day. I will purchase them for .50 a pound or less if I can find them and my plants are not producing, and if I have the money.
Lettuce: In general I try to only eat lettuce from the garden, because it is so high, and we eat so much. If I decide to buy lettuce at the store, I usually stick to Romaine hearts, around $3 for 3.
Cucumbers: Rarely purchased (though I love them) as they are usually too high past my price point. If I find them for .33 each or less I will rarely purchase them. The only kind that does well in the heat in my garden is Armenian Cumumbers. I will be planting this type again in my garden this year.
Onions: .20 a pound
Clementines: $1 a pound, in season only
Oranges: .20 to .99 a pound. in season. I stock up when they are .20 a pound and I try not to go higher than .33 a pound. Oranges will last 3 months in the fridge or in my garage in winter.
Limes: I try to buy limes in a bag from the .99 store (my mom always picks these up for me). There are usually 12 limes in a bag. If not, I aim for .20 for less per lime.
Lemons: I grow Meyer lemons and freeze the juice. If I need lemons beyond that, I aim for .33 or less per lemon, and I can usually get the best price (.20 per lemon) by buying them in a bag.
Broccoli: This had become too high for us, but when Winco was built last year, I went looking for this item specifically, as I had heard that they have lower prices on this item. I have found it for .49 to .79 a pound for just the crowns at Winco. When I found them that low, I bought a whole lot, blanched them and froze them. Before that I was buying frozen broccoli from Target with a $1 off 4 coupon, making it .75 a pound (and mostly stems). We can eat a pound or more per meal. I had not been buying much the last few years, especially when it went to $1.49 pound here, which is too high.
Peas: I have been buying frozen peas for $1.89 for 2 pounds on sale at Fresh and Easy. This is .95 a pound. My family really loves these peas and we are starting to eat 1 1/2 pounds at a meal. Remember that peas are a great source of protein.
Corn: I usually buy canned corn on case-lot sale or on holiday sales in November. .49 a can to .58 a can. Corn does not grow well here; it it too hot for ears to form. Corn doesn't like temperatures of 116º for months.
Grapefruit: .25 to .33 each. These are only this price in season in winter; I will buy a lot then if I am able to do so.
Bananas: We eat through bananas really quickly; a bunch of bananas has 6 bananas, so they are all gone in one sitting. I don't buy these very often, as they are usually .59 to .79 a pound here, but when I find them for .49 a pound or less I will get them if my budget allows it.
Asparagus: We all love asparagus. I planted some in my garden and I have had 2 plots die that were producing in the past. I will only buy them for .99 a pound in season; they don't go lower than that. I planted a lot more asparagus plants last year, so in a few years I hope to be harvesting again.
Watermelon: My family likes it, but it is pricey, and I find it is only best in season. I will buy it maybe once or twice a year at .25 a pound (usually around the 4th of July).
Honeydew and Cantaloupe: I will rarely buy these ins season at .49 a pound or less, but not as often, as they are usually much higher than that.
Dairy:
Cheddar Cheese: $2.50 a pound (Sam's Club, often $2 a pound in spring/summer)
Mozzarella Cheese: $2.50 a pound (Sam's Club, often $2 a pound in spring/summer)
Sour cream $1 a pound (Smith's)
Milk: Milk has become a rarity here, but I will occasionally buy it for $2.79 or less.
Butter: I buy unsalted butter for baking from $2 a pound or less (Sam's Club and/or holidays). Last year I found it really low in summer at Sam's Club and stocked up. I rarely use it as it is very expensive compared to margarine.
Margarine: I like spreadable margarine for putting on toast, potatoes, pasta, and using in cooking. I pay around $2.65 for a 3 pound tub of Blue Bonnet or Gold N Soft. This is a regular price at Walmart for this size.
Eggs: .99 a dozen. Prices are rising rapidly on these and sometimes the lowest I'm seeing is $1.25. I will rarely make an exception to go that high. I usually wait until they are .99 a dozen (about every 3 months) and I buy 13 dozen and I make them last as long as possible. The American Egg Board says that eggs are good for 4-6 weeks past their expiration date, so don't be afraid to stock up!
Pasta
Pasta: .49 a pound to $1 a pound. About the only pasta for which I still pay $1 a pound is Farfalle. I can usually get everything else for .49 to .79 on about 3 sales a year.
Meat:
I don't buy meat over $2 a pound, and I generally stick to meat under $1 a pound in order to have meat and stay within what we have to spend.
That said:
Turkey: .49 to .79 a pound (I stock up in November for the year; this is our main source of meat)
Ham: .79 to .99 a pound (I stock up in November and December for the year)
Whole chickens: .69 to .79 a pound
Boneless skinless chicken breasts: These have become rare for me to purchase. They normally go on sale for $1.99 a pound, but once or twice a year we may see $1.69 a pound. If I have the money, I will stock up then. I saw this price recently but was unable to do so.
Pork Loin Roast: This has gone up in recent years. I look for sales of $1.89 a pound to $1.99 a pound, which are getting harder to find. I love this cut of meat but we only have it a few times a year now.
Ground beef: I did not purchase ground beef at all in 2011 because it was too high. A friend of mine pointed out a sale in 2012 for $1.99 a pound. I bought 20 pounds once in 2012.
Bacon: A rare purchase, but I can sometimes find a store sale at $1.49 to $1.99 a pound. I will freeze any that I buy
All other cuts of meat have risen above my price point, so I have stopped buying them, as they are too much for our budget. I used to be able to buy pot roast for $1.89 a pound, but now I cannot find it lower than $2.49.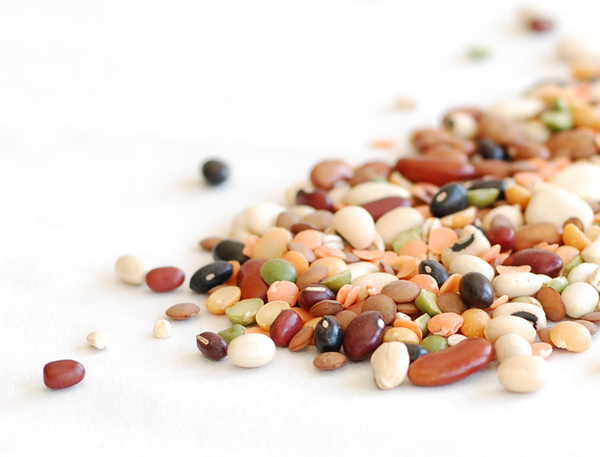 Bulk items (purchase place listed behind them in parenthesis):
Bulk items vary in price depending on the year and crop production. They have risen quite a bit in recent years from what I have paid in the past. Stocking up on these items can help you weather price changes for a long time, as these items last quite a while. I looked up current prices online to give you the most recent prices that I am seeing. Some are higher from when I stocked up on these last year.
All-Purpose Flour: $8.23 for a 25 pound bag/ .33 a pound (Sam's Club)
Bread Flour: $8.27 for a 25 pound bag / .33 a pound (Sam's Club)
Granulated Sugar: $12.34 for a 25 pound bag/ .49 a pound (Sam's Club)
Brown Sugar: $2.97 for a 4 pound bag/.75 a pound (Sam's Club)
Powdered Sugar: $2.98 for a 4 pound bag/.75 a pound (Sam's Club)
Yeast: $4.68 for 2 1 pound bags/ $2.34 a pound (Sam's Club)
Salt: I buy a 4 pound box at Sam's Club. I have bought Kosher salt the same way but Sam's no longer carries Kosher Salt, so I will be looking this year.
Spices: I generally buy most spices at Sam's Club. Prices vary per spice. I also grow several things for fresh usage in my garden, including basil, parsley, thyme, tarragon, and more. You can see my garden list here.
San Fransisco Herb Company for poppy seeds, mustard seeds, and cream of tartar, all just under $2.50/pound.
I have bought spices in the past from Herb Products Co. I looked them up recently and they just went out of business after 30 plus years. When I run out of the herbs I still have, I will have to search for new sources for several of htem.
Popcorn: Until last year, I paid $17 for a 50 pound bag of popcorn (Sam's Club). That lasts up one year. The month after I purchased it, I noticed a different brand and a new price of $25 for a 50 pound bag. Corn production was poor prior to that, so I will have to see what prices are when we are getting low this year (around June). For those who are wondering, we use this stovetop popper
. We've had it for 4 years and it has been great. We use it at least once a week.
Long-grain White Rice: (Sam's Club) $9.23 for 25 pounds currently. We go through 50 pounds a year, though this looks to be increasing. That is .37/pound.
Basmati Rice: I bought a lot of this several years back and I haven't bought any since then as we are still well-stocked.
Vegetable Oil: $6.78 for a gallon (Walmart)
Olive Oil: $14.58 for 3 Liters (Sam's Club)
Balsalmic Vinegar: $6.48 for 1 Liter (Sam's Club)
Vanilla extract: $6.88 for 16 oz. (Sam's Club)
Cornstarch: $2.35 for 35 oz. (Sam's Club)
Baking powder: $5.78 for 60 oz (Sam's Club)
Black Beans $16.80 for a 25 pound bag (LDS Cannery)
Pinto Beans $18.55 for a 25 pound bag (LDS Cannery) .742 cents a pound
Cannellini Beans $16 (LDS Cannery)
Kidney Beans: $1.25 a pound. (Winco)
Lentils: Brown lentils are cheaper than red or green, and easier to find. .79 a pound (Winco)
Oats: The current price I am seeing is $15.95 for 25 pounds at the LDS Cannery. Last year I stocked up for $15.35 for 25 pounds. A couple of months later Winco had a sale for $9.50 for a 25 pound bag, but I already had bought 75 pounds (which is what we use for the year). I am well stocked for all of this year and into next year, so when I run out, I will compare again.
In October 2005, I made a very large bulk order from Walton Feed that included red and white wheat, powdered milk, powdered eggs, and mung beans and alfalfa seeds for sprouting. I bought some powdered milk locally in May 2009 (Kroger Brand in a box), but that kind does not go as far as the kind from Walton, which mixes with twice the water as the kind from the store. I anticipate buying more powdered milk and powdered eggs in bulk sometime this year, so I will be comparing prices again. To read more about the different types of powdered milk, see my page here. I still have plenty of mung beans, alfalfa seeds, and wheat.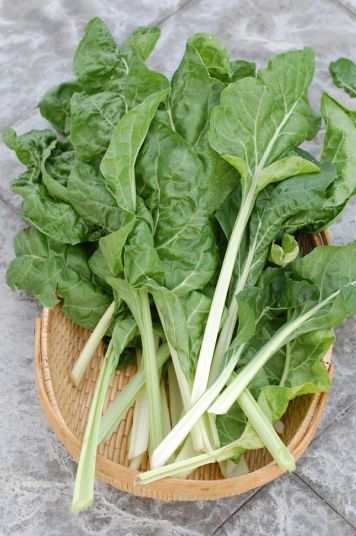 Swiss Chard
Items I don't buy because I eat them from the garden:
Grapes. I only eat ours when they are ripe in the garden. If I was purchasing these, .99/lb would be my limit
Green Onions. These are ready all year round in the garden. They can even be grown in pots. I harvest the outer stems and let my plants continue to grow; they will eventually go to seed and reseed themselves. I bought 2 six-packs of starter plants in 2007 and I haven't bought any since.
Swiss Chard: I harvest this year-round from the garden. I grow the Fordhook Giant variety. I harvest outer leaves and it continues to produce all year long from the same plants (though growth is mostly stopped in winter; when it warms in spring they grow vigorously again).
Were there any items that I left out that you would like to see included? I'm sure I've forgotten some items. Let me know, and if they're something I purchase, I will add them to the list, or if not, I will respond why not in the comments.