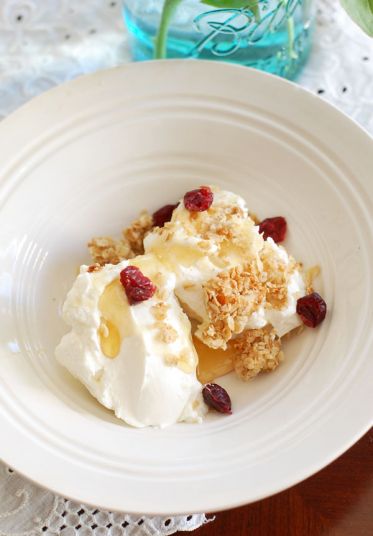 After church today, a woman I didn't know came up to me by my car as we were leaving. She had been waiting for me.
She said to me that she had been a visitor today, and that when she was talking with my son, he mentioned my website. She wanted to know what it was.
I told her, and then on the way home I asked my son about their conversation.
He told me that she was sitting in his class today, and that each student had been asked to name his or her favorite breakfast cereal. (I have no idea what this had to do with the lesson).
He replied that his mom didn't buy breakfast cereal, because it was too expensive. He was asked what was his favorite thing for breakfast, then?
"Yogurt and granola," was his reply. Then he added that his mom makes it and that it is on her website.
I'll be making a batch of granola tomorrow morning for breakfast!
My cranberry almond granola recipe is here.

I make Greek yogurt following the directions here.