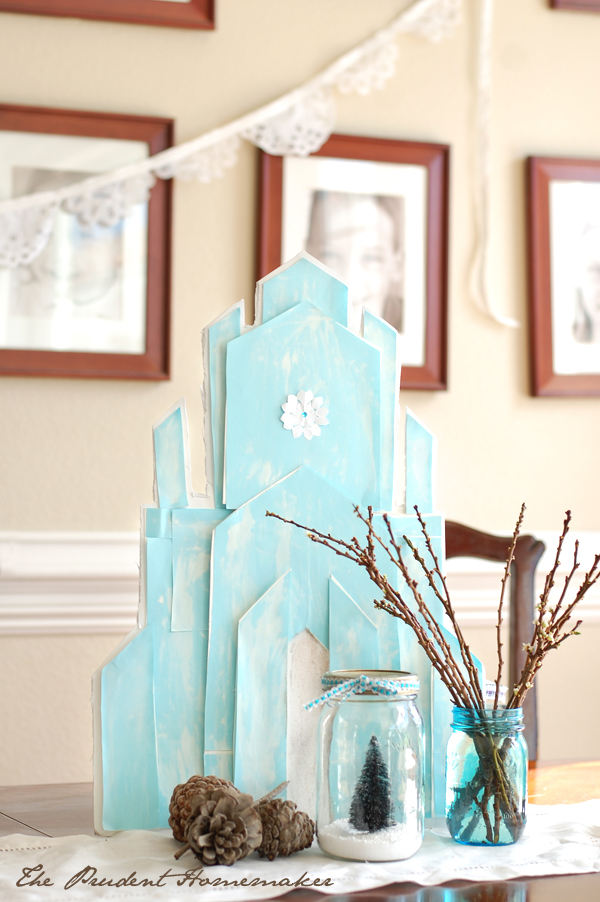 I have had a lot of readers commenting and emailing lately about unemployment and other financial difficulties. I know many of you are struggling to make ends meet.
Everyday money challenges are difficult enough, but then a child has a birthday, and you're left wondering what you can do to make their day special, when you don't have a penny to spare.
Our own budget is very tight right now. For my five-year-old's birthday, I planned food, decorations, and presents using what I already had on hand.
My daughter is named Elsa, and I wasn't surprised when she wanted to have a Frozen-themed birthday party.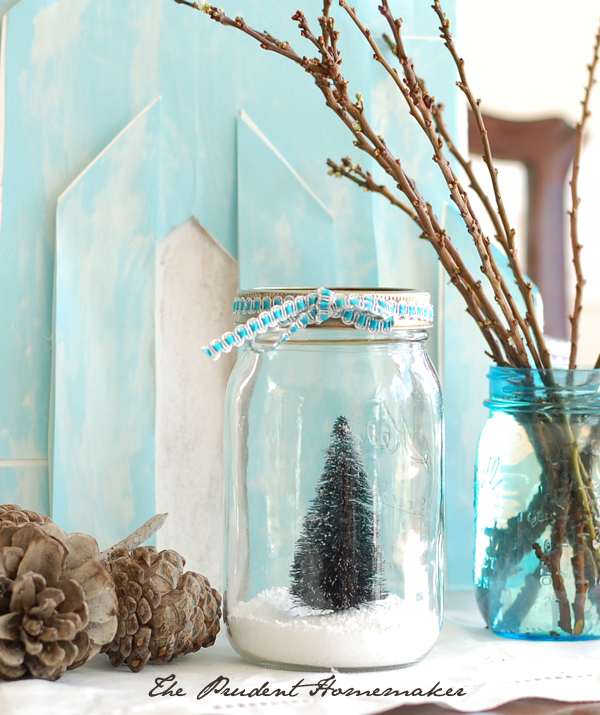 I put down a white table runner on the table. I used two mason jars with epsom salt and little trees in them that I made at Christmas. I found some ribbon in my stash that was just the perfect colors that I tied around the tops of the jars.
I repurposed some Christmas boxes that were given to my husband years ago with candy in them that were perfect for the theme, and I put her gifts in these.
I trimmed some branches that I have had indoors for forcing and put them in two blue mason jars that I have.
I had some pinecones left from Christmas (we gathered these for free before Christmas) that I used on the runner as well.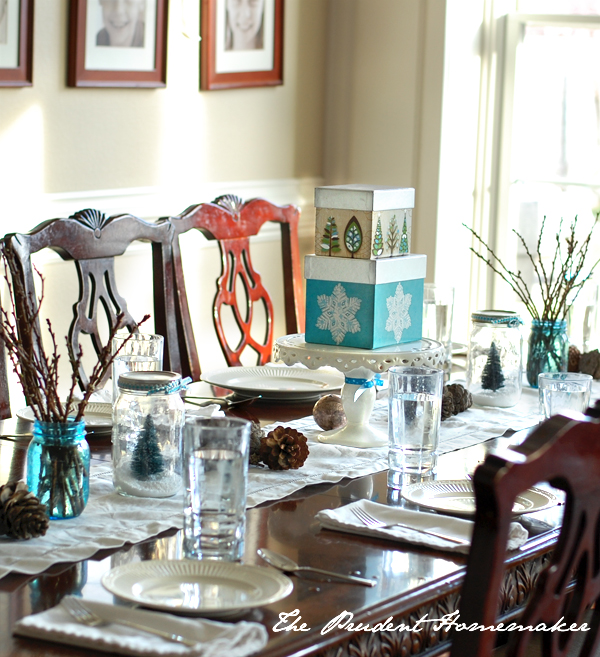 I hung a white doily banner that I made a few years ago for my older daughter's birthday.
Winter, my 13-year-old daughter, made Elsa a castle using supplies (paper, paint, scraps of foam board, and glue) that we had on hand folowing this tutorial.
Winter also printed and enlarged (on our copier) an Olaf picture for the children to play "Pin the nose on Olaf."
She also made her cake, which was actually brownies topped with powdered sugar. (Warning: we have had cake with powdered sugar sifted on top before, but I won't do it again on top of a birthday cake; when the child blows out the candles, they also blow off a lot of the sugar!) Elsa requested brownies and I wanted something super simple, but if not, I could have made her a myriad of cakes using a large number of Frozen cake tutorials on Pinterest.
Winter styled Elsa's hair for the day like Elsa's coronation hairstyle in Frozen, using this tutorial.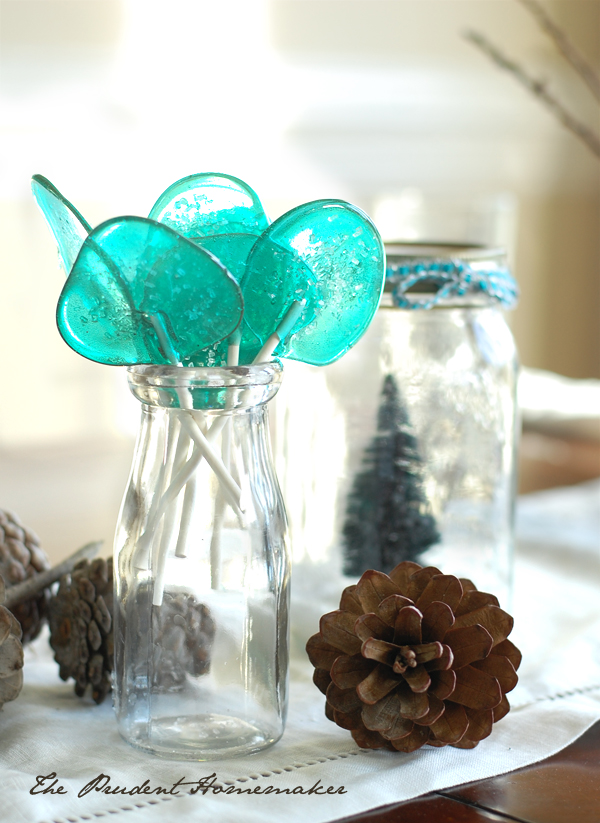 I made some lollipops. Lollipops are Elsa's favorite candy. I had sticks that I had gotten for free last year using a $10 off $10 purchase coupon (plus the sticks were on clearance). I used this recipe to make the lollipops. I added blue food coloring at the very end. The sugar turns golden when cooked, so the color turned out perfect with just a few drops of blue. I sprinkled some sugar sprinkles on top before they hardened. If you don't have lollipop sticks, you can make hard candy in a sheet pan instead, and crack it for "ice."
A couple of things that I didn't have time for but thought about doing (and could have done with supplies on hand) were making and hanging paper snowflakes, and making snowflake sugar cookies.
Elsa got to pick the meals for the day. She picked chocolate chip pancakes for breakfast, and pizza for dinner. I made both of these from scratch.
My parents took her out for lunch. They have recently started taking each child out, individually, for their birthday, as part of their gift to each child, though usually they do this later and put a note in their card about the birthday date (where they are going, which sometimes includes a movie). My mom picked a place for lunch that had a deal going right now that included ice cream for $6. My parents gave her their gifts there; an Elsa nightgown (bought on sale), a Frozen coloring book, a puzzle, a Highlights Hidden picture activity with stickers (this came in an advertisement in the mail) and a necklace.
I made her presents using fabric that I had on hand.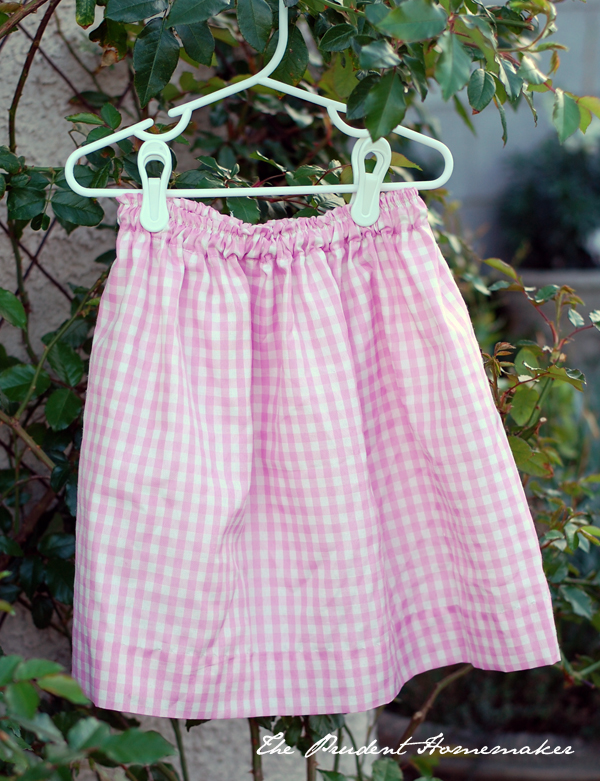 I made a skirt for her. Elsa loves skirts and has been asking me for more of them. Watching her open this one was so fun; her eyes lit up, she gasped, and just like Olaf, she said with excitement, "I love it!"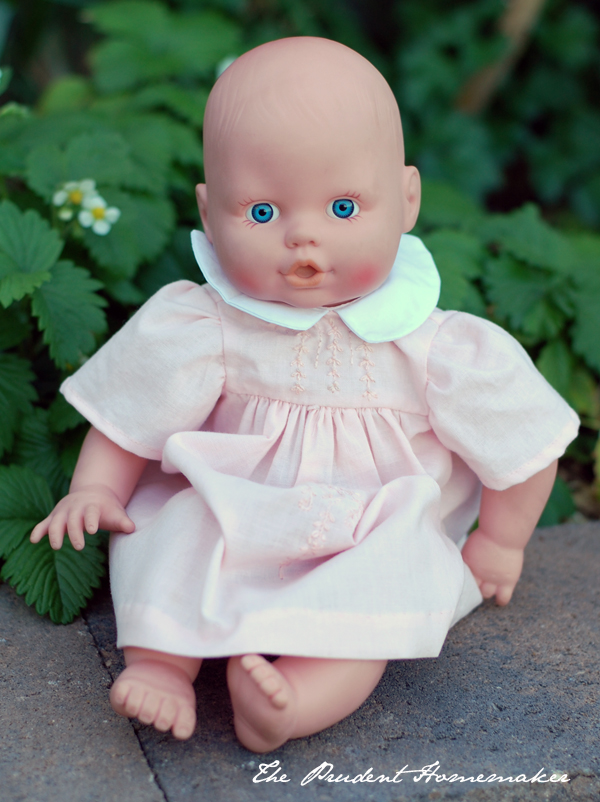 I made a doll dress for her baby doll, using a pattern, fabric, and thread that I had on hand.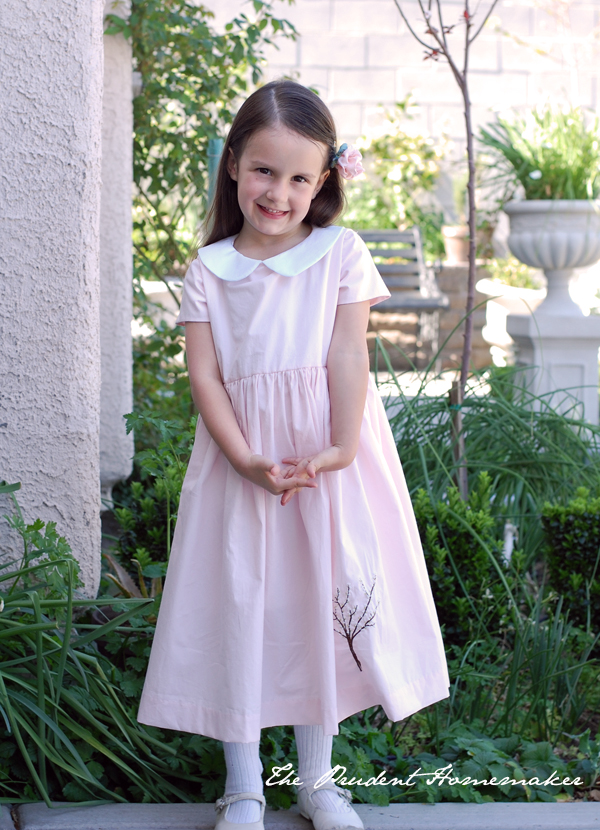 Elsa requested that I made a pink dress for her. We talked about what she wanted. I had almost enough fabric for the entire dress, and was just short the front bodice piece lining. I used a piece of white cotton for the that piece, since it is inside.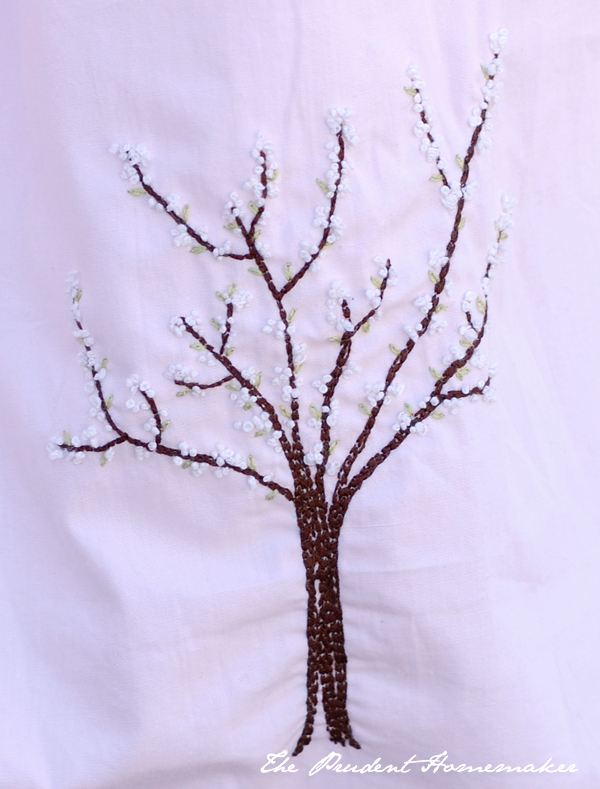 I drew a tree on the front and embroidered it in bloom, just like our plum tree is in the garden right now.
Because I sew, I buy fabric on sale and have some on hand to use later, but even if you don't have fabric on hand, you can repurpose something (on old sheet of shirt) to turn into a birthday gift. A doll dress takes a tiny amount of fabric, and could easily be cut from another item of clothing.
Even if you don't have any money to spend, you can still make a wonderful birthday for your children using items you have on hand and a little creativity!
Need a good idea for a birthday gift? Read What Your Children Really Want for Their Birthdays.
Other gifts you can make for a little girl using what you have on hand include printing paper dolls, making homemade play dough, and cutting hair ribbons from ribbons you have on hand. Check Pinterest for a myriad of links for free printable paper dolls and play dough recipes.
Also check out my other Birthday posts and my Gift a Day series for ideas on inexpensive gifts to make.