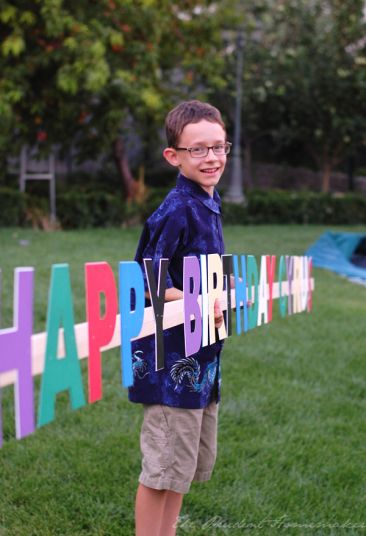 Shirt: Free hand-me down in like new condition, given as a birthday gift; shorts bought on clearance last year. In the background is our Early Elberta peach tree, from which we are still picking
My husband cut my hair on Sunday morning.
We had to replace our dishwasher this week. I compared models online and then went to the store. I looked to see which store had dishwashers on sale before we left, which saved us time and gas. I ended up getting a different model at the store than I thought I would get; however, it was also on sale.
My husband installed the dishwasher (I wasn't about to pay a $150 installation charge!) and Cyrus got to learn how to install a dishwasher. I'm very grateful for a husband who can fix and install things and I want to make sure that our children learn the same skills, as it will help their families save money later.
We picked grapes and peaches from the garden. I canned peaches and grape juice. The grapes were from our garden. The peaches were a combination of ones from our garden and the 50 pounds I bought at Winco the week before for .48 a pound. We ate peaches every day this week–we ate at least 25 pounds of peaches from our tree this week. My totals for this week were 29 quarts of peaches and 5 quarts of grape juice.
I put a small bucket under the pipe where the air conditioner drips outside (from the humidity). I also put two potted plants near there. I have been switching them out to water the two plants, and once they are watered enough I have been putting a small bucket (an ice cream bucket; I wash them out and use them) under there. I used the water I collected to water the potted fruit trees on my patio. It is normally not very humid here (so there isn't usually much of anything that will drip), but right now is the middle of our "monsoon" season. We got a 7 minute rainstorm one day and then another one that actually lasted about 25 minutes! (Our friend recorded .28 inches in his part of town, which is the most he has ever seen in a rainstorm here in many years of living here). Most rain here comes and goes in 30 seconds and most of the year is sunny, clear skies, so this was a nice change. I turned off the sprinklers and drip system two nights because of the heavier rain.
I cut Genovese basil, Thai basil, Swiss chard, and green onions from the garden. We picked a few small tomatoes this week as well.
We celebrated Cyrus' birthday this week. His gifts included several hardcover books that I picked up at garage sales (in April) in like-new condition for $2 each, shirts that I bought at garage sales/were given to me (hand-me-downs), a pictures of a snowy owl that I chose from the things my mom was giving away when she closed down her store, a pair of pajama shorts that I made from some fabric that I received last week, and a dreamcatcher kit that I bought at a garage sale in April for $1.50. The dreamcatcher kit was a huge hit and I would highly recommend one as a gift for a child around that age. He stopped everything to make it right away. It has inspired me to look for more project-style gifts for the children for Christmas and upcoming birthdays.
I made him a cheesecake using cream cheese that I bought on sale last December (unopened, cream cheese will stay good 6-12 months in the cheese drawer in the refrigerator), homemade Greek yogurt, and some eggs that we purchased on sale. I topped it with some cherry pie filling that I received from my sister-in-law.
My father made a fun birthday sign for Cyrus from leftover matboard scraps (my father is a picture framer, who retired a few weeks ago but is still finishing up a few jobs) and some spare length of wood that he had.
I watched three shows for free on Hulu.
I did run three errands: I picked up several pounds of boneless pork sirloin on sale for $1.49 a pound. I also bought school supplies at a back to school sale. I also took a $10 off $10 coupon to Kohl's, and purchased a blouse for Winter that was on sale for $12.99. I used a gift card to pay the balance.
We were given some food from a friend who went out of town; there were tortillas and 3 1/2 dozen eggs, some opened sour cream and a little less than half a gallon of orange juice.
I don't have any flowers growing in the garden right now, so I cut some small branches from the apple and pear trees and put them in the vase that my brother sent to me recently (that came with the sympathy flowers).
I took a free online food photography class on Creative Live.
What did you do to save money last week?