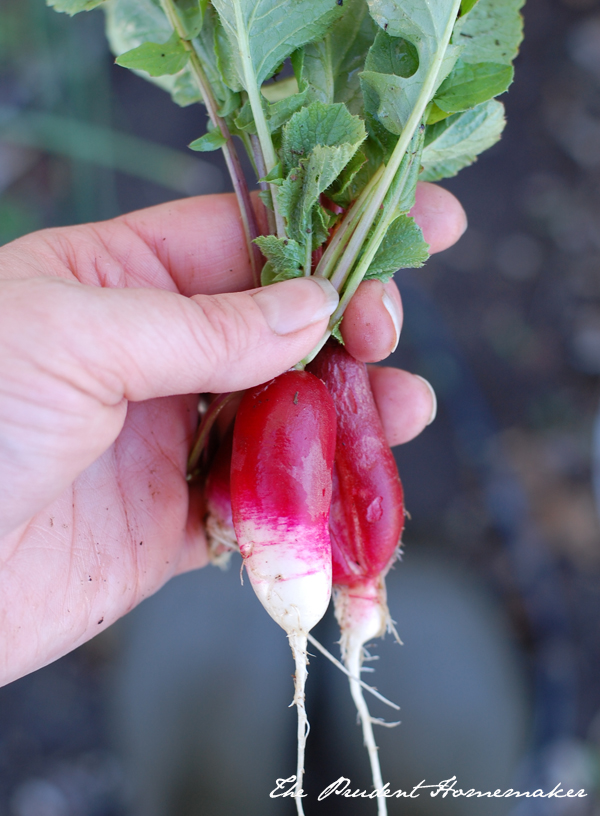 I picked lettuce, a few snow peas, radishes, green onions, chives, spinach, and beet greens from the garden. I made balasmic vinaigrette and a simle mustard vinaigrette (I added red wine vinegar to the last remaining bits of spicy mustard in the container and shook it for a simple dressing) for our salads.
I found some great deals on food: $0.99 asparagus, pork roast for $1.49 a pound, potatoes f0r $0.23 a pound (I bought 80 pounds), milk for $2.69 a gallon, whole chicken and chicken thighs for $0.99 a pound, broccoli for $0.98 a pound, and a 5 quart-container of ice cream for $4.99. Despite my plans to not buy fruit, I decided to buy some when I saw a few great prices: Gala apples for $0.79 a pound and pineapples for $0.88 each (I have never seen pineapples for less than $1.99 each here, this is the first time I have bought fresh pineapple in over a decade). I also bought some corn tortillas, sour cream (it looks like the sales price is creeping up again; I found it for $1.28 a pound on sale), spreadable margarine, and a 25 pound bag of oats.
My parents came back from a trip with oranges and grapefruit for us. The campground in which they were staying had these trees in abundance, and the owners were just throwing the fruit away. My parents were allowed to take fruit home with them, so they brought us some.
We were also blessed with lettuce from someone whose garden is producing more than they can eat.
We had rain again on Monday. The last time I was a spring with lots of rain was 10 years ago. I made sure the garden watering was turned off ahead of time, and I put out even more buckets and containers than before to catch the rain, and used that to water the garden during the week. I also collected water from the shower and from rinsing vegetables. The rain and water-saving efforts have made a huge difference; I received my lowest ever water bill.
The weather warmed and was beautiful later in the week. The children played badminton with a set that I had purchased last year at a garage sale.
We watched a few videos on Olive Us tv. We've seen these before, but the children love them, so we watch them again on occasion. We also watched a few episodes of Secrets of the Castle on You Tube, and I saw an epsiode of Forever for free on Hulu.
We listed to music on Pandora radio.
I sold some items we aren't using via Facebook garage sale pages.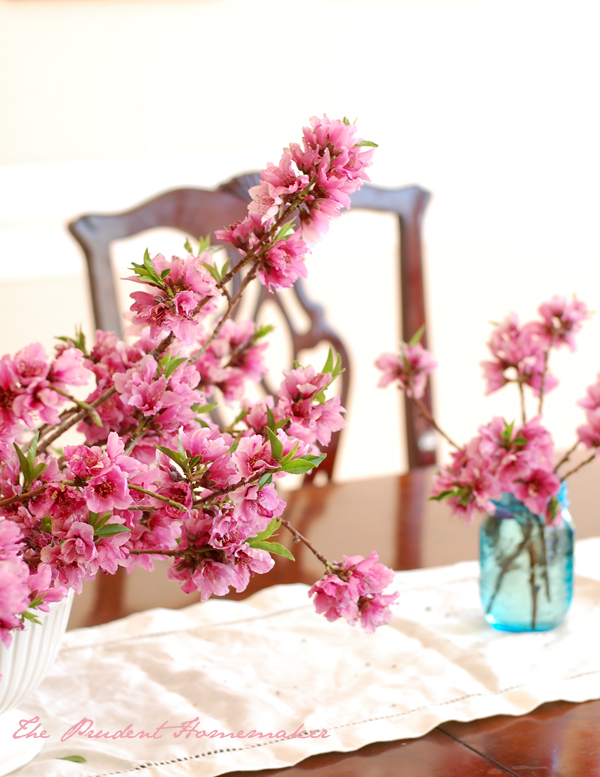 I traded some daffodils from the garden for nectarine blossoms from a friend (who is cutting down her tree after it is done blossoming, as the tree is infested with borers).
I sewed presents for Wren for her birthday.
I mended a sweater, a dress, and some pajama bottoms.
What did you you do to save money last week?