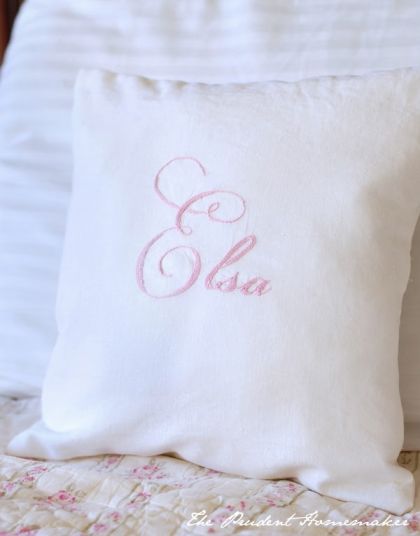 For the eighth day of A Gift a Day, I made an embroidered pillow for Elsa.
I printed out her name in a font that I liked. If you are looking for some new fonts, check out dafont.com for free fonts that you can download to your computer. I printed her name really large, at size 200.
I cut two pieces of muslin 13″ square to make the pillow.
I cut a piece of linen/cotton blend fabric 13″ square for the front of the pillow. I cut two pieces for the back of the pillow, 13″ wide and different lengths the make them overlap across the back. Check out this tutorial on how to make an envelope pillow cover.
I lined up the piece of paper with Elsa's name on it under the front piece of the pillow cover and traced it with a washable Mark-B-Gone pen. I then embroidered her name using two strands of embroidery thread. The entire name is embroidered in stem stitch.
When I was done embroidering it, I rinsed the marker from the fabric with water to make it disappear.
If you're new to hand-embroidery, check out some stitch tutorials I've put together on my Embroidery board on Pinterest.
Embroidered Pillow
Supplies:
1/4 yard fabric for pillow (I used cotton muslin)
1/3 yard fabric for cover (I used a linen/cotton blend)
thread
embroidery thread (one or two skeins, depending on the length of the name)
batting for the pillow
Tools:
scissors
sewing machine
ruler
printer
embroidery hoop
Mark-B-Gone washable pen (these are cheapest at Walmart, but you can also find them at Joann's; look for a sale on the notions wall. However, Walmart's regular price is less than a 50% off sale at Joann's)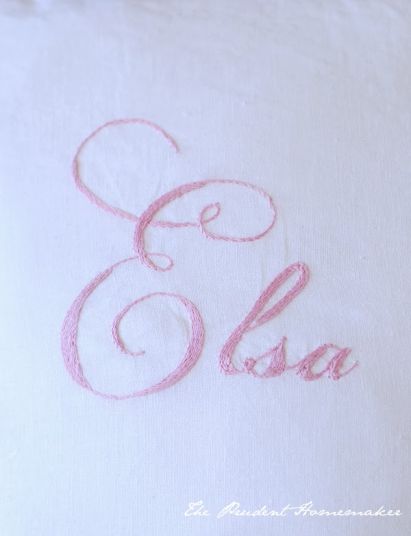 Time:
The total time for one pillow is about 30 minutes if you don't embroider it. I spent several hours doing the embroidery work at night before I constructed anything.
Cost:
$3.33
I reused batting from a project I made as a child. I purchased the fabric on sale years ago; the muslin was on sale for $2 a yard and the linen/cotton blend was $7 a yard on sale.
You can use any fabric, however, to make these. You could use an old top sheet to make the pillow and the cover. As long as the cover fabric is thin, you should be able to see the letters to trace through it.
You can cut the batting from an old, worn pillow to make this pillow. If you do these two things the only thing you'll need to purchase is the embroidery thread.
Did you make any gifts today? What did you make?