For the tenth day of A Gift a Day, I made flower bobby pins.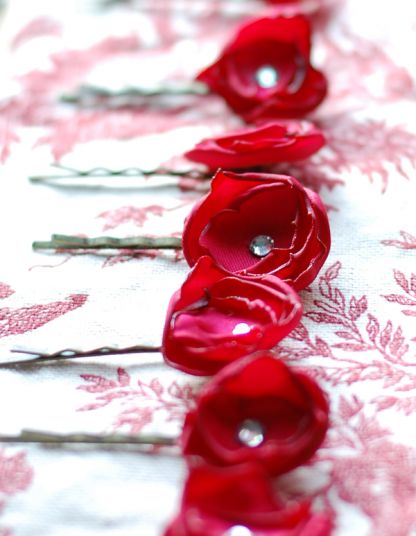 Flower Bobby Pins
Supplies:
satin fabric (about a 10″ square piece for 9)
bobby pins
crystal or glass pieces for center (you could use beads instead)
Tools:
scissors
candle
matches
E-6000 glue
toothpick for applying the glue
Time:
It took me 1 hour to make 9 bobby pins.
I used this tutorial for making the flower petals. Instead of sewing them together, I glued them together. I then glued the crystal piece into the center, and then glued them onto the bobby pins.
Cost:
$0.30 per bobby pin. These could be made for less; I found more inexpensive supplies after I had already purchased mine.