For the fourth day of A Gift a Day, I made ballet slippers for my two-year-old.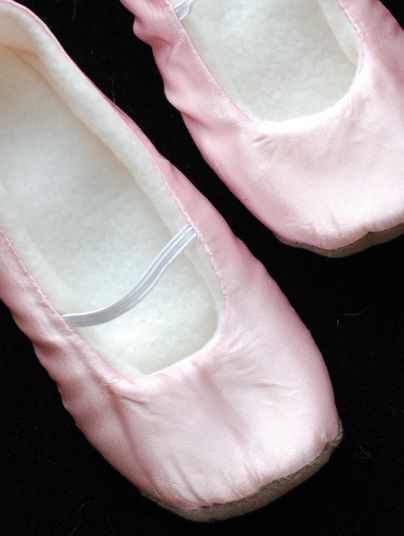 Ballet Slippers
Supplies:
satin fabric for outside
fabric for lining (I used fleece)
fabric for bottom of the slippers (this can be anything; last year I made the outside bottom in satin as well, but this time I used ultrasuede)
elastic (I bought both the kind I used today and the kind the pattern calls for from here)
interfacing (I bought a few bolst on super discount last year on Black Friday)
matching thread (read how and where I buy thread)
pattern (I used this one) You can spend less by buying a particular size set from her shop.
Tools:
scissors
sewing needle
sewing machine (optional; you could sew these by hand)
Time:
The total time for one pair of ballet slippers was 3 hours.
Today I made one pair of ballet slippers.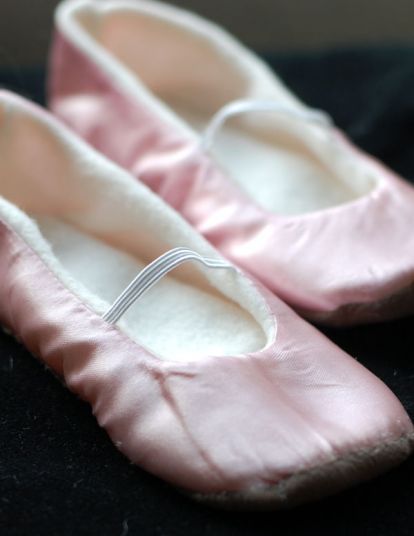 Cost:
$0.25 per pair (for materials). I already had all of the supplies on hand, so nothing out of pocket for myself this year. These take just a tiny amount of fabric, especially in children's sizes. I bought the pattern last year and used it last year, so I did not have that expense this year, but that would be an additional expense if you are just buying the pattern. I bought all of the sizes for a slight discount, which means I have all of the sizes from baby to adult. Since this is a pdf pattern, I can just print the pattern in the size that I need this year.
I bought the fleece on a huge sale at Joann's last year on Black Friday, and I bought the satin (just a 1/4yard, and I've used it many times for small projects) many years ago on sale. The ultrasuede was some that my grandmother bought years ago.
A note about sewing with satin–it literally unravels right before your eyes. I recommend zig zag stitching the edges of any satin pieces that you use. You can also choose to use another fabric that is less frustrating; it will cut the time down considerably.
I did some changing of the way the elastic was sewn, as I chose to modify the way the elastic goes in this particular pair. This added in a little time for figuring out how to change it.
Elsa loves to "do ballet" with a little chair and this dvd
. All of my children (even my boys) loved this video.
These take so little fabric that you could make them by repurposing other clothing. An old t-shirt or sweatshirt could be your lining. The tops could be made with a piece from a shirt or skirt. The amounts for a 2-year-old are so small that you could use scraps leftover from sewing other projects. If you make these as called for in the pattern, you will need 2 butttons. Old buttons that you have saved are just perfect for this project. When I made these last year (I made 4 pairs) all of the buttons were repurposed buttons.