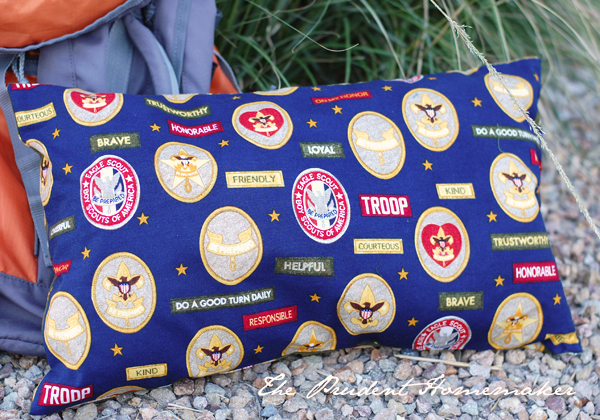 Cyrus turned 11 earlier this year, which meant he moved from Cub Scouts to Boy Scouts. He loves Boy Scouts and is enjoying it so much.
Because Boy Scouts means camping, we have slowly been getting him some camping gear this year, including a backpack (specifially for camping), and a fantastic tent that my husband found at the thrift store for $4 earlier this year. He already has a sleeping bag. What he doesn't have is a roll-up camping pillow to take with him.
One of my readers sent me some fabulous Boy Scout fabric scraps that she had leftover from making something for her son. They were small pieces, but just the right size to make a camping pillow.
A camping pillow is small, and somewhat thin, so that it can provide comfort, but still be rolled in a backpack.
Supplies:
fabric
thread
polyfill quilt batting
Tools:
scissors
ruler
sewing machine
needle
I researched sizes of camping pillows, and in the end decided on a 12 by 20 inch pillow. I cut two pieces of fabric, one blue and one green. I cut them 12 3/4″ by 20 3/4″ to allow for seam allowances.
I simply put them right sides together, and machine stitched them together on three sides.
Then I turned the pillow right-side out, and ironed it.
I cut a piece of batting that was the width of the pillow, and 5 times the height. I placed the batting on top of the pillow (to double check the size as I went) and folded it over 5 times.
It doesn't make a real thick pillow, but that is neccesary in order for it to be able to be rolled.
I put the batting inside the pillow, and folded the open pillow edges inside along the seam allowance. I closed up the pillow with a whip stitch by hand.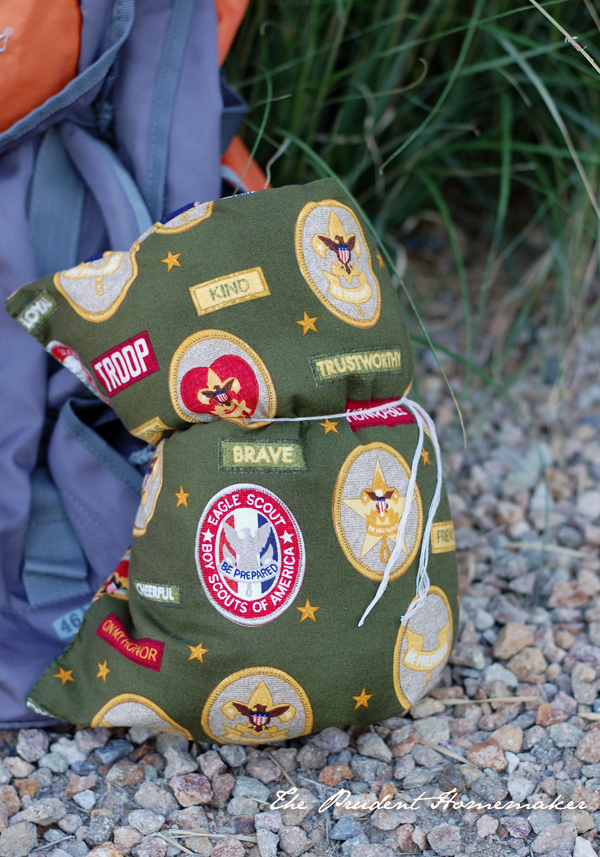 Time:
The total time for one pilow was around 30 minutes.
Cost:
This project didn't cost me anything, as both the fabric and the batting were given to me (the batting came from my mother-in-law's stash that she shared with me).
The pillows I saw for sale were made with plaid flannel. This project could be made with old flannel sheets, parts of old flannel shirts, the legs of a an old pair of flannel pajamas, or other repuposed fabric (such as old t-shirts). The filling could be the batting from an old bed pillow.
This size and type of pillow is also used as a travel pillow, and would make a good gift for a frequent traveler.

Did you make any gifts today? What did you make?