One of my daughters requested a ballet skirt to play dress up. We have a lot of leotards at our house, but not as many ballet skirts (we've found leotards at garage sale over the years for very little).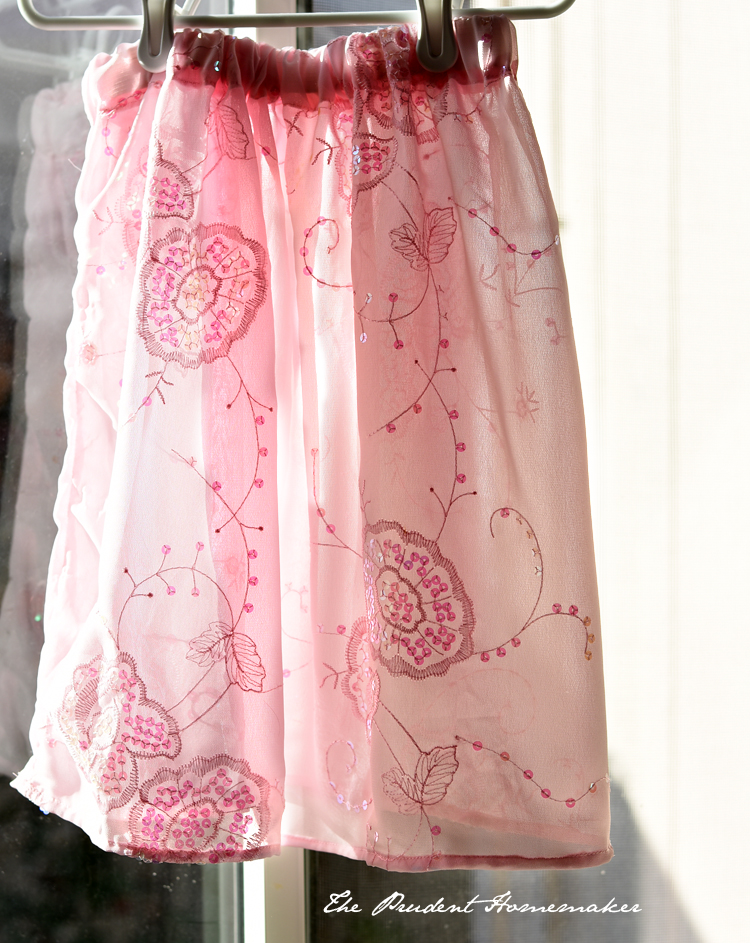 Supplies:
Sheer fabric, 45″ wide and length to whatever you chose for size
1″ wide elastic for waist
Matching thread
Tools:
Sewing Machine
Iron
Sewing pins
Scissors
Tape measure to measure child's waist
Large safety pin
This was no more than a piece of fabric with a narrow hem at one end, and a casing for elastic at the waist, made my folding the fabric down (and ironing) at 1/4″, and again at 1 1/4″. I left a little opening after sewing the waistband to feed the elastic through with a safety pin. I then sewed the elastic together, and sewed the opening shut. Before ironing and hemming the end, I sewed the piece together lengthwise, using a French seam to keep it from unraveling.
Time:
About 45 minutes. This is probably a much faster project, but I had to stop and start a few times while taking care of my family.
Cost:
The fabric was a scrap that was handed down to me and was just the perfect amount to make this. The elastic was purchased in bulk from Wawak (it comes on a huge roll) and cost me around $0.36. I just went over to Wawak's site and they currently have rolls of elastic on sale for 25% off. 36 yards of 1″ elastic is currently on sale for $13.88, which would bring the price down even lower (note: they have other widths as well).
My youngest children have all loved this ballet class dvd for children
from the ages of 2 to 6. It's just the right length for their attention and is fun for them when playing at ballet.
For older girls, there are several videos on You Tube that you can use.