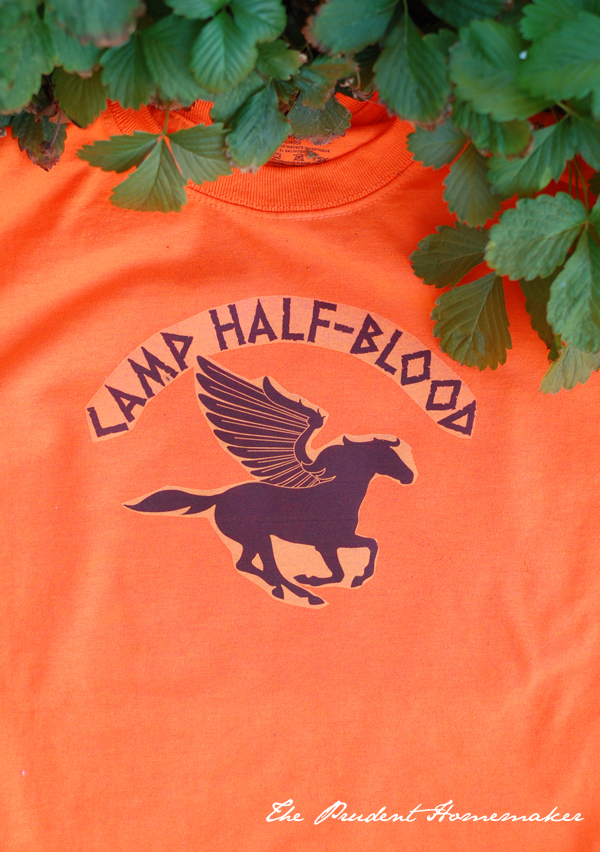 Ezrom is a huge Percy Jackson
fan. He asked for a "Camp Half-Blood" t-shirt. Some of you may remember that Winter and a friend of hers made one of these before for another friend's birthday gift. On that occasion, Winter wrote the words and drew the pegasus image by hand with Sharpies (it took 3). This time I lucked out; someone had already made an iron-on image that I could just print and use! That made this gift really quick and simple.
Supplies:
Orange t-shirt
Iron-on transfer paper
Tools:
Iron
Ink-jet printer
Scissors
Time:
10 minutes
Cost:
$3
I paid $2 (plus tax) for the t-shirt and the iron-on paper works out to .84 a sheet, plus the cost of ink. I don't own an ink-jet printer (I have a laser printer). My mom printed this for me on her printer.
Joann's has t-shirts on sale for $2 each this week, Wednesday through Saturday/ Regular price is $4.99, and they have children and adult sizes.
Michael's also carries them in adult sizes (regular price is $3.99 and they go on sale for $3, but I don't know if they are on sale this week).