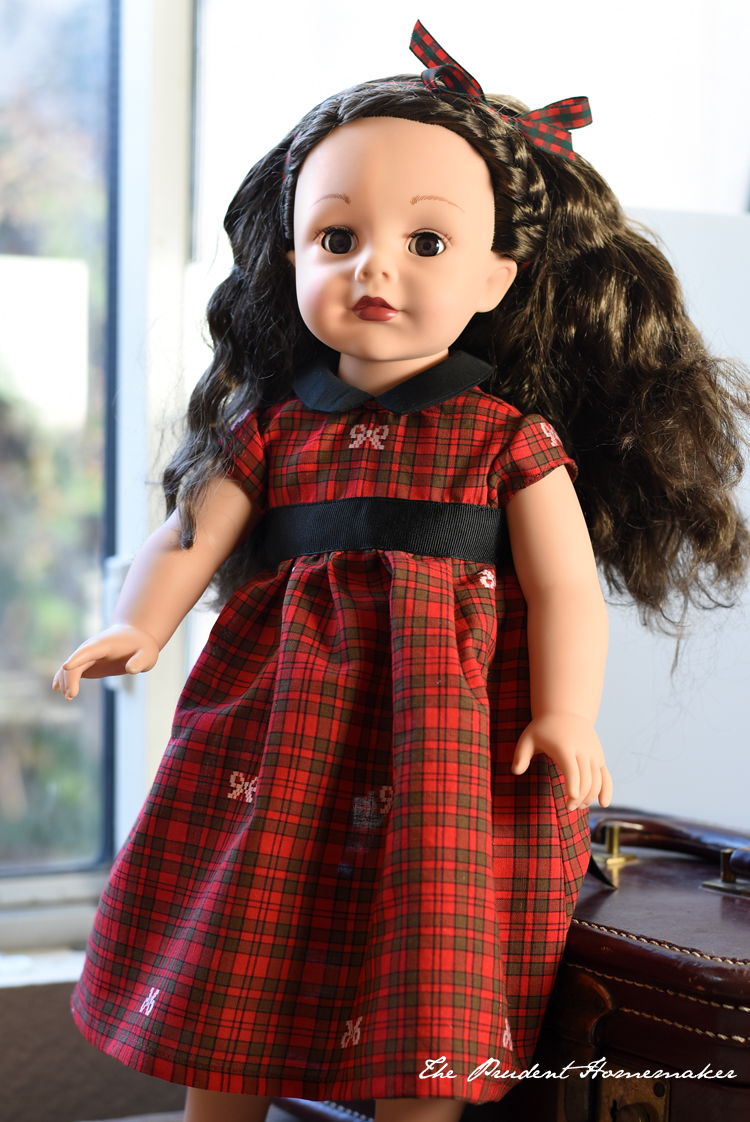 When each of my girls have turned 5, I have bought them an 18″ doll for their birthday or Christmas. This year, I bought this doll
for Elsa. Her older sister has this doll
(also a Madame Alexander doll). I wanted a similar looking doll (one with brown hair and brown eyes) but one that was also distinctly different in some ways so that they could tell them apart. However, I wasn't a huge fan of the outfit that came with this one. Elsa had requested a Christmas dress for a doll, but instead of making it for her baby doll, I made it for this doll that she will get on Christmas. I'll be making some doll shoes and socks to go with this doll as well.
Supplies:
Christmas fabric 15″ by 44″ (more if matching patterns; I used a bit more to cut the bows where I wanted them)
Small amount of black broadcloth for collar
Tiny bit of fusbile interfacing to line collar
Black grosgrain ribbon 7/8″ (22.2 mm) wide by 40 (101.6 cm) inches long
Velcro, snaps, or buttons to close dress
Pattern from A Closetful of Doll Clothes
(note: Butterick has several Retro doll dress patterns available right now that are similar in style; pattern sales should be happening soon)
Tools:
Sewing Machine
Iron
Sewing pins
Scissors
Copier to copy patterns or tissue paper to trace patterns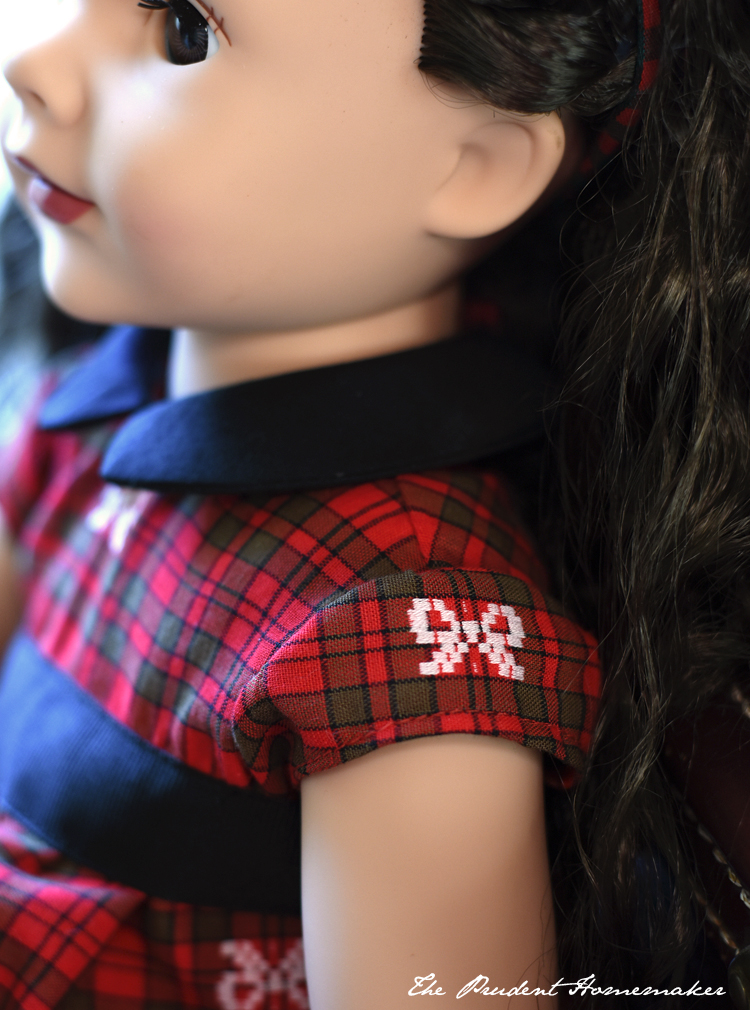 This is the same pattern I used for yesterday's doll dress. I used a bit more fabric to allow me to match the bows for the back bodice pieces and sleeves, and to cut the front bodice so that the bow would be centered.
For the ribbon, I pinned it in place on the center of the finished dress, and sewed it in place on the top and bottom along the front bodice, leaving the rest to hang freely. I then tied it in the back in a bow. Both ends are cut on the diagonal to prevent fraying.
Time:
2 1/2 hours
Cost:
The plaid fabric came from my grandmother's stash, and so was free to me. I bought the black broadcloth, interfacing and black ribbon at 50% off. The ribbon was purchased by the roll at $0.50 for the whole roll. Michael's and Joann's have sales on ribbon like this on a regular basis and especially this time of year. The black velcro was given to me from my mother-in-law.
I cut a matching hair ribbon that I had on hand and tied it around her head.
Total cost: $ 0.15