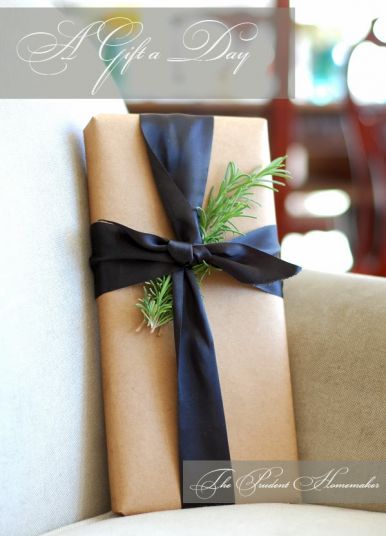 This post contains affiliate links.
After several requests to post the list of gifts that I'll be making (like I did last year), I've decided to go ahead and post one.
First, though, I want to talk about a few gifts that I'm giving that aren't handmade.
I found several things at garage sales this year. I went two days to neighborhood garage sales this year; one day in April and one day in October. I found several great things that I will be giving to my children for gifts.
I also have a few things that were given to us by people who were decluttering (a leather moccasin sewing kit, which will go to the child who will fit it then–most likely Liberty, and a spy kit, which is for Ezrom), and some American girl books that were passed down to us.
I found a lot of books ($0.25 and $0.50 each). Most will be shared by all of the children so I gave them to them right away (and some went to Ivory for her birthday) but others have been saved for specific children for Christmas.
I found a game for my 3-year-old ($1), a necklace ($0.50), a bracelet ($0.10), two scarves ($1 for both), a 1500-piece puzzle with dragons on it (perfect for my 10-year-old) ($3), some vintage handkerchiefs ($0.25 each), some American Girl cards and stickers ($0.50), a few small tools ($0.25 each) and a small tool box ($3) which I am thinking of painting black with the same paint I used on my garden bench.
If there's something that you cannot make, try looking for it used, whether on Craig's List, at garage sales, at thrift shops, or online. This may make the gifts possible that your children really want that you cannot make.
Also, look for the sales. Right now Michael's has bead 50% off. If you're planning on making jewelry, this would be an ideal time to buy some beads. The least expensive strings are $3.99 full price, so for $2, you could get enough beads to make several pairs of earrings for people (your mom, coworkers, daughters, etc.) or you could get some to make a bracelet. I purchased a few new beads and some clear beading elastic to make gifts this year.
Black Friday sales on fabric, embroidery thread, jewelry supplies, and interfacing are ways to keep the cost of your homemade gifts down. Here are my suggestions from last year.
Also, don't forget Etsy for craft supplies! I've found many things there for very little. This year, I have been saving some money I earned from online surveys over the last month and a half ($15) so that I can order supplies on Etsy. Some will be used this year and some can be used in years to come.
I am also giving a few new gifts. I used my Amazon credit that I have earned from this site to purchase a few items during the year. From Amazon, I ordered this doll
for my 5-year-old (I have seen it fluctuate in price by as much as $20, so when I saw it go back down I ordered it; it is at the lowest price again now), these green Lego building plates
for my 5-year-old and 7-year-old,
this Lego book
and this MP3 player
for my 8-year-old, this knitting book
for my 11-year-old, and these Greek-style blocks
for my 11-year-old (whose birthday is near Christmas).
My boys are each getting a dragon figurine from my mom's store (when she let me have my pick of things when she retired this year).
I also purchased this watercolor palette
with a 50% off coupon at Michael's and a pad of the least expensive watercolor paper that they had for Winter's birthday.
I purchased a coloring book and a puzzle from the dollar store, and a lip balm for Wren.
I won't be buying anything else other than the supplies from Etsy to make gifts. All other supplies will be things I already have on hand.
I'm including everything that I am hoping to make for the children on this list, including larger projects that cannot be done during one day. With that said, here is what I am hoping to get made this month:
Winter (who will turn 12 before Christmas, so this includes birthday and Christmas gifts)
green necklace and matching earrings
charm necklace
decorated bobby pins
church dress
possibly another dress
bracelet and matching earrings
library bag
faux leather barrettes
faux leather headband
green scarf
slip
turquoise bracelet
Cyrus (10)
purple apron
library bag
pajamas
bookmarks
Ezrom (8)
black apron
pajamas
bookmarks
Liberty (7)
pink scarf
slip
bookmarks
headband
bracelet
Wren (5)
felt doll house
slip
pink doll dress
pillow
headbands
purple bracelet
skirt
Elsa (3)
slip
embroidered pillow
felt doll house
doll dress
Eiffel tower purse
bow barrettes
headband
red bracelet
slippers
Ivory (1 1/2)
doll dress
finger puppets
bow barrettes
slip
flannel pajamas
This list is subject to change. I might add some things and I might subtract some things, depending on the time that I have.
It usually takes me all of November and all of December to get the presents done. I don't want it to take that long this year. My goal is to see what I can get done in November and hopefully be done then. That might mean eliminating some gifts from the list. If I'm nowhere close I might keep sewing into December.
I want to do some more cookie making with the children in December. Also, the week before Christmas will be the time when those 700 bulbs that are in my refrigerator are ready to be planted. I expect that will take several weeks to get all of those in.
Now to start getting some things made today!