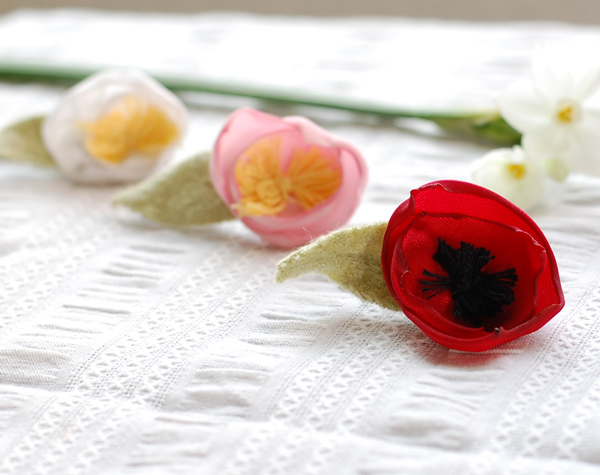 For the first day of A Gift a Day, I chose a really simple gift that's super-quick to make.
Flower Barrettes
Supplies:
inexpensive polyester satin (You only need a tiny amount. so if you're buying some, you can buy 1/8 of a yard and be fine).
embroidery thread (yellow and black)
50 mm barrettes (I bought mine here); for a young toddler you can buy 40 mm barrettes
felt (I used a garage sale wool sweater that I felted; you can use wool or acrylic felt)
Tools:
Candle
matches
scissors
sewing needle
I followed this tutorial, but I found for small flowers, I only needed to wrap the embroidery thread around one finger for the flower pistils. (I also omitted the tulle from the project).
I cut a small leaf shape from a piece of felt. I placed it on top of the barrette, and then put the finished flower on top. I sewed the felt and and flower together by sewing through the center of the flower.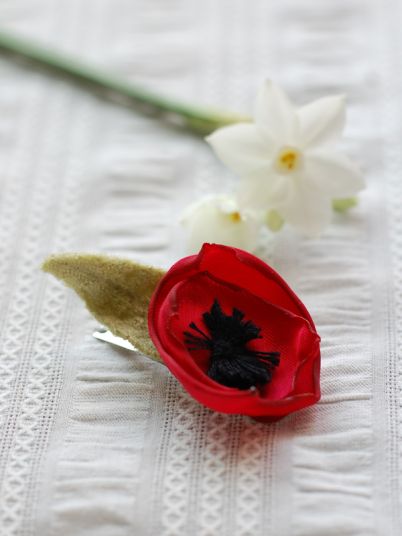 Time:
The total time for one barrette is 5 -10 minutes.
Today I made 10 barrettes.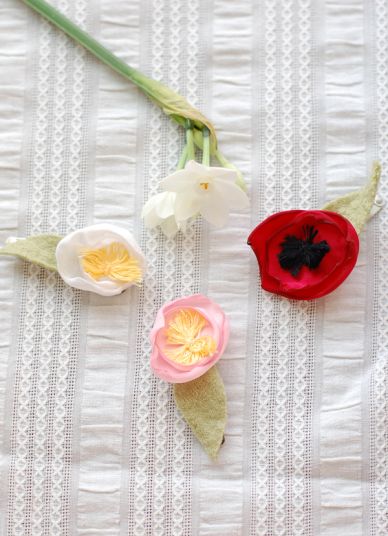 Cost:
$0.20 per barrette.
The total cost for materials is more than this, but the amount that you use is equal to this. One nice thing about this is that you will have leftovers for making more barrettes (in the same style or different styles) in future years, for birthdays, and to give as birthday gifts for friends of your children. I will be making more of these flowers to put on headbands and slippers this month.
Your cost will vary. The barrettes with shipping work out to .16 per barrette. I used a sweater for the leaves which cost me .50, and I have plenty left over to use for multiple projects. If you use purchased wool felt ($2.00 a sheet), your cost will be higher. If you use acrylic felt bought on sale (.20 a sheet), buy your satin on clearance (after-Hallowen sales at Joann's right now), as a remnant, or just on sale, you should be at .20 a barrette. You can also repurpose satin clothing for these; the white satin in the pictures comes from a shirt that was given to me.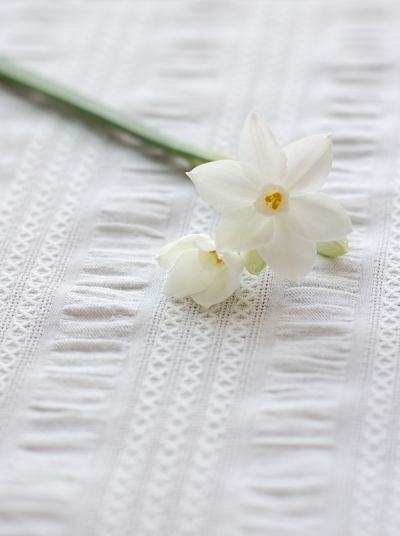 My narcissus are blooming in my garden right now. They grow well here outdoors and they come back every November. I'm enjoying having some in my sewing room right now.
Did you make any gifts today? What did you make?
If you would like to be notified each day when I've posted about what I've made, type your email address in the Follow box on the right-hand side of my blog and click "submit."