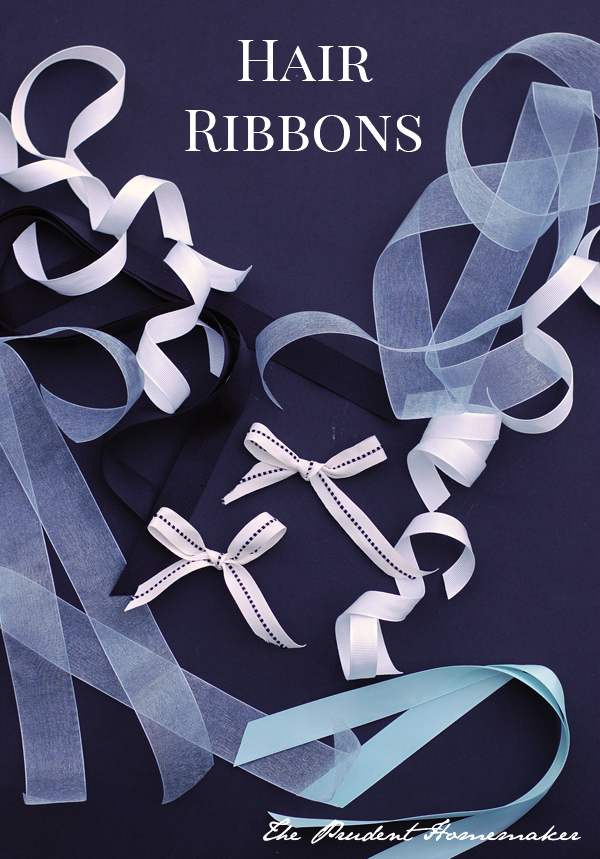 When I was a child, I loved hair ribbons. I had a few that I still remember–and still have!
I remember visiting a friend when I was 8. Unlike me, she had a sister, and their house had drawers in the bathroom vanity (mine did not). Her mother opened the drawer one day when I was there, and it revealed a drawer full of hair ribbons. I was smitten.
When we first moved into this house, we changed many things, including the bathroom vanities. Rather than keeping the sitting area between the two sinks, we added drawers. One was designated for hair ribbons, though at the time I had only two daughters and not five!
The girls have been asking for more bows in their hair, particularly when I braid their hair.
I have a good amount of ribbon that I just haven't gotten around to cutting for them, so this year I made it a priority to cut ribbons for them. I'll make a trip to the Dollar Tree for a package of 100 hair elastics, and I'll tie the ribbons on them to make them easy to add to the end of braids.
Supplies:
Ribbons
Hair Elastics (optional)
Tools:
Scissors
long ruler
Cut ribbons to desired lengths. I cut them 20 inches or longer. Tie on hair elastics.
Time:
It took me about 20 minutes to cut all of the ribbons in the photo above.
Cost:
This can vary greatly by the ribbons you choose. I used ribbons I bought years ago. I buy ribbons by the spool, on sale, for the greatest discounts. These cost $.01 to $.03 each, plus $0.01 each for the hair elastic.
Did you make any gifts today?