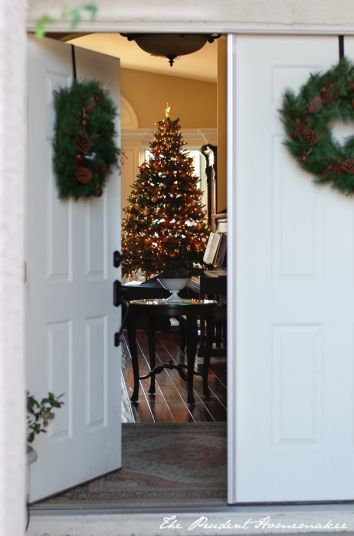 We spent Christmas at home.
The children really liked their presents. I loved the oohs and ahhs and sighs of delight. The boys were quite delighted with their bookmarks. Winter loved the jewelry that I made for her–as well as the 10 cent bracelet and 50 cent vintage necklace that I found for her at garage sales.
I did well purchasing the gifts from my grandmother and my brother (they gave me money to buy gifts for the children). I bought exactly what several children wanted, which was awesome.
I made 2 batches of rosemary olive oil bread and cut the loaves in half to give smaller loaves of bread for Christmas gifts to Sunday School teachers and friends. I wrapped the loaves with brown packing paper (I ironed it first), tied them with red and white baker's twine
, and tied rosemary in a circle on it as a wreath to decorate it (similar to how we had it here).
I picked up the free 8 x 10 image (of a girl with a bird on her shoulder) that I ordered last week from Walgreen's (using a free Graphics Fairy image). I put that picture in a picture frame that I got for free at a garage sale in October, and I gave it to Wren as a Christmas gift. I put the other picture (of the Eiffel tower) that I got with a free Walgreen's code before that in the matching picture frame from the garage sale, and gave it to Elsa for Christmas. We hung the pictures over their beds.
Walgreen's was out of eggs, and they had them on sale for $0.99 a dozen, so I got a raincheck for 12 dozen.
I finished making a pair of pajama pants for Cyrus from plaid flannel that I had.
I put new buttons on his garage sale suit coat. Now his suit has three buttons in front as it should.
I finally finished Wren's yellow dress (made with fabric from my grandmother's collection) and I gave it to her for Christmas. She has worn it twice already.
My grandmother gave us $60 for Christmas. I decided to spend it on food.
I just to Winco, hoping that they would have prices comparable to Food 4 Less's deals on oranges and onions. (Food 4 Less is a lot further away, so it would have meant a large amount for gas to get there).
I found out that they had an even better deal on oranges (.01 a pound less) and that they would price match on the onions so long as I had the ad in hand (which I did).

The onions were .20 a pound and the oranges were .19 a pound. I know this is a once a year kind of price and that both will last a long time, so I planned to stock up. I asked the produce manager how many pounds come in a box. Oranges come 38 pounds to a box and yellow onions come 40 pounds to a box.
I bought 4 boxes of oranges and 2 boxes of onions. These will keep for months if kept cool (for now they are going in the garage; when I take the flower bulbs out of the fridge later this week I will put some of the oranges in their place).
I wanted to use my $10 off $50 coupon that came in the mail, so I also bought 6 pounds of clementines ($1.00 a pound). That would have been enough, but I need to make some pear butter in exchange for the garage sale shopping that a friend did for me this summer so I bought 4.96 pounds of pears at .99 a pound.
I also used one reusable bag for the clementines and the pears, which was .06 off
My total was $45.64 for:
80 pound of yellow onions
152 pounds of navel oranges
6 pounds clementines
4.96 pounds of D'Anjou pears

I took the rest of the money and used it for a ham (and a half) from another store who had half hams for .88 a pound. (I bought a few more hams as well). I cooked one for Christmas and the others were frozen to eat next year).
My husband and I had a date night at home. We also watched two shows on Hulu for free.
We listened to Christmas music on Pandora for free.
The children and my husband played several games of Monopoly this week. They played on the board I had when I was a child.
I used a Burpee gift card that I was given and combined it with a $10 off coupon code to order some seeds for next year. Between these and what I have leftover from this year, I don't anticipate needing any seeds for food for next year.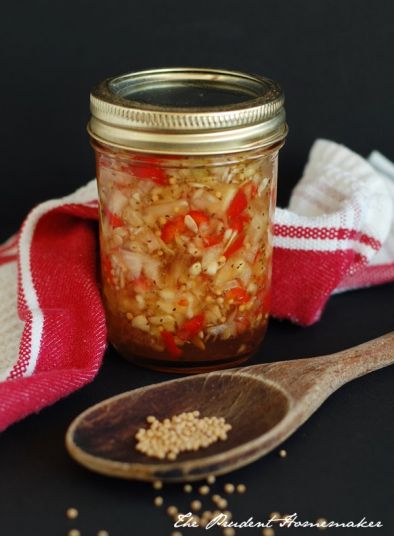 We were given some cucumbers and 2 red peppers that were about to go bad/were going bad. I was able to salvage enough to make 17 pints of dill pickles and 9 half-pints of sweet pickle relish.
What did you do to save money last week?