It's only the second day of official Christmas and birthday gift making, and already I am feeling such a thrill of knowing that I have presents that are completely done!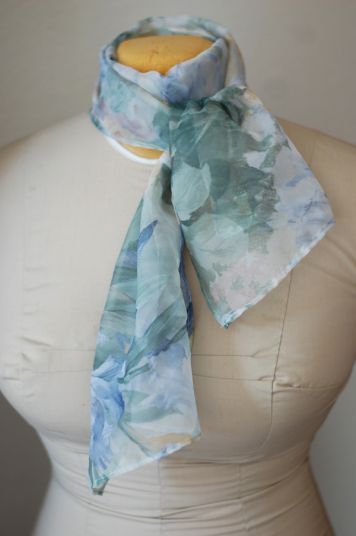 For the second day of A Gift a Day, I chose to repurpose some hand-me-down curtains to make a scarf. I cut a piece of sheer floral fabric, 60″ by 14″, and narrowly hemmed the edges. (Ideally, I would cut it 14″ by 64″, so if you have more, go longer!)
Sheer fabric may drive you insane. It slips relentlessly, even while you're trying to lay out and measure the fabric. Hemming the edges turned out to be a constant challenge. This project took longer than I had hoped because of the slip factor, but I love the results. If you have a serger you could serge the edges, which would cut the time down considerably.
After several tries, I found it easier to iron a narrow hem once, and then fold it over a second time (encasing the raw edges) by hand as I sewed, instead of trying to iron the fabric down twice and pinning it. I tried the latter method, even using spray starch, to no avail. In the end, it was faster and easier to do the former. Be careful not the stretch the fabric too tight while you are doing that.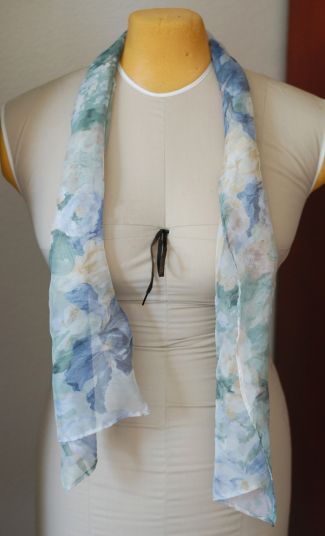 Scarf
Supplies:
sheer floral fabric (about 1/4 yard, 60″ wide)
matching thread
Tools:
scissors
sewing needle, or a sewing machine
yard stick or meter stick
washable fabric marker
Time:
The total time for one scarf is one hour.
Today I made two scarves. For the second scarf, I used another curtain panel that I picked up from a friend at her garage sale this morning. This one was a very thin cotton. It didn't slip, and it had straight edges already, so I used two of those straight edges that were already sewn as part of the edges of the scarf.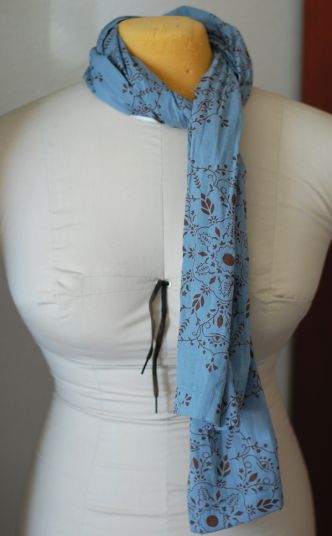 Cost:
$0.00 per scarf, as I used repurposed fabric and the thread was less than .01. The second scarf's price is questionable, as the fabric was one of the things I had at the end of my garage sale totaling, and my friend's husband rounded my final total down.
If I were buying this fabric on 50% off sale at the fabric store, my cost would vary depending on the fabric chosen. Another option for fabric is to look at garage sales and thrift stores for sheer floral curtains.
I will be sewing gifts tomorrow as well, but those are not likely to be completed in one day, as they are more time-consuming projects. Tomorrow I will be working on a dress for my oldest daughter.
What gifts did you make today?