For the fourth day of A Gift a Day, I made a gift for my son. His favorite color is purple, but he doesn't have a lot of purple in his wardrobe. I received some fabric from a friend of my mom's in September. Included in the bag of fabric was a piece of thin purple fabric. I used it to make my son a tie, and I hope this means he'll have more of a desire to wear a tie to church!
Yes, the bottom of the tie looks crooked in this picture. It doesn't look crooked in real life, though.
Tie
Supplies:
thin fabric (it doesn't have to be silk; I'm using polyester)
lining fabric (a satin-like, coat lining-type fabric)
interfacing
matching thread
paper and ink for printing pattern (I used this free pattern and tutorial for a man's tie; if you want to make a toddler tie, try this tutorial)
ribbon to make a loop on the back of the tie
Tools:
scissors
sewing needle, or a sewing machine
ruler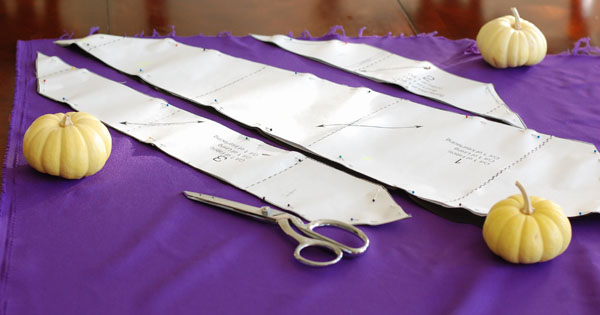 Time:
I have no idea how long this tie would take to make if I was uninterrupted. I started at 11 am and ended at midnight. My husband commented that that meant the tie was really a $120 tie. Of course, I made two meals, ate those meals, took care of my family, etc. in between.
I think the next time I make a tie (and I will be making more) it should be quicker, in part because I don't need to put the pattern together again.
Today I made one tie.
Cost:
$0.10 per tie, as I used fabric that was given to me, including the lining. I used interfacing that I bought on sale last year on a Black Friday sale for around $3 a bolt. If I were buying this fabric on 50% off sale at the fabric store, my total cost would be around $4.00. Another option for fabric is to look at garage sales and thrift stores.
I was really amazed at how little fabric this tie required. I thought it would take quite a bit of fabric, as it is cut on the bias, but it actually didn't take much at all.
The tie has an option to extend it for taller people. I am going to make the tie again, and make a longer one (two, most likely) for my husband. The finished tie was about 3 inches shorter than his current ties, so if your husband is tall and/or has a larger neck size, I would extend the tie.
I am going to make the tie again for my son, and I am going to taper piece 3 (the largest piece) to make a thinner tie that is more appropriate for a young boy. I am also going to shorten piece 2 (almost completely) to make the tie the right length for him.
Hopefully next time it will go faster!