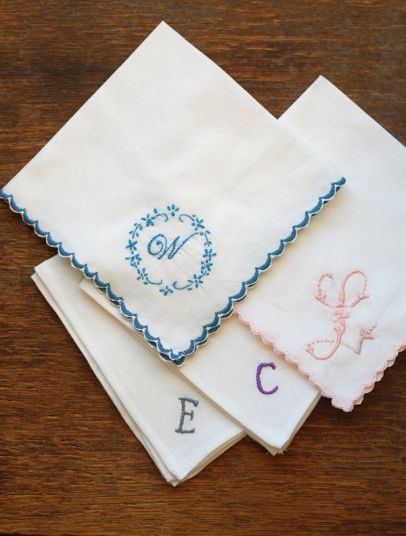 For the seventeenth day of A Gift a Day, I made embroidered handkerchiefs.
I printed out initials for my children on my computer. I print the letters at a minimum of size 72. I then choose fonts that look best for that particular letter. I chose fancier fonts for the girls.
You can tape the paper with the letters to a window during the day, and tape the fabric over it for tracing. If you have a lightbox, you can use that instead.
Trace your design using a water-soluble marker.
When your drawing is complete, embroider your design. I used 2 strands of embroidery thread. I embroidered it with the stem stitch. I then covered some of the letters with satin stitch (the "W" is stem stitch).
When you're done embroidering, rinse the fabric with water to remove the blue marker. You can mist it with water as well, but sometimes a little blue reappears when you do that. Do not use soap! Soap will set the marker brown, permanently into your fabric. If any blue reappears after your fabric is dry, just rinse and repeat 🙂
I usually hang my embroidery to dry over a towel on the towel rack in my bathroom (this also prevents the children from seeing the present!)
When it's done drying, iron the fabric. You can fold in the edges, do a rolled hem finish, or sew a scalloped stitch and trim them, like I did on the handkerchiefs that I made earlier in this series.
Embroidered Handkerchiefs
Supplies:
soft cotton fabric ( I used edges of old cotton sheet and also some muslin)
matching thread
embroidery thread
Tools:
scissors
sewing needle
sewing machine (optional; you could sew these by hand)
Mark B Gone pen or a pencil
lightbox (optional; a sunny window works too)
computer
printer and paper
Time:
The total time for one handkerchief was 45 minutes, doing a simple letter in satin stitch and a simple hem. If I add extra embroidery, it was be as long as 3 hours for the embroidery work. The scalloped hem edge took some additional time for sewing and trimming; it was another 30 minutes each.
Today I made 4 handkerchiefs (I embroidered the girls handkerchiefs in October and the boys today). I sewed the hems today on all 4.
The "L" is a free design from a Dover Sampler, and the flowers around the "W" came from Jeannie Beaumeister's Best Embroidered Baby Clothes pattern.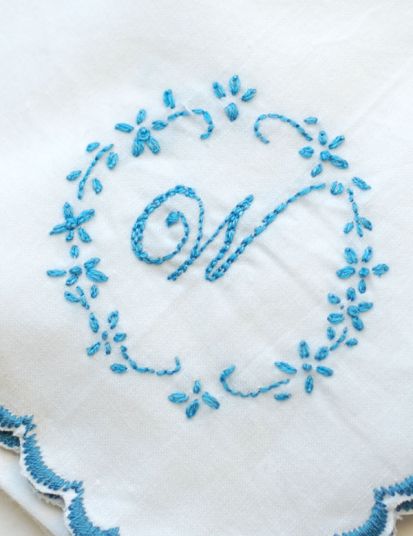 Cost:
$0.05 each
What did you make today?