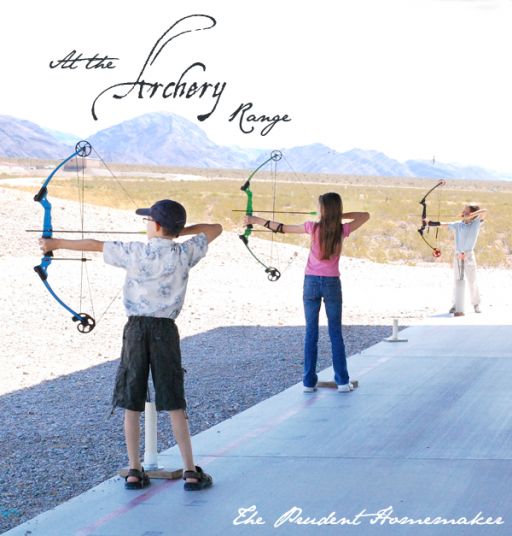 This post contains affiliate links.
The archery competition is this week and we are super excited about it.
They have a limited number of space for shooters, so we found out that we had to shoot "virtually"–which is to say, shoot elsewhere a week before, and turn in our scores via scantron last week.
We're really excited to see what happens, as Winter shot a 265, which one point higher than last year's winner (and last year's winner moved into the high school division this year).
Of course, we won't know what the highest score is until after everyone has shot at the competition, but we are very hopeful!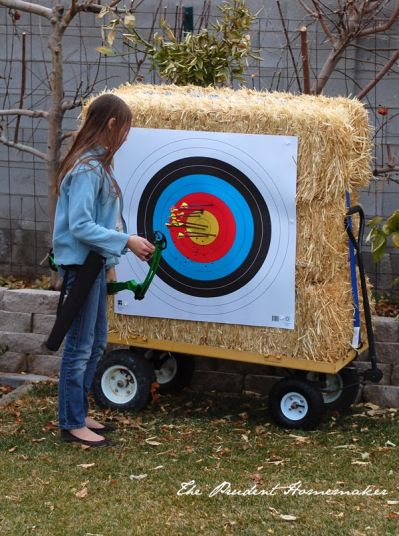 Practicing a week before the competition. Her competition shots were better than these.
A few frugal things that we like about it:
It works with any schedule. This means we can still have dinner at dinnertime–at home.
There is no uniform expense.
We can practice at home or at the archery range. We are blessed to live really close to an outdoor archery range, which is free for those under 18. If you're considering getting into archery, do check out places to shoot, as indoor ranges usually have a charge. If you have a place at home to set up a target, that will be an additional expense. (We only allow Winter to shoot at home at this time, as an arrow that goes astray would be very dangerous. Everyone else shoots up at the range. All of Winter's arrows hit the target. There is 8 feet of wall behind the target as well. Everyone has to be inside if she practices at home.)
My children are all shooting Genesis bows
. These are a compound bow. Ezrom is left-handed and shoots a left-handed bow (three of our seven children are left-handed, so they can also use his bow). We found out that the state and national competition (4th through 12th grade) here uses these bows. All colors but camouflage are allowed (the pattern on the camouflage can be used as a sight so it is not allowed). What is nice about these bows is that they can be adjusted as the child grows, and can even be shot by an adult (though a man will want to own a bow with a heavier draw, as these are lightweight). This means they can use these bows for a long time.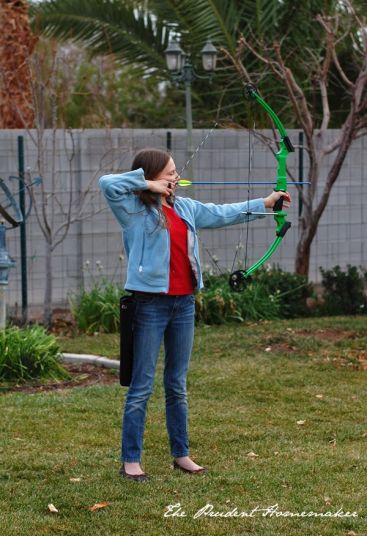 Competition arrows are these aluminum arrows
. Prior to that they have been shooting carbon arrows. Right now Winter is the only one shooting aluminum arrows.
We found the lowest prices for bows and arrows on Ebay, with the next lowest price on Amazon. We found bows for about $20 less on Ebay.
Arrows do occasionally need to be replaced, but you can also order fletchings (also on Ebay) and repair your arrows yourself, which we have done.
You will most likely want an arm guard as well, and Winter asked for her own quiver last year for her birthday, though a quiver isn't a necessity. Winter is not using an arm guard but is using a tab over her fingers in the photo above.
Are your children archery lovers? If so, where do they practice? Do they shoot for competitions? Do they hunt? Have any of your children won archery scholarships?