After our last trip (to California), my husband and I started discussing the possibility of another trip. We know that going to see something would mean a long drive, since Las Vegas is so far from anything. One of the closest drives that we could see (in a different direction from Southern California) is to Utah.
We knew the main expense was a hotel, and that if we could eliminate that expense, or lower it significantly by camping, then we could make another trip. We were able to stay with a niece and nephew, and their children. We took a blow-up mattress with us that my husband had been given a few years ago from someone who no longer wanted it. We took sleeping bags and pillows, and they had some other blow-up mattresses and a futon for the children to sleep on (they took sleeping bags with them as well).
Food for the trip was the next concern. Bringing food last time, for two days, was simple enough, but we needed to bring food with us for a week. (We packed refillable water bottles and two large Gotts with water for drinks). Here is what we did:
I made four loaves of French bread the day before the trip, plus took another loaf and a half that I had baked a day earlier, and we sliced them for sandwiches.
I bought a turkey breast (the lunchmeat kind) at Sam's Club for slicing. We brought it home and sliced it for sandwiches.
I had a small roast in the freezer that I cooked and sliced for sandwiches.
We bought a 5 pound block of cheese at Sam's Club and sliced half of it on our slicer for sandwiches.
I packed mayonnaise and mustard that I already had.
I hard boiled 2 1/2 dozen eggs.
I cooked a double batch of lemon poppyseed muffins to take with us.
I made a double batch of granola. Along with that, I packed 2 1/2 quarts of homemade yogurt and 2 pints of homemade strawberry jam.
I made a huge batch of chocolate chip cookies for the trip.
We packed a large number of apples, 2 quarts of homemade grape juice, and several pints of home-canned dill pickles.
I made a batch of pasta e fagioli the day before, which we froze for the trip.
I packed 4 pounds of pasta, 2 #10 cans of tomato sauce, and the spices for a double batch of spaghetti.
We took popcorn, oil, salt, and our popcorn maker.
We measured out oatmeal and brown sugar for 2 meals
I took a whole frozen chicken as well.
Meals were sandwiches with apples, pickles, and cookies, pasta e fagioli (one night), oatmeal, yogurt with granola and jam, lemon poppyseed muffins with hard boiled eggs, and two meals of spaghetti.
We also shared a meal that my niece made (the chicken was what we brought for that), and shared spaghetti with them twice. My niece made us breakfast one morning as well.
I knew the homemade bread wouldn't last a week without going bad, so we bought 2 loaves of bread while we were on the trip. One afternoon I also purchased a large bag of pretzel sticks for a snack. In addition, I had planned for one trip for ice cream cones, which we did.
We had planned to have sandwiches one more meal as well, but that changed for us. I emailed my old boss' wife to see if we could come say hi to the two of them for a few minutes while we were there. They offered to take us to lunch at my favorite place, the museum cafe. That was our only meal out, and it was delicious! They also handed us some money and suggested that we go get ice cream cones, so we had ice cream twice.
For activities, we planned a myriad of free things, mostly at our alma mater. Both of us graduated from Brigham Young University (he in 1987, and I in 1999; you may be doing the math but we're actually 13 years apart in age). We knew there were plenty of things to see and do for free on campus, including several museums and free performances.
We spent most of our first day driving. We stopped in St. George at the temple for breakfast. We then walked around the grounds and went to the visitor's center there.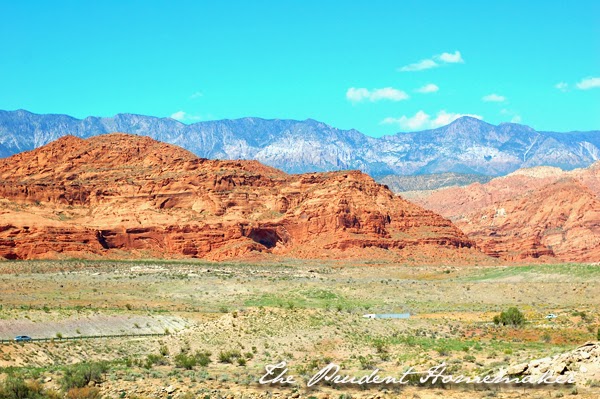 The desert just north of St. George.
We stopped at Cove Fort for lunch. The tree above our table had about 20 monarch butterflies all on one branch, which would occasionally flit around for a while and then return to the branch. We didn't tour the fort that day, but we enjoyed the picnic benches in the shade and refilled our water bottles there.
We arrived just in time to attend the planetarium outreach show our first night. The outreach show was $1 per person. My husband took the 5 oldest children to the BYU Planetarium while I took the two youngest over to the children's section of the campus library.
Afterwards we all had a lot of fun looking around the Eyring Science Center, where they had several hands on activities and interesting displays (the planetarium is in that building).
We then had a late dinner of sandwiches at our niece and nephew's house nearby.
The next day, we went to the Museum of Art. This building was new to my husband, but was familiar to me.
We met up with my old boss and his wife. I worked for him until he retired from teaching at the age of 72. I knew that just left him more time to work on his projects, and 15 years later, he is still working on quite a few books! His wife and I had worked together as well; she is a historical clothing expert. I had modeled clothing for fashion shows for her when I was a student.
We had an amazing lunch at the museum cafe, and then we saw the exhibit of historical costumes from movies together. The museum was free.
From there we headed off to the BYU Creamery for ice cream cones, and then walked to the Monte L. Bean Life Science museum (also free).
Ezrom, Elsa, Liberty and Wren are enjoying the fountain in the courtyard of the Joseph F. Smith Building, which was razed and rebuilt after I graduated. The courtyard was so incredibly beautiful.
We walked from there down to see part of the alumni versus students swim match, where we cheered for random strangers.
We headed back up the hill (those of you who attended BYU know that very long set of stairs up from the Richards building!) and ate dinner from the back of our van.
After a decision for a change from our original plan (to see a student instrumental recital for free), we then drove back down the hill (since parking was available in student-only lots after 7) and went to attend the women's volleyball game. We weren't sure of the cost, and as my husband stepped up and saw the $5 per person cost, he started to back away. I saw what he missed: a $15 cost for family tickets to the game. As soon as I pointed it out, he promptly turned around and bought tickets! We enjoyed watching the women's volleyball team beat our biggest rival, and 15 years after graduation, I sang our fight song for the first time! (My husband attended many, many games as a student, while I attended several performances). Even Ivory learned some of the words to the song!
The next day we returned to campus. We ate our picnic lunch in the grass under the shade of several trees, and went back the the Museum of Art to see the rest of the exhibits.
We showed the children a bit more of campus, and walked down to the Wilkinson Student Center (in the background of the photo above). The football game was sold out that day, but my husband was able to watch on a television there with some of the children (Ivory took a nap with him). I walked around campus with the other children, and we bought a bag of pretzels for the family to share. (This was poor planning on my part; I forgot to bring our snacks with us that day). We also went to the campus bookstore, where we browsed the clearance section and found 3 books, including one for $2.99 that I had on Ezrom's Christmas list.
We gave the children some quarters to play a bit of skee ball in the student center while the game finished (Ezrom watched part of the game with me at the very end and asked, "Does BYU win all their games?" which made me laugh!) When they the game was over, they combined their tickets for some candy to share.
We then checked out the library addition that was finished the day I graduated. While I was a student, campus had a giant whole in the center while it was dug up (the poplars in the photo above were dug up and boxed for several years). An underground addition of the library was built north of the existing library (with skylights) that goes two floors under the ground. We went to check it out, and it was beautiful. We enjoyed an exhibit in one of the rooms on World War I.
We returned to my neice and nephew's house for dinner with them. She had made a fantastic dinner in the crockpot (the chicken we brought went to this meal).
I took Winter and Ezrom back to campus to see a student's senior recital that evening. Everyone else was too tired to do any more that night. The recital was free and the children really enjoyed it.
From there we went to drop in on the Swing Kids Club dance. When I was a student, I went to that dance every Saturday night. Ezrom was so excited to go and he asked 6 women to dance! He told me he picked the shortest ones on purpose so that they could dance with him. He learned several things. Winter danced one dance and I danced a couple of times.
I have a ton of really beautiful photos to show you for the next part of our trip!