The next day of our trip, we headed to Salt Lake City.
We went to the Beehive House first. The garden was so pretty!
We then bought a loaf of bread across the street, and had lunch (sandwiches, apples, pickles, and chocolate chip cookies) at a park across the street. We were delighted with the weather, which was just perfect (and so much cooler than we had left behind at home!)
We then toured Temple Square.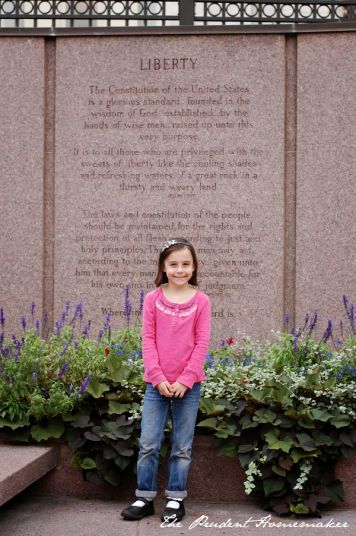 Yes, that's Liberty!
Afterwards, we went across the street to tour the Conference Center. I really enjoyed the rooftop garden. The next three pictures were all taken on the roof of the Conference Center:
We walked back in front of the Salt Lake temple on our way back to the van.
We had planned to go to the Church History museum and then have dinner, but the children were tired (Ivory was already asleep!) so we headed back to Provo and ate our dinner back at my niece's house. We had pasta e fagioli, which we had warmed and brought with us in the Gotts for dinner in Salt Lake. Though we ended up having it back at the house, it is something I would definitely bring again on a trip.
We ended the evening visiting with our niece and nephew and their children.
I've got one more post to finish the trip, covering the last two days of the trip, which I'll be posting in the next few days.