My brother was married in California in July. This meant that we needed to make a trip to California and stay one night. The drive is about 5 1/2 hours each way.
We decided to make the most of our time by leaving early the day of the wedding (the wedding was set for 4 p.m.). We left really early, and we took food and water with us (we filled water bottles and two Gotts with cold water, and froze more water and ice for the ice chest).
We had homemade muffins and hard boiled eggs for breakfast in Baker, sitting below the world's tallest thermometer there, where it was 91º at 6 a.m.
We drove all the way to the coast of the Pacific Ocean, and up to the Getty Villa. Admission to the Getty Villa is free, but parking is $15. Reservations for tickets need to be made ahead of time.
We have been studying Greek and Roman history, and our three oldest children are huge Percy Jackson fans, so this was like a field trip, too, for which they were all very enthusiastic. The younger children loved the museum and the gardens, too. Our only regret–that we didn't have an entire day to see everything. The whole family wants to go back.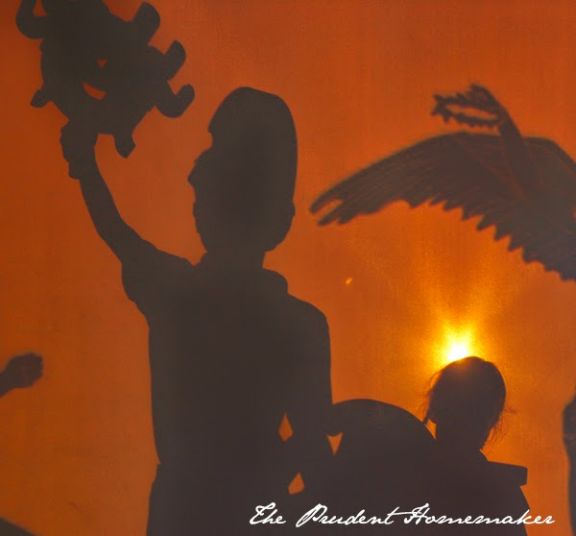 Renacting Greek stories as shadow puppet vases; that's Ezrom holding Medusa's head
We brought lunch with us (I sliced ham and turkey before hand, made French bread, brought homemade pickles, and made chocolate chip cookies) and we enjoyed lunch in the beautiful weather and shade of some redwoods in the picnic area of the museum.
After we visited the museum, we headed to our hotel to change, and then to the wedding.
When we left the reception and returned to our hotel, we headed down to the hotel pool to go swimming.
The next morning, we had a really delicious breakfast at the hotel (complimentary breakfast), and then we headed to the beach, close to where we had been the day before.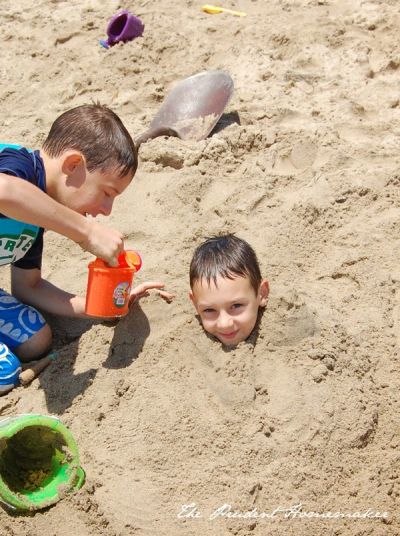 Ezrom dug a huge hole, knelt in it, and asked his siblings to bury him, and told me to go get a camera.
The beach was not free (parking was $14.50) but it had outdoor showers and bathrooms, which was rather helpful before our drive home.
The children were able to see and play in the ocean for the first time.
Our picnic lunch was more of the same from the day before.
After the beach, we drove home. We stopped along the way and ate more from the cooler for dinner: hard boiled eggs, muffins, cookies, and sandwiches.
We were very happy to see that our gas expense came in a 60% less than we had budgeted. We knew that gas was over $4 a gallon in Los Angeles, but we were able to get gas for $3.99 in California and $4.06 on our way home, and we still had a half tank left when we got home. We had no experience with lots of freeway driving with our van, but we knew the city mileage we got was not real high (it is a vehicle that fits all 9 of us, and we paid cash for it (only $500 more than we sold our old vehicle for). We never imagined it would get such good mileage on the freeway, which has left us looking at the possibility of future trips, if we can find a lower priced lodging, such as camping! Las Vegas is at least 5 to 7 hours from anywhere, so knowing that we get decent gas mileage on the freeway is really fantastic!