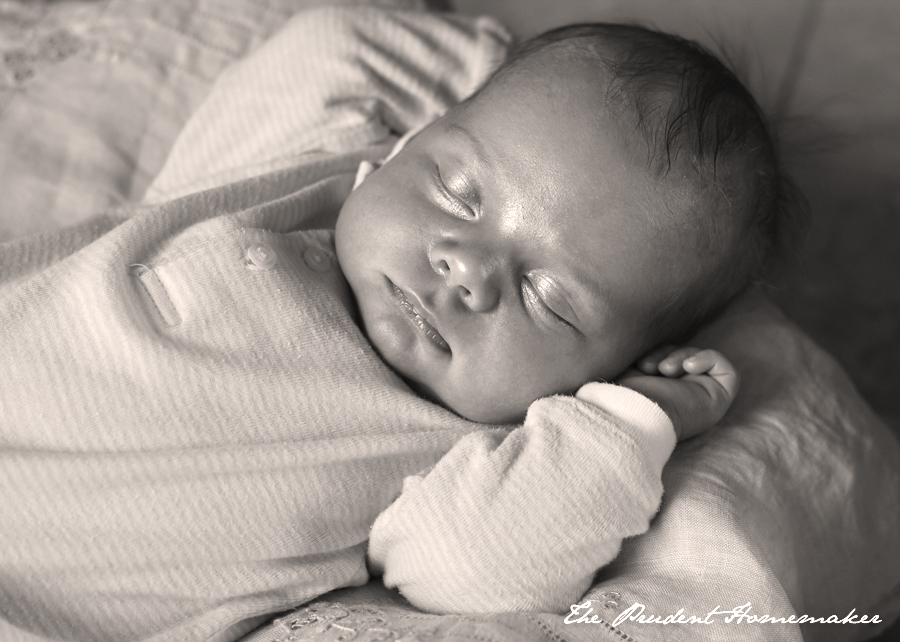 This little boy is growing so fast! At his two-week appointment, he had gained over a pound. He now weighs 9 pounds 14 ounces!
I've been asked by many readers over the years about how we name our children. We started a tradition with our first of having a baby naming day about a week after each child was born.
With our first, we didn't have an ultrasound, so we never knew for certain what we were having. My midwife told me that some people believe that slower heartbeats are more common in boys, and faster ones in girls. She told us our heartbeat was a slower one, and I remember thinking it would either be a boy, or a really calm girl (it turned out to be the calm girl!) Not knowing for certain what we were having was a great help, frugally, for our first; our shower gifts were more practical ones, rather than just clothing, at a time when we didn't have the money to spare for all of the basic baby supplies.
My husband and I decided to have a date at a bookstore one night, looking through baby names together. We read through hundreds of names, suggesting different ones back and forth to one another, and also suggesting those we would never use, just for fun.
There was a man sitting near us, reading a book and hearing our exchange. He looked up after a while and said, "You guys take this pretty seriously, don't you?"
As it turned out, our first was a girl, and the names we had been considering for a boy were no good at all.
My recovery from her birth was long, and our main concerns were helping me and learning to take care of the baby. Naming her was far from my mind.
She was born before Christmas, and my parents were coming for Christmas. My husband said to me on Christmas Eve, "It's Baby Naming Day!" We spent that day choosing a name. We started with our first rule then: No family names. My husband didn't want any hard feelings between family members if we chose names from one side of the family or the other.
I grabbed my Longman's Anthology of English Literature, hoping for some baby name inspiration. By chance, I came across this poem from William Blake:
Infant Joy
I have no name,
I am but two days old–
What shall I call thee?
I happy am
Joy is my name–
Sweet joy befall me!
Pretty joy!
Sweet joy but two days old.
Sweet joy I call thee:
Thou dost smile,
I sing the while,
Sweet joy befall thee
After going all the way through the book, skimming for name ideas, I still had nothing. I went back looking for words that I could use as a name instead, and this time around, I noticed a poem entitled, "Winter."
Seeing it was December when she was born, we decided that this was an appropriate name.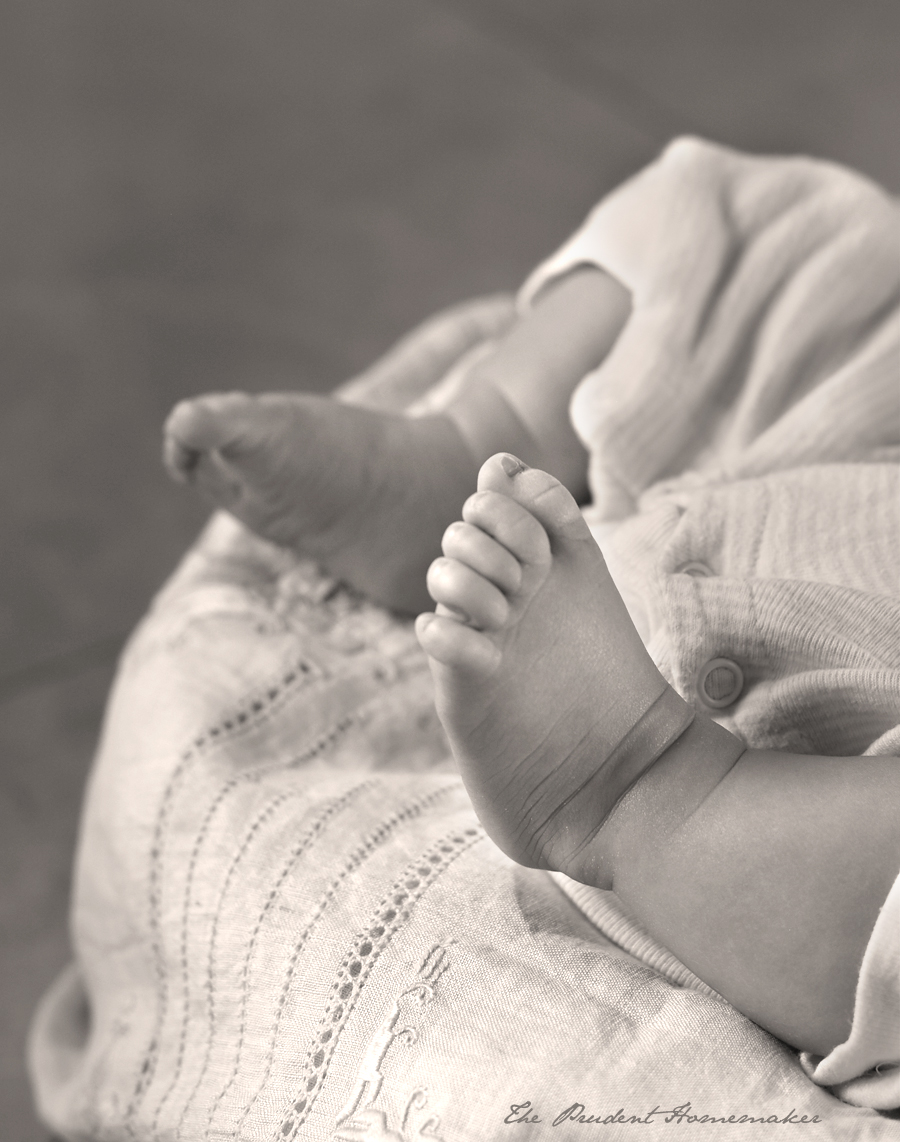 With our second, we didn't even discuss a name ahead of time. About a week after he was born, my husband again chose a day and declared it was baby naming day. We brought me a stack of papers he had printed online of baby names in alphabetical order and a pen. He said, "Circle any you like." I didn't circle anything until I got to the C's, and then the name jumped out at me from the page: "Cyrus." I called my husband in, and he liked it too. Baby naming day was quick and easy that time.
With our third, it wasn't quite so easy. By this time, we had decided that any names that were on the Social Security top 100 list were out of the running. My husband was one of 5 Steves in class as a child, and he didn't want our child to have that same experience. We went looking for scriptural names on baby naming day, (but they couldn't be on the top 100!) which is how we decided my husband decided on Ezrom. There are a couple of variations of his name: "Esrom" and "Hebron", depending on where you look and what translation you are reading.
Liberty, our fourth, was a different story. I had heard the name Liberty and liked it a lot, but my husband thought with our third that any names we mentioned ahead of time should be tossed (another odd "rule" we stuck in there), so I kept the name quiet until after she was born before I suggested it. I also liked the name Wren (I used to visit teach a young woman named Eliza Wren in college), and suggested it as well. Once we decided on Liberty, I suggested we use Wren as a middle name My husband suggested that we keep the name Wren in case we had another girl.
Our fifth was a girl, and so we actually had a name to start with when we had baby naming day (only 4 days after her birth). We talked about other names, including Lark, but in the end, Wren was her name.
For our sixth, we were down to 4 names, all variations of the same name! I don't remember all 4 now, but I do remember that it was odd how similar they were and that Elsa and Liesl were two of the 4. In the end, my husband told me to just pick one! That was hard, but I chose Elsa, never dreaming that a few years later everyone would be talking about Elsa in the context of a Disney princess.
For our seventh, I was again down to four names. I really liked the name Ruby, but my husband didn't. I called her Ruby for several days before our official baby naming day. In the end, I was also considering Poppy and Peony, plus another I no longer recall. I couldn't narrow it down and there was no way my husband wanted Ruby. I decided to look again, and I found a list of baby "nature" names online. "Ivory" was on that list, and like Cyrus' name, it jumped out at me. I suggested it to my husband, and he liked it–and baby naming day was done.
This last baby was the hardest to name. I joked about calling him Henry, since he was the eighth, but it was only a joke. ("Henry" is currently 29 on the U.S. list and 19 on the U.K. list). We went through several names, and I tried on each one for a few days before our baby naming day. The day we were planning for baby naming day this time was a Sunday, as we didn't have time to do a naming day on a weekday as we have in the past. Sunday I ended up with a terrible sinus headache, so we put it off a week.
In the end, come the next Sunday (which we made our "official" baby naming day), I pretty much knew what I wanted and wasn't able to be swayed. I decided this name, and as he is the eighth, it's quite appropriate.
Everyone, welcome Octavius.