Gleaning is the ancient way of providing for the poor. After the workers had picked the fields, the poor could go in and pick after them. The workers were also to let anything that fell stay where it fell, which the poor could then pick up.
How do you glean today?
Look and Ask:
Look for fruit trees in your neighborhood (or in neighborhoods that you pass) that are hanging full of fruit, and where fruit is dropping underneath. You may see them over a wall or fence as you drive by. Knock on the door and ask if you can pick the fruit. Chances are, the person living there will be happy to have someone use it.
Craig's List:
Look on Craig's list and Freecycle for offers of free fruit. One of my readers cans hundreds of jars of fruits and jams each year just from fruit that she gleans that she has found on Craig's list. She also puts out ads on Craig's list, looking for free fruit. She has been contacted by people this way as well who don't want to eat the fruit from their trees and would love for it to be used.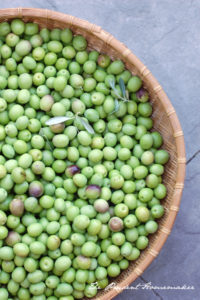 Friend of a Friend:
Let people know that you are looking to pick fruit. I have found most of my fruit this way. Other people have friends and acquaintances who have fruit trees, and those people don't want all of the fruit from the trees. I have found a lot of fruit this way.
When you go to pick, bring a ladder and something to put your fruit into. I prefer to bring handled baskets that can hang over my arm while I am picking. Be sure to pick up and dispose of any rotting fruit that has fallen while you are there, as a courtesy to the person who has allowed you to pick.
Glean in a Field:
After dropping off her children at an out-of state university, my sister-in-law drove past a farmer's field. He had closed his farm stand the week before, but frost had not yet hit his fields. My sister-in-law could see plenty of food still left on the vines.
She knocked and asked the farmer if she could pick the food that the farmer was leaving to rot in his fields. He was reluctant at first, but then agreed to allow her to pick. She filled the back of her pickup truck with tomatoes (green and red), cantaloupe, honeydew, and watermelon. She said that despite that, the field was still full of food, and it hurt her to leave behind so much. She brought the food home and shared it with her family and friends.
There are other ways to glean, too, that are different than just picking fruit, and that can involve more than produce.
Join a Gleaning Group:
There are groups that gather expired and blemished food from grocery stores and restaurants and make it available to others. These groups may ask for a regular fee to join, or ask for a donation to help cover the cost of gas that is incurred while picking up food.
They are not easy to find, and with good reason. I have seen several groups that I know of end completely, and sources choose to throw the food out and no longer donate it because of the abuse of others in one of the many gleaning groups that pick up. Abuses have included returning expired food and asking for fresh, stealing items from the gleaning location, and selling the food. These abuses have completely closed down avenues of food for the needy to all of that store's groups. Because of this, groups are quiet and hard to find. I have benefited from getting food in this way, but I have seen avenue after avenue close up because of this as well. The group I belonged to quit existing 4 times; once because of theft, once because someone complained, and for the other two reasons that I mentioned above. If you are receiving food in a gleaning group, be grateful. Know that the food is expired and some, if not much of it, will be bad. Cut around the bad spots on the fruits and vegetables, throw out anything that is no longer good, and don't take advantage. Do not steal from the location where you are gleaning; only take the food that has been offered and nothing else. Be quiet about your group, so that stores will want to continue to give.
Some people are picking up for their own animals, and taking anything good for their families. Mavis at One Hundred Dollars a Month writes about how she does this. You can see the quality of food that she receives in her photographs. That is pretty typical of what a gleaning group receives (however, the corn she considered unacceptable would be pretty normal at a gleaning group, and the bad spots can be removed, while the rest can be eaten).
Gleaning groups often pick up expired bread, blemished produce, dented cans, and various odds and ends. Each group has different resources and different opportunities.
Say Yes:
When an offer of free food comes your way, accept it. If someone calls and says, "I have all of these leftovers from a huge party we had and we can't eat them all before they go bad; would you like some?"–say yes. If you're at a church event or a party and someone asks if you would like to take home some leftovers, say yes. One reader mentioned that she was worried what others would think of her if she said yes to the leftovers, so she said no. The leftover food was promptly thrown in the trash, since no one said they wanted it. After that, she said that she always said yes.
Gleaning often means changing your schedule to accommodate picking, canning, and freezing that day. An offer to glean can't wait; fruit will go bad. Being willing to glean will change your day or the next couple of days, depending on the amount of food that you glean.
Even though I live in the desert and very few people garden here, I have still found fruit to glean. I have gleaned apricots, peaches, apples, figs, grapes, and pomegranates. (If you go to glean pomegranates, wear long sleeves, even if it's hot out. Wear gloves and take a pair of pruning shears or strong scissors to cut the fruit off of the vines.)
Do take into consideration the cost of gas involved in going to glean. I was offered the chance to glean from 3 apricot trees earlier this year. I was very excited–until I learned that the trees were 45 minutes away. The cost of gas there and back did not make it worth my while. Likewise, I have passed on many opportunities to pick up from my gleaning group when the gas is too much for me to justify the drive. Unless you're coming out ahead, gleaning can cost you more in gas than you receive in free food.
Have you gleaned food? What resources have you found for finding food?