If you have a garden space, are you using it to the best advantage possible?
I have a .24 acre lot. Most of my garden is behind the house. In that space, up until January of this year, I had 35 fruit trees, most of which are semi-dwarf varieties, and 40% of which are espaliered trees. My trees are of several different types so that I can have fruits ripening over many months.
One wall is covered in grape vines.
Another wall (not covered by espaliered trees) has a 1 foot wide planting space, and it is covered with blackberry vines.
I grow my tomatoes up in cages that are 5 and 6 feet tall.
I grow herbs under my citrus trees.
I know that I could still do more.
This year, I added several more blackberry bushes, including along two walls where there were none.
I added 4 large pots to my patio. I planted a pomegranate and two semi-dwarf Washington Navel oranges. The fourth pot will be planted with another fruit tree (most likely pomegranate) this fall.
I was able to redo my small front yard recently, which was previously rocks, a patch of grass, some bushes and a tree. Into that area I added 5 fruit trees, including 3 semi-dwarf Meyer lemons that will be grown as a hedge, a lime, an Early Elberta peach, and I will plant the fifth tree, a Katy apricot, as soon as possible.
The front yard will also include chamomile and caraway (grown between other white flowers). Parsley, basil, white pumpkins, sage, French tarragon, and white strawberries will line the walkway to the house. In the fall and winter, lettuce will line the walkway.
Cucumbers, garlic chives, alpine strawberries and oregano have been planted under the lemon trees.  A passionfruit vine will grow on a trellis on the house. I also planted Swiss chard and will be planting more strawberries.
Despite all this, I know I can still do more to increase productivity in my garden.
Here are some things to consider to harvest more from your garden:
1. Address the shade issue
Can shade trees be removed to make more sunny garden space? If not, can limbs be trimmed to allow for more sun in the garden below?
If you have a large property and want lots of shade, and haven't planted a garden yet, look for edible trees that will also produce shade. Here in the desert, good choices for edible shade trees include figs, pistachios, and almonds. Nut trees of all kinds are great shade trees. Semi-dwarf fruits will also provide shade without being quite as tall.
2. Grow semi-dwarf and dwarf varities of fruit trees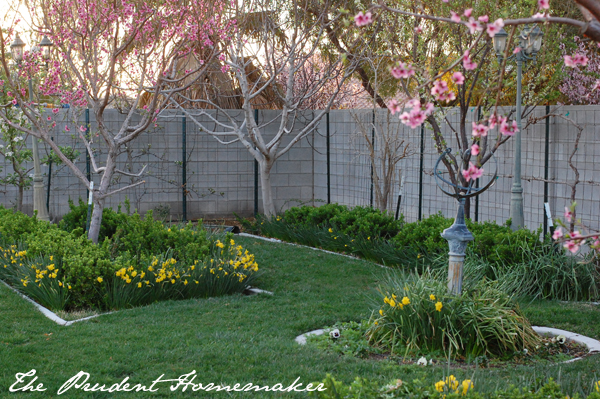 Left to right: Dorsett Golden Apple, Desert Gold Peach, 20th Century Asian Pear (espaliered on wall), Mission Fig, Pomegranate, Green Gage Plum, Early Elberta peach (near blossoms).
A semi-dwarf tree yields earlier than a full-sized tree. In addition, you can fit 5 semi-dwarf trees in the space when you would grow one full-sized tree.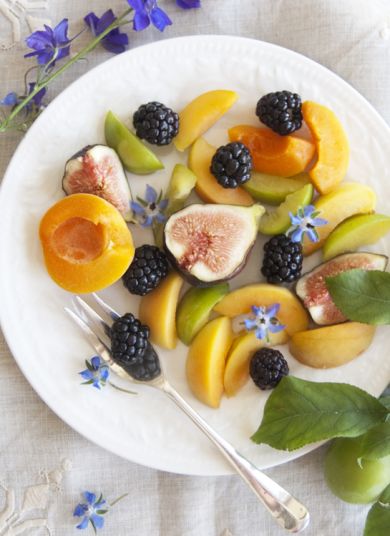 Blackberries, Mission figs, Green Gage Plums, and Royal Apriocts
3. Grow different varieties of fruit
I have two kinds of peaches in my garden: Desert Gold and Early Elberta. Desert Gold (a low-chill type)  requires less chilling hours than Early Elberta (a mid-chill type), which means it ripens sooner. I pick Desert Gold peaches in May and Early Elbertas in July.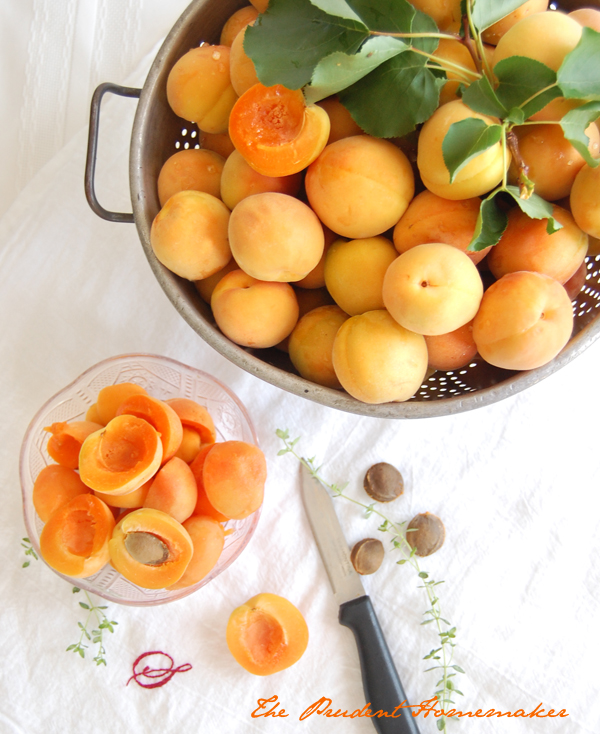 I am planting a Katy apricot in the front yard, which ripens 3-4 weeks earlier than the Royal Bleinheim that is growing in my backyard.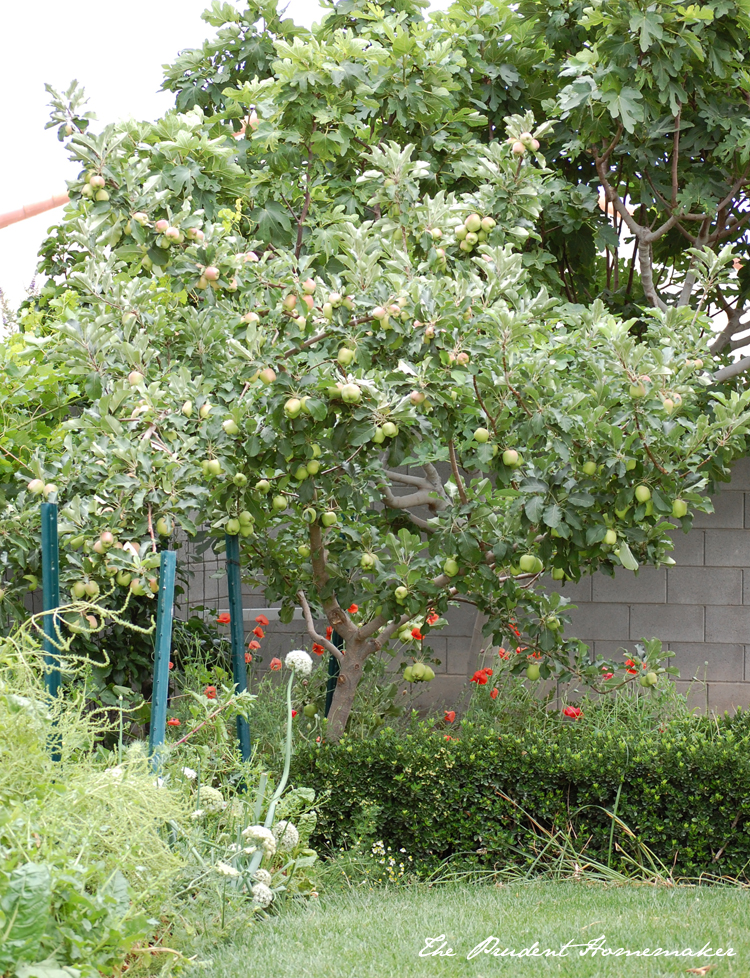 I have several different types of apples. Dorsett Golden apples are considered a "no-chill" variety. They are the very first tree to blossom in my garden in February, and they are ripe at the end of June/beginning of July. In warmer climates they can double and even triple crop! I also have several other types of apples that are ripe throughout the rest of the year.
Speaking of double cropping, Mission figs are wonderful for this. They actually try to triple crop here but are always halted at our first frost, which is typically in December (it can be anywhere from November 15th to December 15th). I already picked from these once, and they are growing again. Figs are amazing in that they fruit without flowering, which is a great help when it's too hot for bees to leave the hive.
4. Grow up
So many things can grow on a trellis. A trellis can be attached to a wall or a fence, or even be a trellis in the back of a growing box (a great use of space for those growing on a balcony).
Some things to grow vertically:
peas
beans
cucumbers
squash
tomatoes
blackberries
passionfruit
grapes
elderberries
apples, pears, and quince as espaliered trees (these can also be grown cordoned as a fence, or grown as hedges)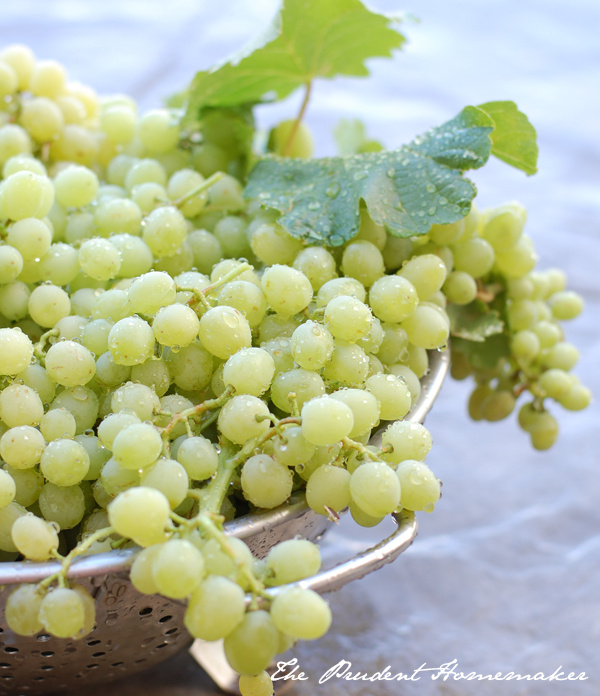 5. Grow grapes
Grapes love full sun. They'll even grow in the 118º heat which the extra reflected heat of a cinder block wall behind them. There are types that will grow in a U.S. zone 3, types that do well in the rainy and cool Pacific Northwest, and types that grow in the desert. Find out what types grow best where you live.
I really feel that grapes are one of the best things I have planted in my garden. What we cannot eat fresh can be frozen or made into grape juice.
Grape leaves are edible and can be used to make stuffed grape leaves. They are also wonderful in soup.
6. Plant a fall garden
Most people think of spring and summer as gardening weather. If you're not growing a fall garden, you could be getting a whole other harvest from your garden.
You don't have to live in a temperate climate to grow a fall garden.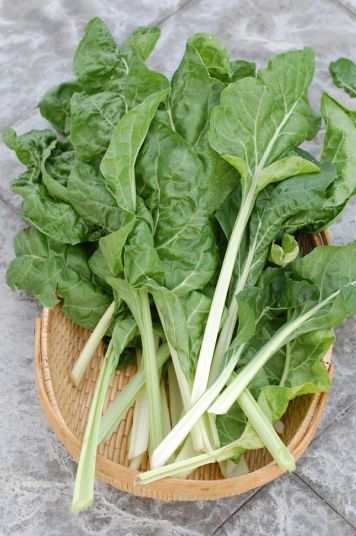 Swiss chard (silverbeet)
Fall gardens are great for all of the things you would grow in spring, including lettuce and spinach. If you cloche your plants, you can also extend the harvest. Some plants, like Swiss chard, even grow when it's colder; Swiss chard will grow to 15º F, and can overwinter in colder areas if cloched.
For detailed information about growing a fall garden read my post here.
Territorial Seed Company (based in the Pacific Northwest) just published a great fall/winter planting guide.
Mavis at One Hundred Dollars a Month wrote a fantastic post on planting a fall garden. She's in Washington state.
I've mentioned Eliot Coleman before. He gardens year-round in Maine using a greenhouse. He has written several books on the subject:  Four-Season Harvest: Organic Vegetables from Your Home Garden All Year Long
,  The Winter Harvest Handbook: Year Round Vegetable Production Using Deep Organic Techniques and Unheated Greenhouses
and The Four Season Farm Gardener's Cookbook
.
7. If at first you don't succeed, try again!
If the bugs and birds eat your seedlings, plant again. If a disease wipes out your crop, try again.
It may be that you can plant the same thing in the same spot. It may be that it is later in the season, and now you have to plant something else in that space, or that you need to use that space for a fall crop. Don't waste the space you have. Grow something!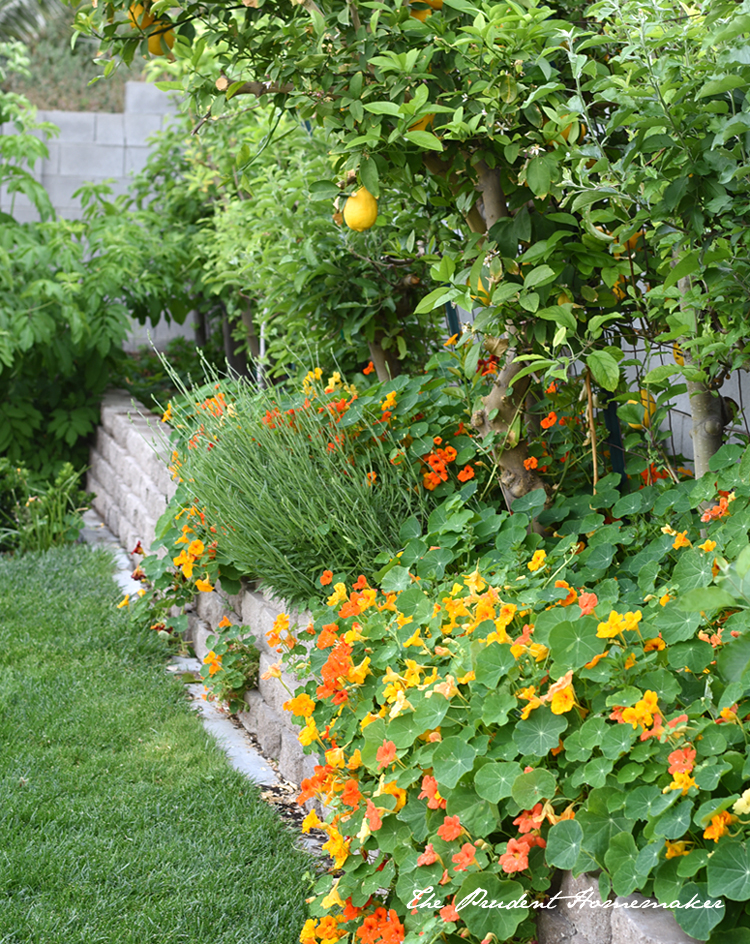 8. Plant an edible landscape
Our garden surrounds our grass on three sides. We still have a place for the children to run and play, but every bed around includes food. All of the trees in the backyard produce fruit.
The front yard will also be an edible landscape when the seeds all grow in.
I've written more about our backyard edible landscape here.
Check out this book for several ideas on landscaping with fruit: Landscaping With Fruit: Strawberry ground covers, blueberry hedges, grape arbors, and 39 other luscious fruits to make your yard an edible paradise
.
I also have an edible landscaping board on Pinterest.
9. Increase your garden space
If you have a small raised bed, look into adding more. Don't limit yourself to just one small garden. If you have areas of grass, consider changing some of that to garden space.
Don't forget the front yard! It is part of the space that you have. Our non-edible front yard has been wasted space for many years. I am so grateful that we were able to change it this year, to be a source of beauty as well as food. Because it is an edible landscape, it won't be obvious to the neighbors that I'm growing food.
10. Grow more of what costs the most
If you want to make the most of your garden, make sure to grow things that cost the most at the store.
Lettuce, Swiss chard, herbs, and blackberries are things that really give me the best return on my money. Lettuce, Swiss chard, and herbs can all be grown in containers, too!
What do you think you could add to your garden to make it more productive?