This post is dedicated to Nadine in Lyon, France, who opened my eyes to healthy, simple snacks when her 9-year-old walked into her living room after school one day, asking for a snack while we visited. She told him he could have a piece of cheese, a yogurt, or an apple.
Pre-made snack foods are expensive, which is why I don't buy them.
At my house, we have one afternoon snack. Our dinners tend to be late (between 6:30 and 7 p.m.) and our lunches tend to be around 11:30 a.m. I don't serve any other snacks.
(If you're used to giving more snacks, I highly recommend the book French Kids Eat Everything
for an eye-opening perspective on less snacks and getting children to eat at regular meal times).
Snacks at my house tend to be simple. I do a lot of cooking each day and the afternoons are a busy time for me. Simple snacks are also the least expensive.
What simple, inexpensive snacks can you serve in the afternoon?
Fresh fruit. In season apples, oranges, peaches, grapes, etc. make the easiest snacks. Purchased on sale in-season, they'll give your family some nutrition, and the fiber will help to fill them up. If you want to save even more, grow your own fruit. My garden gives me apricots, apples, plums, peaches, grapes, blackberries, figs, pears, Asian pears, pomegranates, lemons, and tangerines.
If I don't have anything fresh on hand, I will put together a simple fruit salad made with home-canned fruits that I canned when prices were at their lowest and taste was at its highest.
Carrots and ranch dip, made with homemade Greek yogurt. The yogurt provides calcium (sour cream does not) and homemade yogurt is less expensive than sour cream, even purchased on sale. Carrots are one of the least expensive vegetables to purchase. I usually buy a 10 pound bag of carrots at Winco for .39 a pound. In the summer I may include cucumbers from my garden, and in the spring I'll have snow peas as well.
Homemade bread with homemade jam. This simple snack is almost forgotten in modern times. A loaf of French bread costs me .25 to make. Homemade jams and butters are simple when I've made and canned them earlier.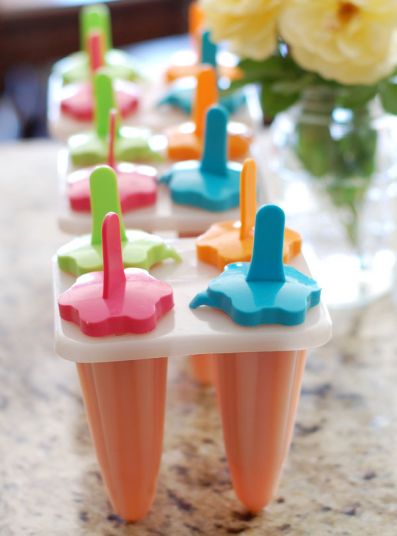 I get asked about my popsicle molds quite often. The popsicle molds I used are no longer being produced. Mine are starting to break and I have been thinking about replacing them with this one
sometime in the future.
Homemade popsicles. Popsicles can be as simple and easy as freezing the syrup from your home-canned fruits, to making smoothies and freezing them as popsicles, freezing home-made grape juice, or to making a cooked chocolate pudding from scratch and freezing it for chocolate pudding popsicles.
Popcorn. I buy a fifty pound bag of popcorn from Sam's Club, which usually lasts us a year. We pop popcorn on the stove with two tablespoons of oil, and then we salt it. It's a simple, quick, and inexpensive snack.
Muffins. When my children were smaller I could make a batch of 18 muffins and have leftovers for snack time. Now they eat all 18 for breakfast. I can make a double batch at breakfast time if I want leftovers for snack time, or I can make a batch during naptime.
Homemade pita bread and white bean dip. The dip is simple and filling. To keep the price low, I buy white beans, kosher salt and olive oil in bulk. I grow lemons and parsley in my garden.
Smoothies. A simple smoothie is a refreshing afternoon treat.
Homemade crackers and cheese. I'll make a batch of wheat crackers, or saltines and we'll have them with thinly sliced cheese, or with tomatoes or cucumbers from the garden. On occasion I'll make graham crackers. Crackers are only a few cups of flour per batch, so they're just pennies to make.
There are occasions when I'll make something else for a treat for snack time. If I do this I usually do it during nap time/quiet time. I'll make a double batch of cookie dough and make enough cookies for everyone to have a few. Cookies are a more expensive and time consuming snack, so I don't make them as often.
What are your favorite inexpensive snacks to serve to your family?