I've been seeking new ways to save money all month, as our finances are particularly tight at the current time with a lower income, increasing expenses, and an emergency trip to the hospital earlier this month. I have found that if I look closely, there's always another way or two to save money in addition to what I normally do.
Here's what I did this past week to save money and make the most of what we have: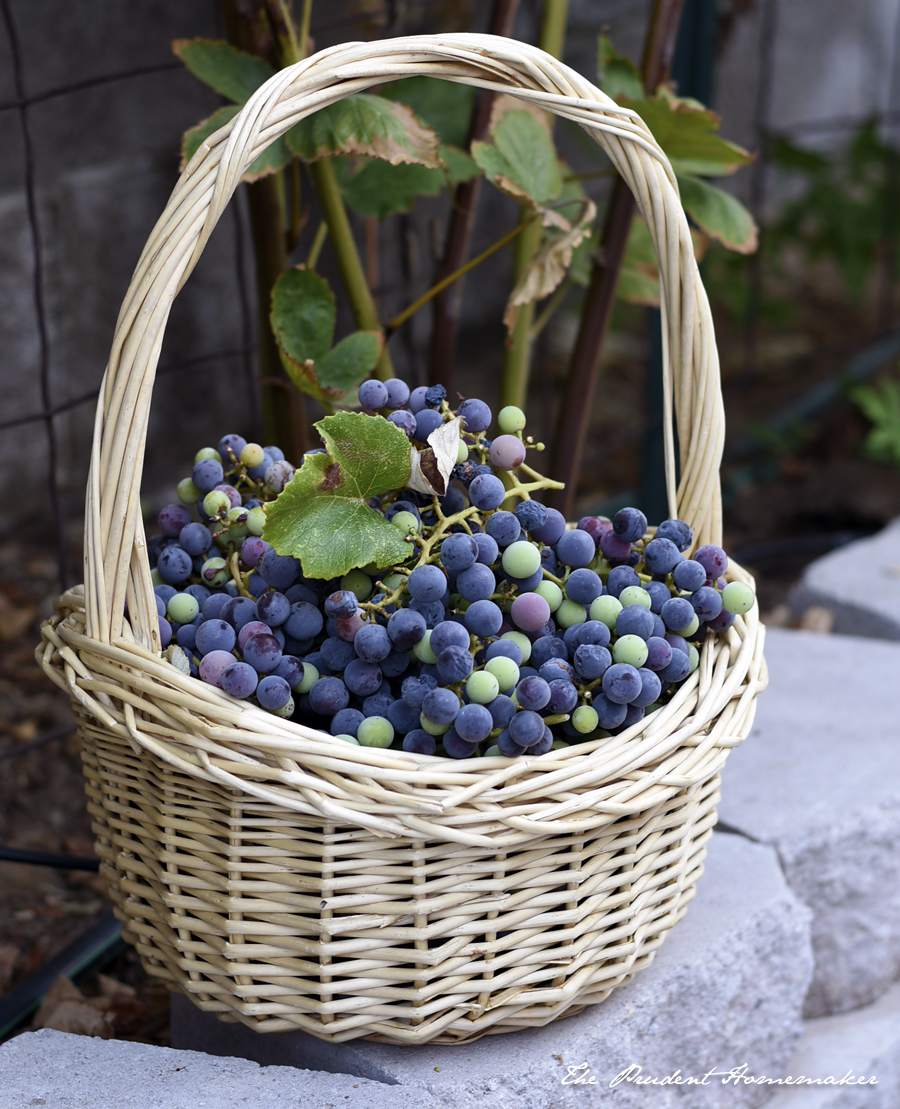 I harvested two Armenian cucumbers (these are quite large if you've never grown them; they're easily like having 2-4 regular cucumbers a piece depending on when one harvests them), a zucchini, a handful of red noodle beans, two colanders of tomatoes, five baskets full of Mission figs, bay leaves, garlic chives, rosemary, Genovese basil, 2 baskets of Concord grapes and a basket of table grapes from the garden.
I used water collected from the a/c drip (a couple of gallons a day) and from shower warm-up water to water pots in the garden.
We had a few minutes of rain on Monday. I saw the storm clouds and I know that mid-July is usually one of the two days a year where it normally rains here. I put out buckets and pans to collect water off the roof (houses here have no rain gutters as our annual rainfall is 4 inches a year). I collected about 20 gallons of water this way and used it to water potted plants in the garden. I even put out trash cans (several of which are actually buckets) which were needing a good rinse. The rainwater cleaned them out and I reused it on potted bushes.
I sowed seeds for zinnias (if at first you don't succeed . . .) and vincas in the garden.
We changed the filters on our air conditioner. We use really inexpensive filters and changing them means using less electricity, as the air conditioner won't have to work as hard. Our lows have been around 89ºF, so the air conditioners (our house has 2) are running all the time.
We had one exceptional day on Wednesday where a storm was south of us. We got a few drops of rain but it was overcast and temperatures dropped to 81º for a large portion of the day. I turned off the a/c units for a good part of the day, which saved us $4 for the day. (I saw the results on the weekly report from the electric company. I receive an email each week showing how many kilowatts I used and how much it cost for the week).
My husband had our insurance agent reshop our auto insurance. We were able to get better coverage for $400 less per year.
We cut my husband's hair and two daughters' hair at home.
I read a borrowed mystery book.
I cooked chicken pieces using a free sample of seasoning that came in the mail. I used the bones to make broth and made chicken soup with Swiss chard, bay leaves, and basil from the garden and some garlic, an onion, and white beans.
I canned applesauce, fig jam, and grape juice using produce from the garden. I dried figs in my dehydrator (affiliate link) as well.
I made cupcakes from scratch for a party my daughters had with their friends. I cut flowers from the garden for the table (I shared a photo over on Instagram, along with three others from the garden this week) and we hung a cloth bunting that I made years ago from scraps.
I accepted some hand-me-downs.
What did you do to save money this past week?