There was no frugal accomplishments post last week because my computer died. I'm still waiting for a new one to show up. Thanks to my eldest son, I've found a workaround so that I can edit photos and posts until I have a working computer again (though it takes a lot longer, so I'm glad the new computer should be here by the end of the week!) Thankfully everything is backed up and I haven't lost anything.
I harvested green onions,garlic chives, Meyer lemons, and Swiss chard from the garden.
I covered more seedlings with jars to help them to grow faster in the garden.
I accepted two used garden pots for the garden from my parents.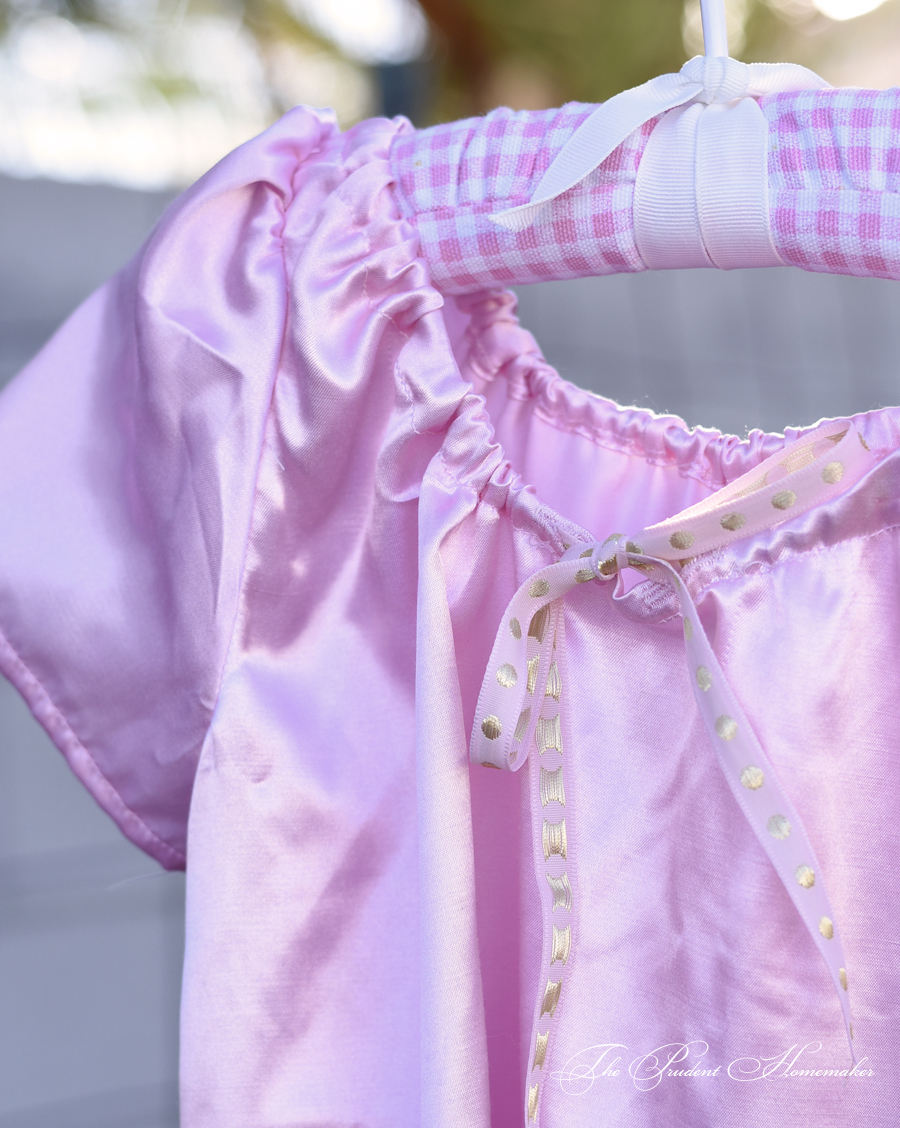 Flannel-backed satin nightgown
I sewed birthday gifts for a daughter using fabric I had on hand.
I mended a shirt and a dress. I replaced the elastic in three pairs of sweatpants for my youngest. I had elastic that I had bought in bulk on sale that I used to replace the worn elastic. I also replaced the elastic in a pair of dress pants for him.
I turned three long-sleeved blouses into short-sleeved blouses for a daughter. Short-sleeved blouses are more practical in our climate, and the long-sleeved blouses had been passed down to my fourth daughter with almost no wear because of that. Now she has three like-new blouses to wear. I added the buttons from the cuffs to my button jar.
I went through several drawers and cabinets in the house and ruthlessly decided on items to purge that hadn't been used in the last year. To make it easy for myself, I went through one cabinet or one to two drawers a day. I added these items to our garage sale piles. and started pricing items for my sale later this month. My mom also went through her house in the same way and added more things to my garage sale items. Several of my cabinets and drawers are now more organized, which is a great feeling.
Our piano teacher came to the house for lessons and saw our garage sale items stacked by the front door. She asked if she could buy items ahead of time. Of course! I sold her a game for $1. She also told me she had a bunch of items I could have for my sale that she'll bring by for me.
Making the vintage-style eyelet dress bodice using the $1 bedskirt I purchased at a garage sale last fall.
I used the $20 gift card I earned from Target in February as a wedding gift for a couple who is registered at Target.
My mom takes a woman grocery shopping each week. The two of them give me all of their Monopoly pieces from the two stores in our area that are currently giving out game pieces (a promotional game). So far I have a couple of instant winners: a free donut or bagel and a free bottle of aspirin. Since my husband's office is in the same parking lot as one of these stores, I gave him the coupons; he can enjoy the donut and I'll add the aspirin to our medicine shelf.
I combined coupons, sales, and Target cartwheel offers to purchase the Easter candy for less that I will use to fill Easter eggs.
I gave two of my sons a haircut and my husband cut his own hair.
My eldest daughter was asked to work as a server for a wedding luncheon. Not only did she get paid, but at the end of the luncheon, the servers got to take home leftover cooked meat. She brought home a tray of cooked, diced chicken.
My eldest son watched the RootsTech conference online, where he was able to listen to several speakers as well as watch several online classes for free.
What did you do to save money these past two weeks?