This past week was a week of freebies more than a week of active frugality.
We were given a bag of apples from someone's tree.
We received 10 pounds of ground beef that someone was getting rid of, as it had been in her freezer for over a year. She gave it to us in a big plastic storage container, which I also get to keep. That is perfect for helping to organize some fabric in the sewing room.
Even though I had decided that I wasn't going to say yes to anymore free fabric, my sister-in-law called with the offer of some grey and some tan suiting, and I said yes to it. I did say no to any smaller pieces, as I really don't have anymore room for fabric.
We went to a church dinner on Saturday night, where we needed to bring just a side dish. We were sent home with a package of hot dogs, some raw hamburger, and some buns.
I used a $10 off $10 card that came from Kohl's along with a 15% coupon to get a blouse for Winter for next year for $1.83. I paid the $1.83 with a gift card that I had that had a few dollars left on it.
My father-in-law brought his bicycle over so that I can borrow it.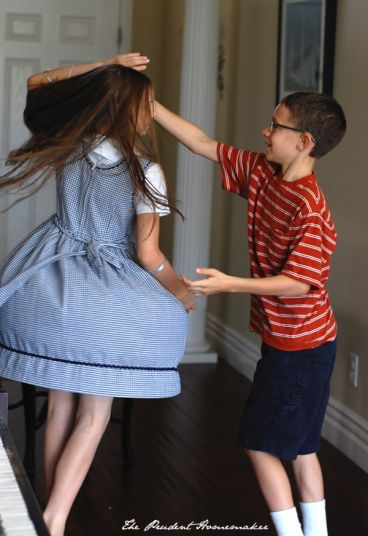 We put on some music and danced.
I mended a skirt, a pair of shorts, a slip, two pillowcases, and a dress.
After discussing it with my husband, I made further changes to the settings on the thermostats. Now they are set to be 80ºF after 8:00 p.m. and 81º from midnight to 8:00 a.m. The rest of the time they are set at 79º. Until Thursday, this resulted in not having the air conditioner come on until 8:45. On Friday morning it was hot again and the air came on before 6 o'clock in the morning.
I cut basil from the garden. I also picked a few tiny tomatoes from the garden.
I hand-pollinated two more cucumbers. I found two more female cucumbers that started and were pollinated by bees! The cooler temperatures have meant that the bees are out in the mornings again. I am really glad that I replanted cucumber plants in the front yard, as the ones in the backyard died. The ones in the front yard are getting plenty of sun and have grown quite large already. I planted some more seeds in front of a trellis in the front yard. Those are in the shade most of the day, but I am hoping that they will still grow up the trellis. I also planted some more in the backyard that have come up. It is warming back up so I may not get any more female cucumbers for a while, but I am excited to have a few cucumbers now growing in the garden!
I made a pear cake with the pears that fell early from our tree after a heavy wind.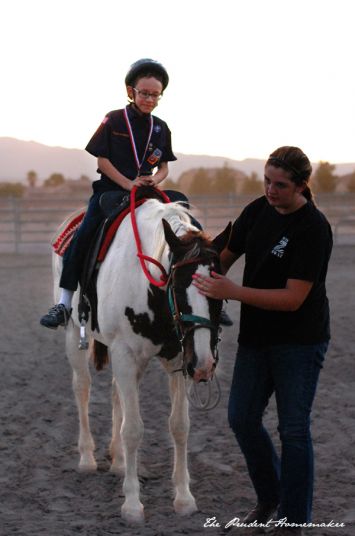 On Thursday all of the children got to go horseback riding as part of a Cub Scout activity that my husband arranged. We went riding at a horse park in town and members of our church congregation brought over horses for the children to ride. This was the children's first time going horseback riding.
I went to nursery and was able to find some more euyonomous bushes to plant in the front yard. I have been waiting for over a month for the nursery to get some more in. I went to a different nursery in town because I needed to be that way. When I got there, the bushes were on sale (unadvertised; I double checked the flyer so it was store specific) for 60% off! Normal sales are 30% off. I was able to use the credit I had from returning things to my local nursery (they are the same nursery with different locations) and I paid very little out of pocket. I now have all of the bushes for the front yard hedges.
I also picked up some printer paper on a great sale. I have enough paper for us for a year, and some of the paper will also go to my husband's office.
What did you do to save money last week?