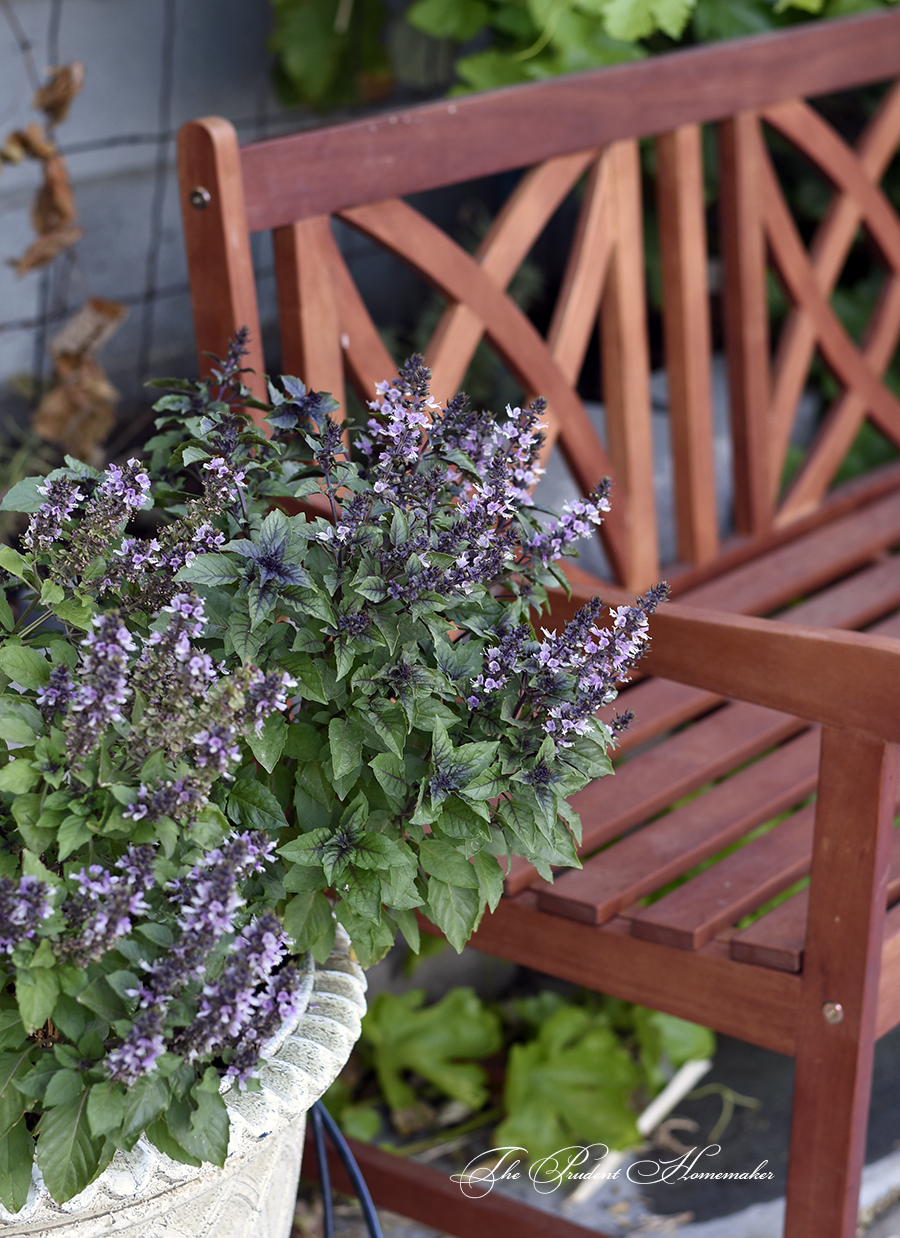 This post contains affiliate links.
On the try, try, again line I planted seeds in the garden yet again for sunflowers and zinnias. Only one of the seeds came up from all of the zucchini seeds I planted two weeks ago. This next week, I hope to plant again and I also plan to dust the areas where I planted the seeds with diatomaceous earth, which will hopefully keep the bugs from eating the seedlings as they come up (as well as kill the bugs, which will hopefully lead to a more productive garden!)
The Siam basil (pictured in the photo above) that I cut for last week's arrangements for my table rooted in the vases. I planted the rooted cuttings in pots in the garden. This basil was advertised as having red leaves, which it clearly does not, but it tastes just fine. I am still hoping to grow some next year with red leaves just for the fun of variety in color on our plates.
I cut Genovese basil for the table this week, this time expressly to let it root. By topping my basil plants, they will branch out and give me a larger harvest. I will plant the cuttings that grow in the garden. I took off any leaves that would be below the water line, rinsed them, and left them to dry to use in cooking.
I harvested green onions and Swiss chard from the garden.
My 2-year-old watched shows on YouTube. This is something we do every week but that I don't mention often. There are plenty of shows to watch this way without paying for cable tv or even for a subscription service such as Netflix, Hulu or Amazon Prime. Our favorites children's shows are Peppa Pig, Little Einsteins, Backyardigans, and Rolie Polie Olie.
My husband gave himself a haircut.
I continued to collect water from the air conditioner run off and used it to water the garden. I also used shower warm-up water in the garden.
I read four more Hamish Macbeth e-books from the library.
I used several coupons at Bed, Bath, and Beyond to purchase two sets of new sheets and two new pillows for my bed. I have a California King-sized bed, and most places don't sell sheets in that size; they are one of the few places that do. I usually only have one set of sheets at a time, but we decided to purchase a second set this time as we were able to do so. The store will take expired coupons, and you can use one coupon per item. Using coupons saved me $60 on my purchases.
My two middle-school children tried out the school lunches a couple of times last week, as we qualify for free lunch. My son decided he would rather take a lunch, and my daughter will take a lunch some days, depending on the menu. Of particular concern to me is the high-calorie content of the lunches, usually hitting 1500 calories for one meal. I won't be purchasing special items for packed lunches, so our food costs won't go up from packing lunches. I did end up deciding on these divided boxes which are small enough to fit in their lunch bags.
Dear readers, there were some less than kind comments last week towards one another. Some I did not post, and some that were borderline I let go through, but feelings were hurt. As you share your frugal accomplishments, please remember that others reading here come from all different places in the world, with different religious, political, and personal beliefs, and that everyone deserves respect and kindness. As a reminder, I won't be publishing anonymous comments.
I share a lot of things, but I don't share everything, and no one is obligated to share all aspects of their life with others. Our reasons to send three of our children to school are personal, and I don't know if we will send them next year or if this is just what we need for this season of our lives. I still have six children at home and my days are quite full.
I would like to thank all of you who offered some wonderful ideas for dealing with school expenses and lunches.
I am deeply touched by those who said they were praying for me as I make some big changes in my life. The transition has been difficult for me and the change in my schedule is difficult. I have thought especially about all of the comments that came from teachers this last week; I have thought how hard it must be to teach all day, and come home to correct papers (classes here are between 36-42 students per class and 6 classes a day), make dinner, and also help your own children with their homework each night. I am touched that you make time to read here.
What did you do to save money last week?