It was a beautiful week of fall weather. I'm enjoying our long fall this year. Our first frost usually hits between November 13th and December 15th. It's usually toward the end of November, but it hasn't come yet, and the weather was just beautiful all week.
Of course, no one wanted to be inside.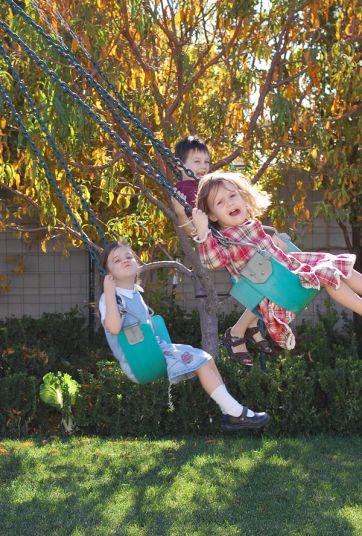 The plaid dress, the jumper, and my son's polo shirt are hand-me-downs from friends.
We enjoyed playing in the backyard, on the swingset and the merry-go-round that my husband and brother-in-law made several years ago. They constructed and welded the frame and installed it. We purchased the swings and chains, and they have held up many years, in spite of the sun, and the rubber-covered chains keep the children from burning their hands. Our swings are 10 feet tall, which are actually taller than most of the parks here (and none of our parks have a merry-go-round). I don't need to spend money on gas to go to the park when we can play at home!
We were excited for a little bit of color in them this year! I grew up in the desert, with a maple tree in my front yard whose leaves just went from green to brown, so fall color is a rare thing in my life. I love the little bits that we get here (there aren't many!)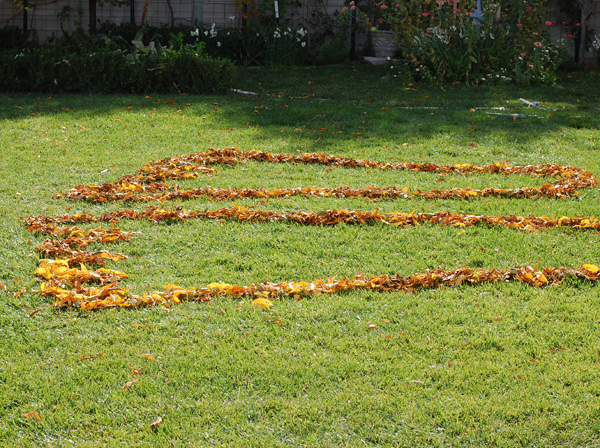 Winter gathered the leaves from the peach trees and made giant footprints. Every time her brothers stepped on them, she would say, "You stepped on my feet!"
I made biscuits, French Bread, Italian dressing and crackers.
I mended a dress.
I cut the buttons off of a worn dress and added them to my button jar.
I harvested basil, a lemon, a few small bell peppers (the first ones of the year), and some thyme.
I made a few Christmas presents and worked on some others.
I bought 60 green bell peppers for $0.10 each, for a total of $6. I cut them and froze them to use in other meals. I also bought 5 pounds of green beans at .25 a pound. This was a lucky find at Winco; when my mom went there a couple of hours later, a new shipment of bell peppers had come in, and they were marked at .58 each instead of .10 each.
My husband found his paint sprayer and used it to paint our side gate. We had received a notice from our HOA that it needed to be painted. He also painted a shelf that I bought at a friend's garage sale last month for $3, and had enough paint to share with our neighbor, whose gate was needing to be painted even more than ours. Using the sprayer meant he used less paint, and he still has some leftover for another project.
He installed some lights in the garage that he had had for some time from our last house, and wired in a plug from an old appliance.
We watched a few shows on Hulu for free.
I made homemade hair detangler with a half of a free sample of conditioner. Since I started doing this earlier this year, I have saved $8 a month over buying the largest bottle of Infusium (which I used to buy with a coupon for that price, and then dilute half with water). Now I use 3 Tbsp of conditioner a month for myself and all of the girls, and it's free.
The children had friends over this week. This meant that I had 12 children at my house for 2 hours (we had 5 friends at once). Part of the time, they ended up playing board games. I realized that it might be nice to have a few more options in games (especially for the younger children), so I decided to use the money my grandmother gave me for the children's Christmas gifts this year to be for some group gifts of a few games. I read a review of a game on some one's blog this morning and I checked out the game. It was pricey, but I looked over on Amazon, and they had it for 25% off
. I ended up ordering a few more games (this one
and this one
) for the children to share with the money that she gave me. I think the money went further by buying a few things that they can share that will last for several years, rather than buying individual gifts for less money each (which would have happened if I had just divided the money equally). My grandmother will be able to see them open the gifts. I'm glad that she left me free to pick some things that I think they will really enjoy.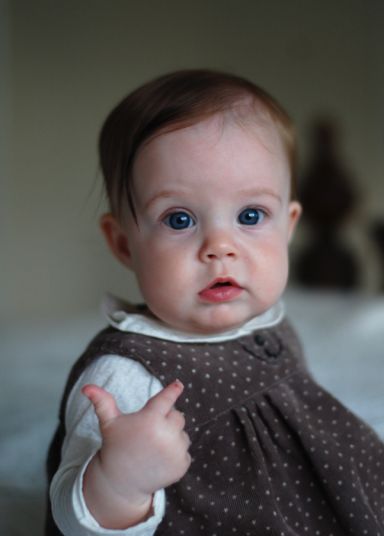 Ivory is wearing the sweet little European outift that I bought at my sister-in-law's garage sale last month for $1.
We took down our Christmas wreath from the box in the garage. I made it with materials from my mother-in-law on mine and my husband's first Christmas. All of the decorations are held on with hot glue, and each year something falls off and has to be glued back on. I glued back on a gold pine cone (it could be just that this particular pine cone falls off every year!) and hung it up today on our front door. The only other thing that I have put out so far is a large jingle bell, which I hung on the front door handle on the inside of the door. This bell was one of a small handful of items left behind in a house that my husband sold years ago. It has a beautiful sound.
Because it is the first day of December, we asked the children to pick Christmas songs tonight for us to sing before bed. Each night we read the scriptures together as a family, and then each child gets to pick a song for us to sing. Starting December 1st, we sing Christmas songs. Winter and Liberty are learning to play a few on the piano, and so they were able to accompany us on a few of the songs tonight. After songs we have family prayer, and then the children have prayer with us and we tuck them in bed.
What did you do to save money this week?