I had at at-home date with my husband on Saturday night. We watched a movie and popped popcorn after the children were in bed.
I needed to replace a lemon tree in the white garden that was mostly killed by our long frost in December. There was a sale this week on lemon trees at the nursery, so I was able to pick one up on sale and I used a $10 off coupon to the nursery on top of that. The previous lemon is still alive, but barely; it lost all of its branches to frost and is just now making a handful of leaves (it is only about 6 inches tall now). I am going to pot it and see if I can keep it alive somewhere else.
While I was there, I picked up a few pansies on clearance for .25 each. Pansies are primarily grown October through April in our climate, so these will only live another couple of months, but for $1, I've filled in some bare spots in my urn in the white garden.
A friend gave me a small strawberry plant that she had left over after planting the rest in the package in a pot. I planted it in the garden.
The weather has continued to be beautiful here. The children have spent a lot of time playing outside in the garden. I enjoyed time in the garden as well. I planted some seeds in the garden and thinned and transplanted some seedlings. I also figured out several more places for herbs in the garden and planted seeds in those spaces.
I made a dress and some other presents for Wren for her birthday using materials that I had on hand.
I cut daffodils and stock from the garden for the table on her birthday.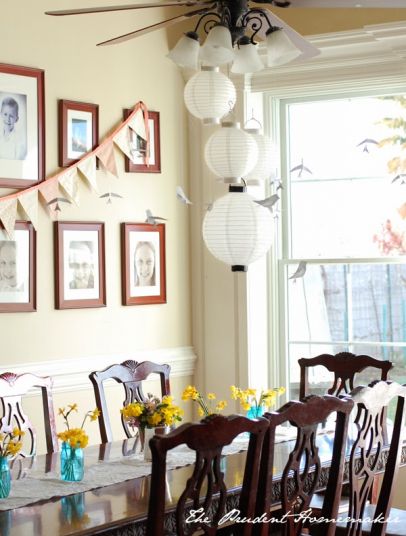 We decorated with paper lanterns that we already had, pink bunting that I made several years ago, and some cardstock birds that Ezrom and Winter made, in addition to the flowers on the table.
I cut a few spears of asparagus from the garden. I also picked a small amount of lettuce and parsley from the garden.
I made bean burritos, balsamic orange vinaigrette, tomato basil soup, spaghetti, and waffles. All meals were made at home. I made lemon meringue pie for Wren's birthday.
I signed up for a free cake making video class on Craftsy.
I received a free copy of Better Homes and Gardens in the mail.
What did you do to save money and enjoy life frugally last week?