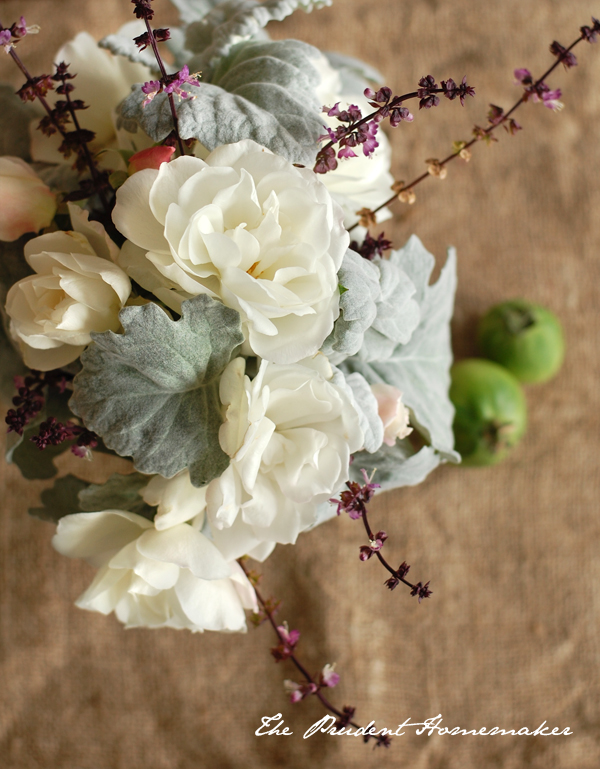 My husband cut my hair.
I sold several items using Facebook garage sale sites. I used some of that money to purchase 3 pairs of used boys' jeans in a size 14 for $4 a pair, 2 pairs for $3 a pair, and 3 long-sleeved shirts for $3 each (size 12, so Cyrus can wear them now). This is a bit higher than I usually pay for used clothing, but I was happy to find clothing in his size in good shape for a lot less than new, so I jumped on these. The jeans were put in a box for when he needs that size next year.
I made a triple batch of laundry soap.
My friend and visiting teaching companion suprised me Tuesday night with a smoked turkey breast that her husband had smoked. We sliced it on our slicer and had sandwiches with it.
I went to Joann's early Black Friday sale on Wednesday, where I bought flanel prints for $1.74 a yard, a bolt of pellon for $2.99, and three tiny bottle brush Christmas trees for $1 each (I have been wanting some of these for years). Another woman there gave me a couple of 40% off coupons that were good that day only (she had extra) and I bought plaid flannel (not part of the sale) and flannel-backed satin with those. I paid for the satin from the Facebook garage sale money.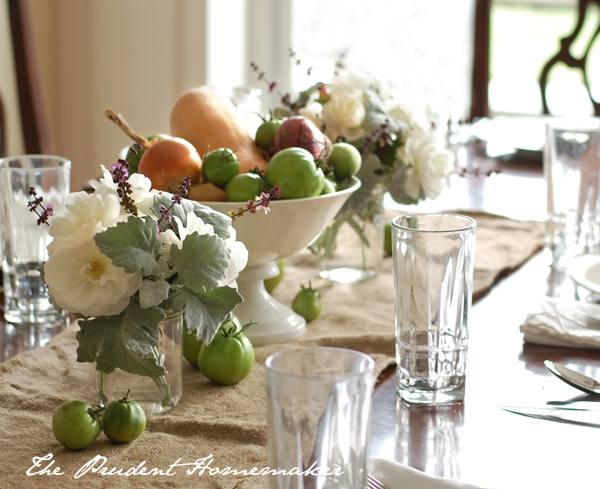 I cut roses, Thai basil flowers, and dusty miller from the garden for Thanksgiving arrangements. I put together a bowl of green tomatoes and our lone butternut squash from the garden, plus some onions for a centerpiece on a homemade burlap runner.
I hosted Thanksgiving, and made turkey, roasted rosemary potatoes, rosemary olive oil bread, and 2 pumpkin pies.
On Black Friday, I bought myself a pair of shoes from Amazon, using the gift card credit I earned from Swagbucks. The shoes were already on sale for more than 50% off, and I got an additional 25% off using a promo code
I also bought a watercolor book
that has been on my wishlist for a long time for the children for 30% off, using a promo code.
I picked several small white alpine strawberries from the garden.
I cut basil, Swiss chard, green onions, thyme, sage, rosemary, oregano, and the first lemon of the season from the garden.
I gave basil away to three people this week. One of them brought me some goats' milk when she came to get basil.
My new sister-in-law took Winter to the thrift store on Friday. Winter took money with her, but my sister-in-law said she would buy her purchases as a birthday gift to her. Winter found a pair of riding boots (just like she was wanting) that look very new for $6! (She said they had a whole boot section there). She also found herself a jean jacket (something else she had been wanting), another jacket, and a beautiful skirt that she can wear to church. I had already bought a jean jacket for her at a great price at Sam's Club a while back, so I will return it and use that money towards something else.
She also brought some shoes that no longer worked for her and gave them to Winter. All three pairs fit! They are all black heels. This means I don't have to buy a pair of black shoes for Winter for church, which is a great blessing.
My mom went to Costco on Friday evening, and noticed that they had cranberries there in a 2-pound bag for $1.99. I had her pick up 10 bags for me, and I paid her back with money I made from the Facebook garage sales. These will be canned for juice.
I cut buttons off of 5 articles of worn clothing and added them to my button jar.
I made a few gifts this week; you can see them in my Gift a Day series.
I started decorating for Christmas using items we already had and from the garden. I printed some free printables as well and put them in frames that I had. (You can see some of the ones I chose from my Christmas Inspiration board on Pinterest here).
What did you do to save money last week?