We enjoyed a trip to two local museums that were free for Nevada Day on Friday. We had never been before and entrance for our family would have been $93! Most things were indoors, but Ezrom decided to make goofy faces for me at one outdoor display.
I did get a kick out of a sign that spoke about the spring that was found here in Las Vegas (which means "The Meadows", if you don't speak Spanish). The sign said, "Early explorers must have been relieved to see this lush valley in the middle of the desert. Before they found the springs, they called this stretch of the Spanish Trail Jornada de la Meurte, "Journey of Death."
I know there's a spring here downtown, but I'd still like to know how they called this lush: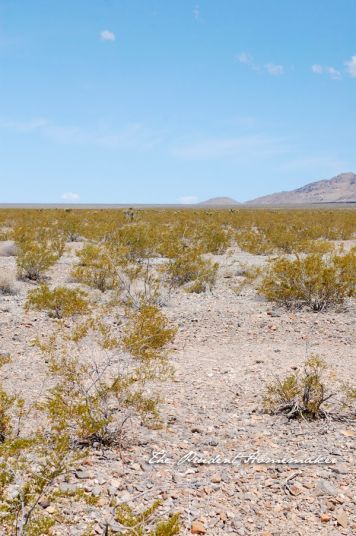 That's what the desert here looks like where I live–in spring.
I think "Journey of Death" is a much more appropriate name.
After seeing the massive Ichthyosaur fossil at the Nevada State Museum, I think those rocks and our salty ground and water make a lot more sense.
I harvested 2 zucchini from one of the plants in my white garden. I hand-pollinated several other blossoms this week. I know 2 zucchini from 8 plants isn't much yet, but I am very happy to have some! I hope that we get many more this fall! I also cut basil from the garden.
My husband and I cut his hair.
My husband gave Cyrus a haircut.
I said yes to a few things from my mom this week, who is decluttering. One was a small table, that I am using as a place for my teacher's manuals.
I watched a few shows for free on Hulu.
I downloaded some things from the Dover Children's Sampler to use for my children.
I decided on a few more Christmas gifts to add to my list, that can be made with items that I already have on hand. I'm excited to get them made, starting this week! On Friday I'll be starting my Gift a Day series again, where I'll be making and posting pictures each day of a gift I am making for Christmas. Click here to see the gifts I made in this series last year.
What did you do to save money last week?