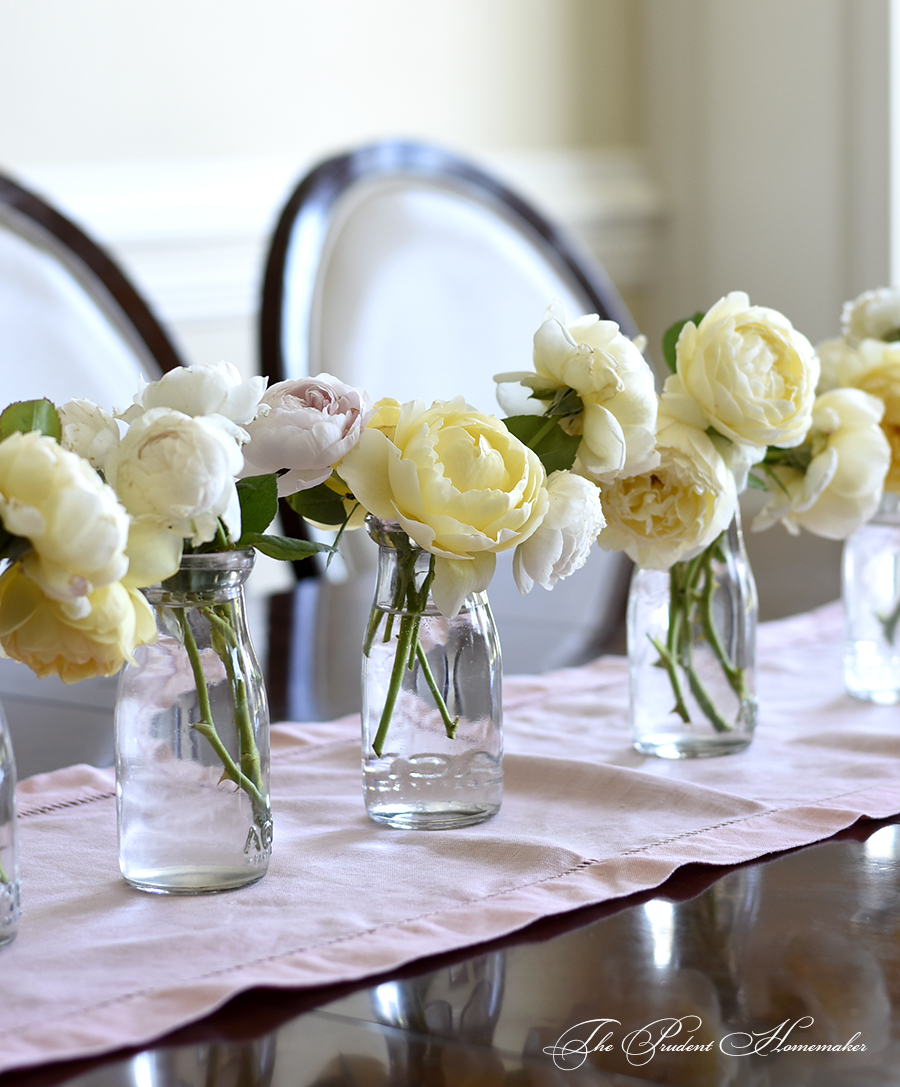 For those who missed the announcement on Instagram, I had a baby boy on Friday, April 27th. I'll be sharing photos and details in an upcoming post. We're still deciding on a name for this baby.
We enjoyed some rain on May first and second, which is rather unusual here–especially in May! I turned off the drip irrigation systems for three days and put out buckets to collect rainwater on the two days we received a little rain.
The rain brought cooler weather and we were able to turn off the air conditioning for four days.
My husband gave two sons a haircut.
I said yes to some formula samples that someone I know offered for free on Facebook. We used them to feed the baby until I had milk, which took 5 days.
My largest frugal accomplishment was making sure to pump to help me to have enough breastmilk for my baby. I've written about this before, but I have to pump in order to have any milk for my babies. I've tried all the supplements, but they made no difference in my supply. I hired a lactation consultant with my third baby. Pumping and drinking lots (and lots) of water are what I need to do to make sure I can feed my babies. I don't have letdown (I can count the number of times I've had letdown with 9 children on two hands) and the day my milk came in, I was able to pump only 3/4 of an ounce. Still, I persevered, and now my body is producing enough milk for my baby. Pumping made it so that I was able to nurse my last baby for 16 months (with my first baby, I had no milk by 9 months, and with my second, I ran out of milk at 5 months; since hiring the consultant, who instructed me to pump and for how long, I have been able to nurse each of my subsequent babies over a year).
I wore a support wrap for after birth that I had purchased at a garage sale for $1 last October. I have seen these for sale for $35. This gave me back support and will hopefully help with healing my diastasis.
The baby surprised me by being a boy! Since we had only planned on having 8 children, I had given away most of my baby things. I had been given some hand-me-down girl clothes, but needed something for a son. I used the 15% off registry coupon from Target to purchase a 4-pack of onesies for him. I also went to a community garage sale on Saturday morning, where I found a few things for him for $0.25 cents each.
At the garage sales, I also found a Christmas wreath and some more ornament hooks ($3), a couple of fancy hair combs that I'll use as a gift for a daughter ($0.50 each), and a 5-strand pearl necklace for $1, which I purchased with a laugh after the old woman who was selling it said to me as I picked it up, "You too can look like Barbara Bush."
While at Target, I used two $1 off coupons towards my purchase of shampoo and also used Target cartwheel for an additional 5% off. I brought my own bags to save $0.05 off per bag.
I picked up 5 containers of sour cream on sale for $0.89 each. These were on my list for the month, but I purchased them elsewhere than I had planned since these were a better price. They also had more shampoo on sale in the kinds that my children like, so I picked up a few bottles of shampoo there also.
I went to the local nursery to purchase two herb plants for my garden. One of the regular employees let me know they had one lilac left; someone has returned a plant, and all but one branch had died. They had been watering it and keeping it alive, and it was recovering. I was offered the lilac for $2. Originally the bushes were $40 each (when they were large and healthy). I bought the lilac and will find a place for it.
My husband picked up a free, new-to-us small fridge that we are using to replace our second fridge. The fridge that we have been using (also given to us) works really well, but it is almost as old as I am. This newer refrigerator was made in 2007, so it should be much more energy efficient. We've been looking for someone in need of a second fridge who would like it for free, but if we don't find someone, I will list the fridge for sale online (if any local readers are interested, send me an email, and the first person to contact me is welcome to it).
I watched a couple of hours of a free class online.
My eldest tried a reader's suggestion from last week to use witch hazel as an anti-static spray. She said it worked great! We will use witch hazel from now on.
My son picked a few mulberries (with permission) from a neighbor's tree. We ate them over homemade pancakes.
I cut flowers from the garden to enjoy inside. We also harvested lemons, lettuce, parsley, and spinach from the garden.
What did you do to save money last week?