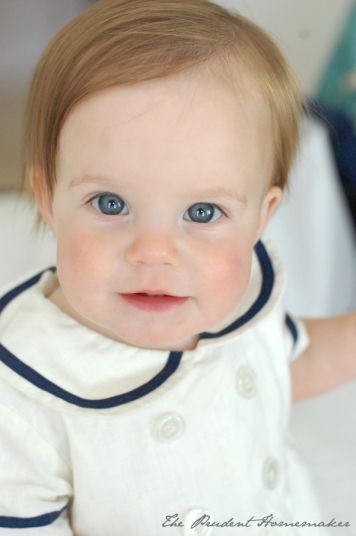 We celebrated Ivory's 1st birthday on Sunday. She is such a sweet, fun girl and loves to make the entire family laugh.
Here are some things I want to share this week:
Out of eggs and living from your pantry? Try making this eggless chocolate cake.
These springtime butterflies made from felt and bobby pins for a girl's hair, sewn together with only one stitch, look pretty simple and fun!
Make your own multigrain sandwich bread made from 7-grain cereal. I'll have to check out the 7-grain cereal at Winco and try this one.
Check out some of the most famous bonsai trees in the world. I have wanted a bonsai tree since I was a child and first saw them in the Japanese garden at The Huntington Library. (Number 2 and number 9 are my favorites). This week's grocery ad from Vons (a Safeway affiliate) has Bonsai trees starting at $7.99, if you've ever wanted to have your own. I think I will have to see what they have!
I want to make these ladybug appetizers for my children when the tomatoes are ripe in the garden. I'll make them on my homemade wheat crackers.
This pleated wrap skirt looks pretty simple to make. I love that it is adjustable. Now I just have to pick a fabric so that I can make this for Winter.
We're having high winds this week, so I'm working on some sewing projects instead of working out in the garden. So far I've made a pair of pajama pants for Ivory from the sheet set I bought on Saturday, redone the elastic on one of the skirts I bought for Winter at the thrift store to make it fit her, and sewn the ribbon from a broken barrette onto another barrette.
What are you making this week?