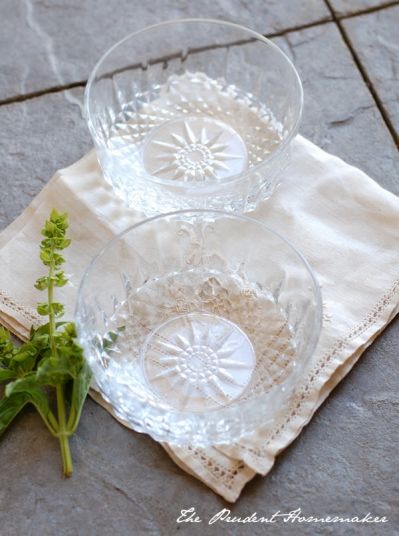 I often get asked where I find pretty items, such as glass bowls, that I use in my photos. Most of my bowls have come from my grandmother, who picked them up at garage sales.
I went with my mom to the twice-a-year community garage sale near us on Saturday. I found several great things, including two small glass bowls that exactly matched one that I had from my grandmother. They were $0.25 each.
I purchased 3 blouses for myself at $1 each (two of them are linen blouses). I found a corkboard in exactly the long shape I wanted for $2. I hung the chore assignments on this board. I found some tools for Ezrom (.25 each!) and a toolbox ($3; I am planning to repaint it) that will be gifts for him for Christmas. I purchased some books for the children. Two of those will be Christmas gifts. I purchased a brand-new-looking backpack for $0.50. I found a 1000 piece puzzle for my grandma for Christmas for $1, and a 1500 piece one for Cyrus for $3.
I also got some things for free, including a book, two picture frames, and a bracelet that needs to be restrung with elastic. The bracelet will be a gift for Winter.
I cut zinnias from the garden to put on my table.
I hand-pollinated 3 zucchini in the garden in the front yard. The plants I planted in the backyard still have not put forth any female flowers.
I cut basil and Swiss chard from the garden.
My husband cut my hair for me.
I made 5 pies last week, including pumpkin, lemon meringue, and pecan. We had my parents over for dinner and pie one night.
What did you do to save money last week?