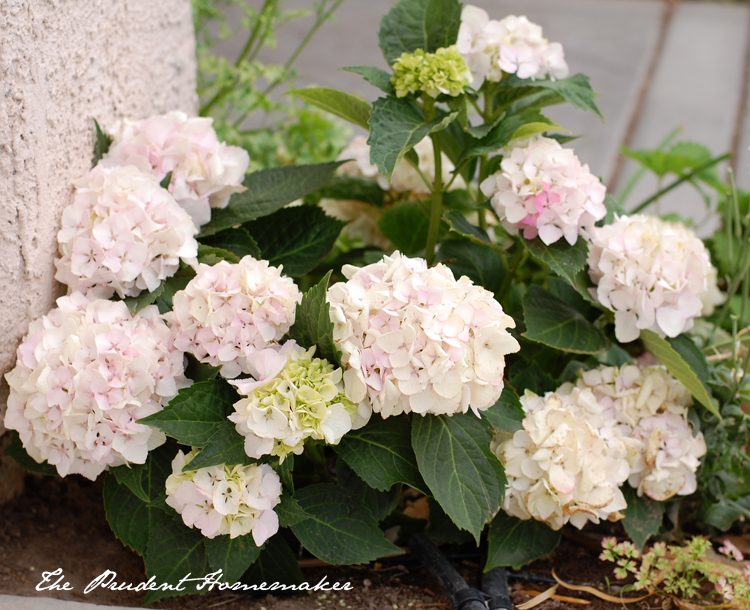 My white Saint Theresa hydrangea changing to pink–though it's supposed to not ever change colors, since it is a white hydrangea. I gave it some soil sulphur last week to lower the ph in hopes of fixing the problem.
Last week's goals were tossed out the window when I ended up reading. Winter borrowed a series of books from a woman at church, and I had read a few the week before last. Last week I ended up sitting down to finish the series, reading 8 books
last week. It's a series of murder mysteries, with the main character being a busy-body woman in her 50's who ends up solving several crimes. She also loves to cook, and there are recipes sprinkled throughout the series, which starts with the book Lemon Tart
.
The garden is brimming with ripeness now as the figs, apricots, blackberries, plums, red grapes, and Dorsett Golden apples are all ripening, which will require picking each day. It's a constant race against the birds to keep them from eating the fruit when it is ripe, before I can pick it.
I'd like to can some apricot vanilla jam this week, if there are enough apricots, but the tree has far less fruit this year than it has in years past, so we may just end up eating it.
Winter is invited to a party to celebrate the end of school. Everyone is asked to bring a snack and a game to share if they wish, or to just come as they are. They will be playing board games and card games, and eating together. This is an annual tradition a friend of ours does for youth ages 12 to 18 from our church congregation. I'll have Winter bring a huge bowl of popcorn.
A lot of seeds in the garden haven't come up, or came up and were eaten by bugs. I am planting more.
It's quite hot here. This week is supposed to be a few degrees cooler than last week (where we were over 100º several days) but only just a tad cooler. At this point, I do my garden work very early in the morning, or in the evening after dinner.
Garden:
1. Plant more cucumber seeds
2. Plant Swiss chard seeds under the fig tree
3. Pick figs
4. Pick apples
5. Pick apricots
6. Pick red grapes
7. Pick plums
8. Manure grape vines
9. Fertilize fruit trees
10. Fertilize tomatoes
11. Continue to remove caterpillar-covered leaves from the grape vines
12. Plant more zucchini seeds. I don't have any plants in the garden now 🙁
13. Plant more butternut squash seeds. These came up but were eaten.
Sewing:
1. Sew numbers on my husband's Scout shirt
2. Sew several items on Ezrom's Scout shirt
3. Make velvet strawberry emery
4. Make pin bag for clothespins
5. Turn Wren's torn at the knee jeans into shorts
6. Turn 2 of Libby's torn jeans into shorts
7. Hem a few pairs of my husband's jeans
Organization:
1. Organize one drawer
2. Put away collected onion and dill seeds
3. Balance checkbook and pay bills
Personal goals
1. Start reading Proverbs (I know I picked a 30-day month, but I will just read 2 chapters on the last day)
2. Make visiting teaching appointments
3. Attend the temple
Cooking:
1. Make pita bread
2. Cook white beans and make white bean dip
3. Cook black beans
4. Make potato salad
5. Make pasta salad
6. Make balsamic orange vinaigrette for a green salad from the garden with hard-boiled eggs
7. Make rosemary olive oil bread
8. Make a large bowl of popcorn for Winter to take to a party
9. Grate carrots and dehydrate them
10. Make yogurt and granola
Look for my June Shopping Plan post tomorrow morning!