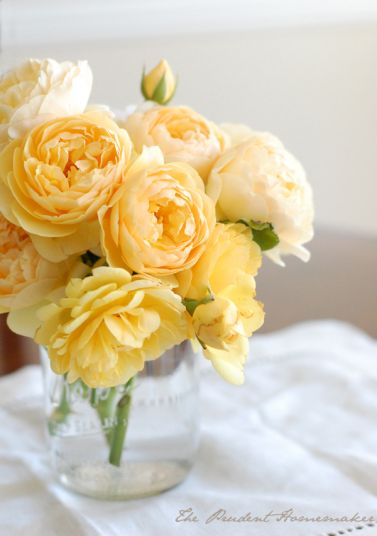 Graham Thomas roses cut from my garden yesterday
Mother's Day falls in May for at least three countries (the United States, France, and Italy) and probably many more. It's not the same day for any of those countries (as I learned as a missionary in France with both an Italian companion and a French companion during the month of May; we called home twice a year; once on Christmas and once on Mother's Day).
My favorite part about Mother's Day are the homemade cards that my children make. Of all of the drawings and pictures that they make for me, I think the Mother's Day ones are the most important ones. I keep them all in the top drawer in my nightstand.
However, I also have a role to play as a daughter. Here are some inexpensive homemade gift ideas that you can make (possibly even with things on hand) for your own mother (or yourself!):
Make earrings for .15 a pair.
Make this running stitch scarf.
Make a simple scarf from repurposed fabric.
Buy strawberries on sale and make some strawberry jam.
Any of the great Graphics Fairy images would be excellent for a simple zippered pouch, though I'm particularly enamored of the French post card image used here. If you're like me and own a black and white laser printer, you can use the Citra Solv method to transfer one of her free black and white images to fabric for a gift.
Top off your gift with this homemade paper bow.