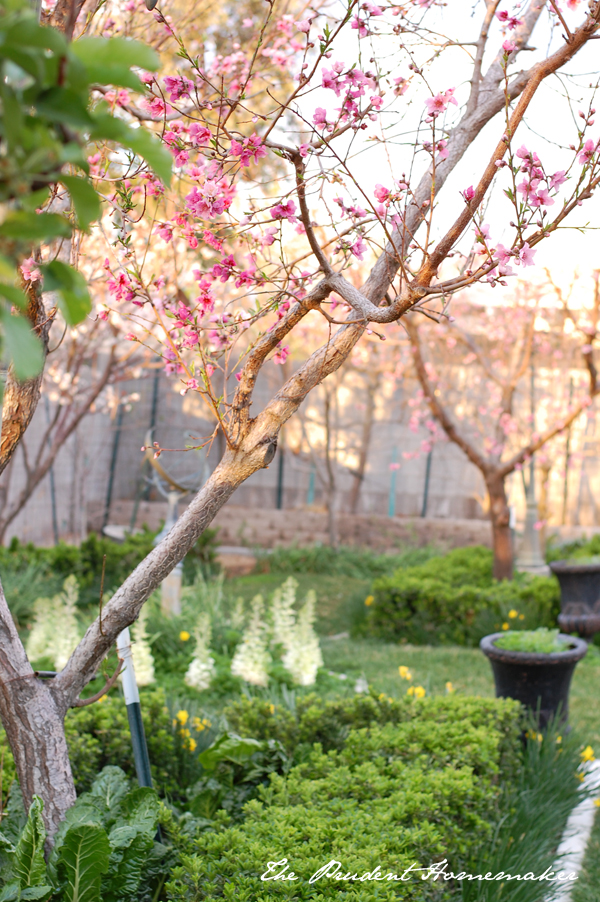 The garden at sunrise Saturday morning
I have another child's birthday coming up shortly, so I have some sewing to do! She asked me for a blouse and some pajamas, so I need to make those this week, and possibly another gift or two. She also asked for a puzzle, so I'll make a trip to the Dollar Tree to get one. Making presents is my top priority for the week, like it was last week, so garden chores are secondary.
Sewing:
1. Make birthday presents for Wren
Garden:
1. Prune apple trees. This is very late, and I am never this late, but it needs to be done (I usually do this in January, but I was ill twice in January and it didn't happen). Ideally, I'd actually like to take out several espaliered trees that have never flowered here. Despite reading that these would do well in low-chill areas like where I live, I think they are not getting enough chilling hours still, which is why they are not blossoming. My Dorsett Golden apple, in contrast, was covered in blooms in February, and is a reliable apple for this climate.
2. Continue to prune hedges in back
3. Fertilize fruit trees, berry bushes, roses, and grape vines
4. Finish planting tomatoes
5. Take out non-producing apple tree (yep, it's still on my list!)
Shopping/Errands:
1. Trip to Vons for pork shoulder roast
2. Quick trip to library (across the street from Vons; combined trip)
3. Trip to the dollar store to buy Wren a puzzle
4. Trip to the nursery (around the corner from #3, so a combined trip) to see if they have chocolate mint plants
5. Trip to Winco for potatoes and oats (I didn't get over there last week; I will probably combine this trip with 1 and 2)
Other goals:
1. List 5 things for sale on Facebook garage sale pags, and bump other items that still haven't sold
Website goals:
1. Finish blog post on Elsa's birthday